What a year for the Steam Deck! Valve's handheld gaming PC went from a simple announcement sometime in 2021 and then into the hands of the very first customers in February of 2022.
Since Valve President Gabe Newell hand-delivered the Steam Deck to the first customers, a lot has happened. The initial supply chain issues we all had to deal with and which glued us to our email inboxes were finally resolved. Valve has been busy verifying thousands of games and pushing update after update-after-update to make the Steam Deck an all-round better device. More and more mainstream developers started caring about this handheld PC we all love, including, to the surprise of many, Sony.
To look back on an excellent year for Valve's portable PC, we created this timeline looking back at the biggest Steam Deck news of every month. Let's take a look...
January
While the Steam Deck isn't officially out yet, the hype is high. Initially planned to release in December 2021, Valve had to delay the Steam Deck by two months due to supply chain issues. It was only in mid-January that Valve finally confirmed the Steam Deck would indeed start selling in February 2022.
Also, the first game to get verified for the Steam Deck was none other than Valve's own Portal 2.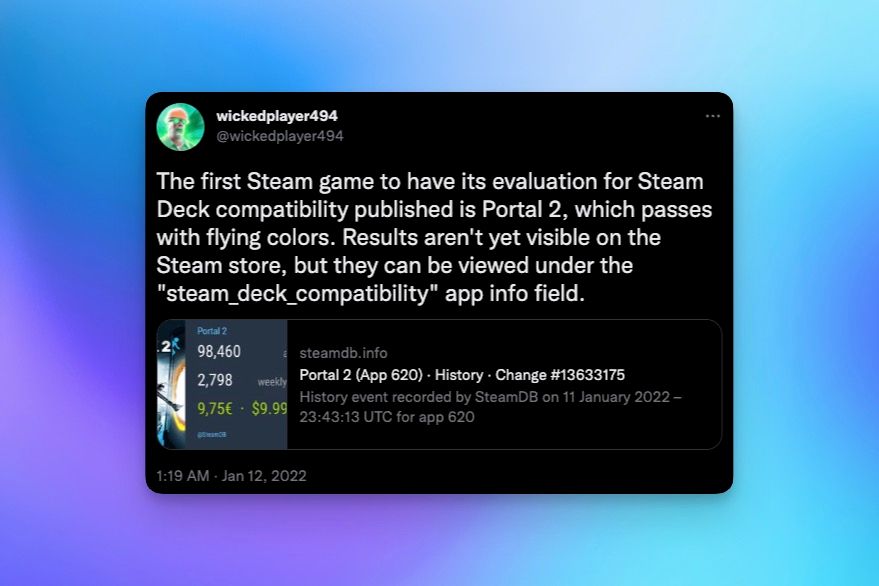 February
The end of February was finally when the Steam Deck started shipping. But even before that, a lot happened.
For one, Valve delivered the Deck to a handful of reviewers for early access.
Part of this list was Cary Golomb, aka ThePhawx:
"I got an email in early January with the subject line 'Steam Deck', and I initially dismissed it because I thought someone was just asking me a general question about it. I was busy with work, so I just did work things for about an hour before taking time to read the email.  Then I started reading the email, and I panicked. At first, I thought it was BS.  Then I checked who sent it. It came from Valve, so I replied INSTANTLY to the email."
Thankfully, Cary got his review unit and had enough time to play with it, and he was instantly a fan! In his own words:
"The one thing I tried hammering home on the device when the general review embargo lifted is that SteamOS is the closest thing we have seen to a "PC2".  SteamOS 3, even with its compatibility not being as robust as Windows, is single-handedly the easiest way to play PC games. I still feel like that experience is amazing and only gets better as time goes on."
Valve also started showing how they planned to embrace the repairability and expandability of the Steam Deck by releasing CAD files, and collaborating with iFixit for a teardown and later even selling replacement parts. [link]
But on February 25th, it was finally time — with the first devices being shipped and, for some lucky users in the Seattle area, hand-delivered by none other than Valve CEO Gabe Newell himself.
For the rest of us, the long wait began!
March
New Steam Deck order emails went out every Monday and Thursday, with the emails divided into quarters. Over time, Valve refined their messaging around this.
As for March, what this month really showed is the potential of the Steam Deck: One such example was how Valve was able to fix the borked PC launch of Elden Ring by hacking in fixes directly into Proton. March was also the month, Microsoft released Xbox Cloud Streaming on the Deck.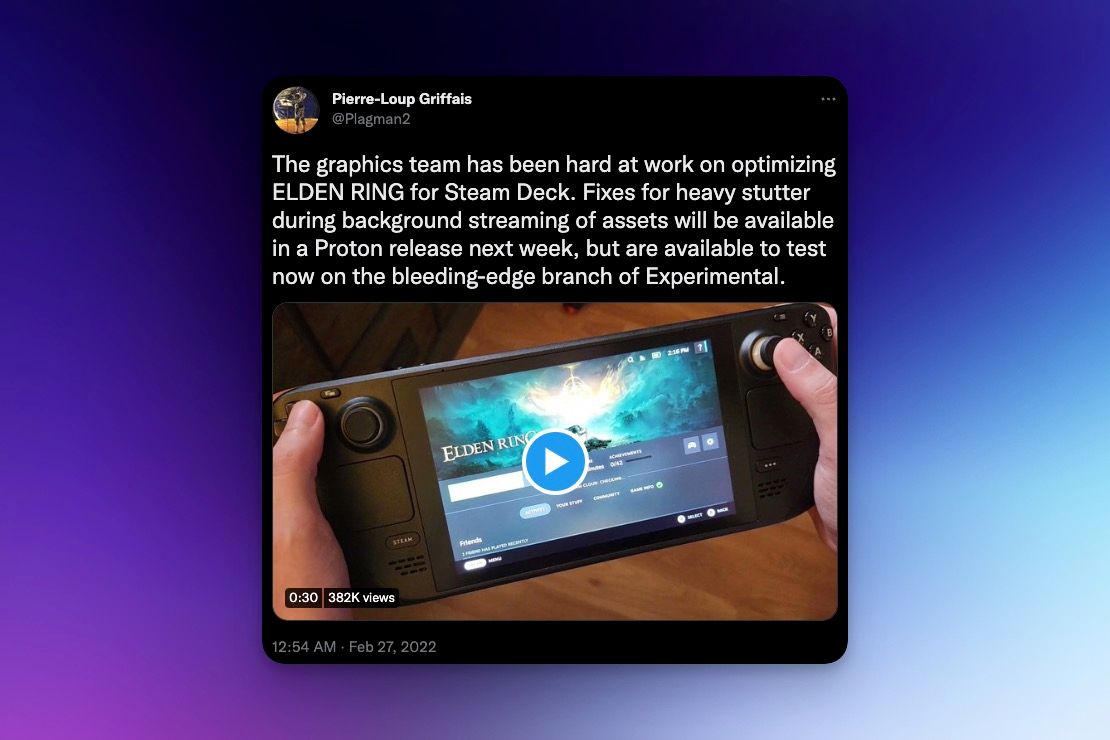 In March, Valve also released the first driver set to install Windows on the Steam Deck. They have been continuing to release new updates sporadically ever since, while continuously supporting SteamOS.
Unfortunately, as is common with first-generation devices, the Steam Deck suffered from some early problems, too, with the most annoying one probably being the very noisy fan.
April
In April, Valve officially celebrated the Steam Deck's first month.
They released the video above, announced that 2,000 games were now verified for the Steam Deck, and even ramped up device shipments for the first time.
Also, someone finally answered the all-important question: Does the Steam Deck run Crysis?
May
In May, Valve released update-after-update-after-update bringing many quality-of-life improvements to their new portable PC.
From per-game performance profiles, to a quieter fan curve, and over to 40hz support, Valve was busy improving the Steam Deck.
Also, iFixit started selling replacement parts for the Deck.
And I finally got my Steam Deck, too!
June
In June, Valve was able to double production yet again and started sending out shipment emails for people who preordered in Q3.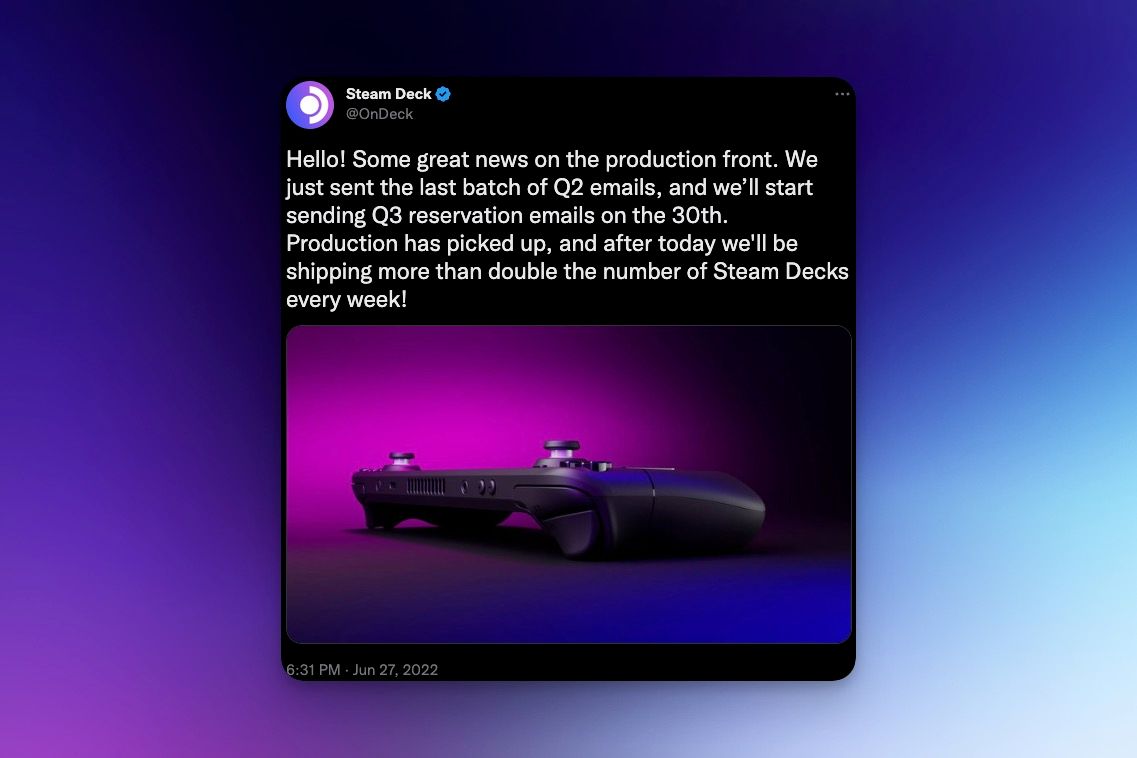 Unfortunately, Valve had to indefinitely delay their official dock, but others stepped in, releasing their own take.
Also, one more video!
July
With the July update, Valve started properly supporting external displays, something they kept working on over the coming months.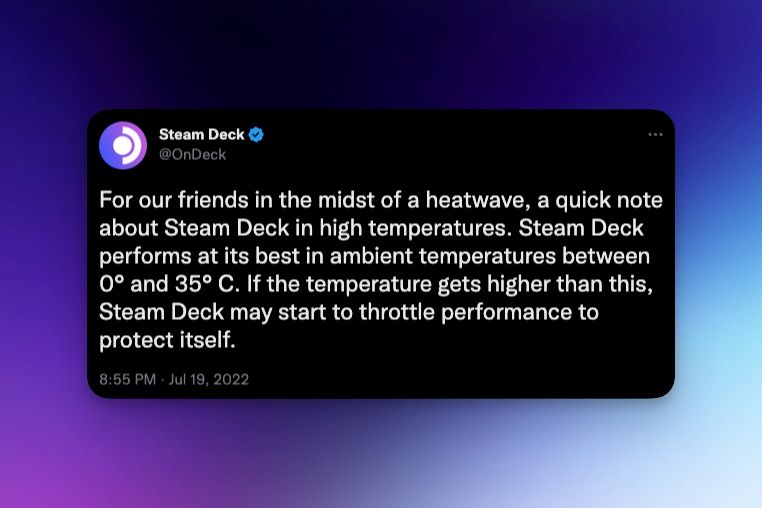 Due to an extreme heatwave (with temperatures reaching record highs in many places all over the globe), Valve had to basically tell us not to go outside with our Steam Deck, or it might overheat.
On other news: the Deckmate was born, and Halo Infinite finally got the Playable on Steam Deck tag.
August
August was a big month for both Valve and us. For us, because we launched overkill (this very website), and for Valve, as they passed 5,000 verified games on Steam Deck.
The good Steam Deck news kept coming too as Valve was also able to outperform their production estimates and started sending out Q4 emails.
August was also the month that the Steam Deck reservations opened up in Asia, with Valve celebrating the launch by releasing a little booklet.
Oh, and someone managed to drop their Steam Deck in their bathtub: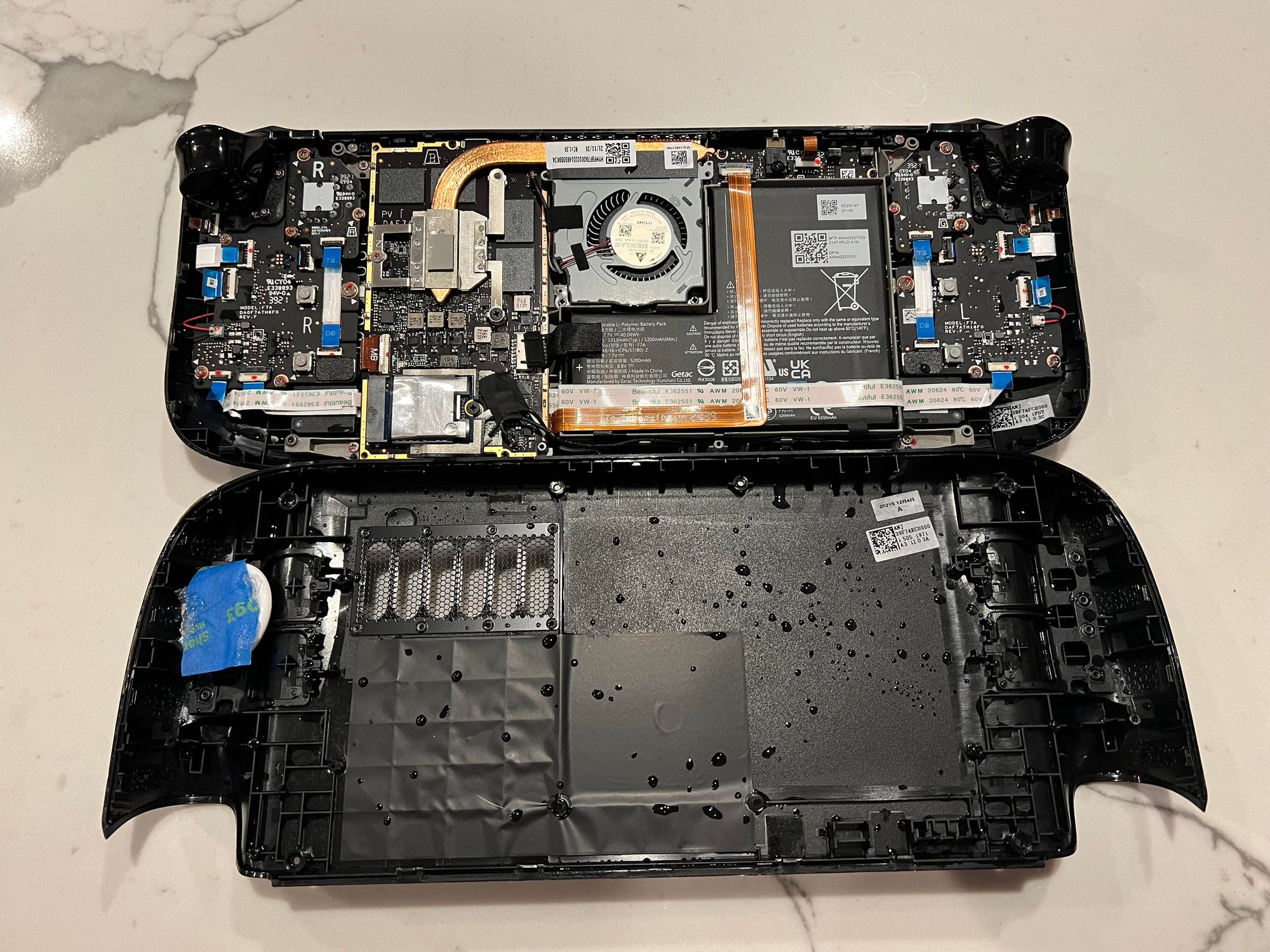 September
September was yet another busy month for Valve. Between the Tokyo Game Show and the enormous Steam Deck they built, the repair centres opening, and more and more Steam Decks shipping, the people at Valve had their hands full this month, and still found the time to give IGN an interview: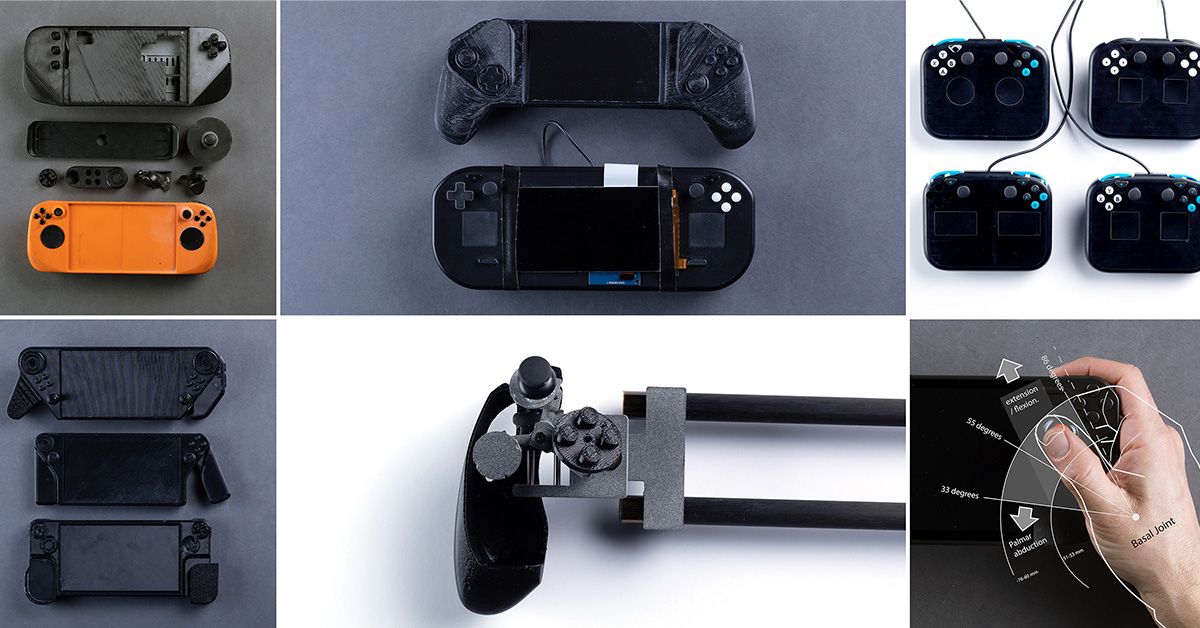 Though we collectively all just cared about playing Vampire Survivors, it seemed.
On less fortunate news, dbrand had to delay their shipment of Project Killswitch due to problems.
October
Rejoice, the Steam Deck dock finally came out! As for a little fun fact: I was driving when Valve dropped the news, but thanks to a friend immediately sending me a message that my car read out aloud (thanks, CarPlay), I was able to stop at the side of the road – safely, of course – and preorder the dock instantly.
Also, Valve announced that you didn't need a reservation anymore to preorder a Steam Deck, finally resolving their supply chain issues. Oh, and they passed one million sold devices, and 6,000 tested games!
Meanwhile, the community had a great month, too: One user was forced to watch the whole Shrek movie before being able to use his device, Michael Jackson played World of Warcraft on his device, and one mad lad brought his Steam Deck to his divorce hearing!
Oh, and Vampire Survivors 1.0 launched, and Valve finally updated Big Picture Mode to look like SteamOS.
November
In November, Valve announced the shipping dates for Japan, Taiwan, Hong Kong and South Korea, released the first beta for the next major SteamOS release, version 3.4 and even won its first award, the Golden JoyStick for best Gaming Hardware.
Ubisoft meanwhile announced it will be back on Steam. Oh, and we launched our podcast.
December
..and finally, we're in December. The highlights so far:
And while the month is still young, with one more Steam Sale waiting for us, I think we can all say this was a fantastic year for Valve, the Steam Deck, and us, the community!
We can't wait to see what Valve has in store for us next year (maybe a new controller), and how the Steam Deck will continue evolving.
But one thing is certain: we'll be here for the ride!
So follow us on Twitter, Mastodon or RSS, and we'll keep you up-to-date on all the Steam Deck news.
---
💌
Did you find this post helpful? We publish
a free weekly newsletter
where we feature a mix of content from overkill.wtf, links to exciting gaming reads we found across the internet, and more.
Sign up here!