Valve's new Steam Deck inspired Big Picture mode is now in beta.
Valve has announced that they're bringing the new design of the Steam Deck's game mode over to the PC as the new Big Picture mode.  
Starting today (Thursday, October 27), users can opt-in to the desktop Steam Client Beta and try out the new design and provide feedback.
For those new to Steam, Big Picture mode is Valve's way to bring Steam to bigger screens like TVs. The interface has been optimized for larger screens and controller navigation by making on-screen elements and text bigger.
With the new Big Picture mode, desktop Steam and the Steam Deck's gaming mode now share one unified experience.
To get the beta client on desktop, you need to to do the following:
Open Desktop Steam, go to Settings in the top left corner  
Under Account, click on Change... below Beta participation
Select the Steam Beta Update from the drop-down list and confirm it
Wait for Steam to restart. Then edit your Steam launch shortcut with the following launch parameter -gamepadui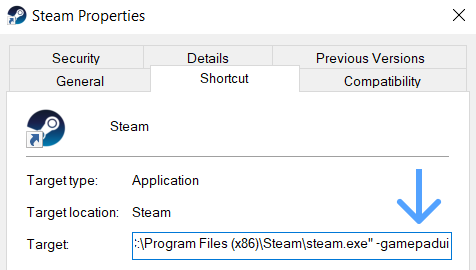 ---
You can find the full changelog below:
- New Home Screen, where you can continue playing recent games, and see what's new with the games in your library.
- New Universal Search, that searches across Library, Store, and your friends
- New controller configurator, designed for ease-of-use of picking, adjusting, or creating custom controller configurations
- Optimized Steam Store for controller navigation
- Updated in-game overlay, with access to achievements and guides
 - Press Steam / Guide / PS button while in game
- New system menu, for quick navigation to different parts of the interface
 - Access this with the Steam / Guide / PS button
- New quick access menu, for access to notifications, friends list, quick settings, and more.
 - Access this with Steam + A