There are three models of Valve's Steam Deck to choose from, with varying price points and features. We take a look at which you should consider getting.
The Steam Deck has been with us for quite some time now, but if you're yet to get one of Valve's portable PC powerhouses and you're now thinking of joining in, this quick guide should help you make the the decision as to what Steam Deck to buy a little easier.
So, if you have a growing yearning for playing Starfield or Cyberpunk 2077 on the toilet and you're unsure as to which Steam Deck model to get, worry not — as we're here to offer some tips on the key Steam Deck differences, helping you make the right call.
What Steam Deck should I get? — Steam Deck comparison
So, if you're asking just which Steam Deck to buy or reserve, then there are a few things worth knowing about before making your decision.
The good news is that all Steam Deck models currently carry the excact same processor set and have the same RAM, display, I/O, and battery. You can see the full specs here. The first difference you'll want to think about is storage.
When it comes to which capacity to opt for, you have three options to consider right now:
A 64GB version for $399 / 419€ / £349
A 256GB model for $529 / 549€ / £459
..and a 512GB option coming in at $649 / 679€ /£569
The baseline $399 version uses a slower eMMC storage compared to the two other available models. Whereas the $529 and $649 Steam Deck options use a faster NVMe SSD. So, it's a good idea to weigh up how much space you think you'll need and just how patient you can be regarding read/write speeds.
Now, if you've already got a sizeable Steam Library, getting the base model is probably not a great idea. You can check which of your existing Steam library titles will work out of the box right here, and this will no doubt help steer your decision somewhat. For example, games like Call of Duty: Black Ops II need an insane 100 GB+ of space alone!
With this in mind, it's also worth remembering that the above storage options are for internal space — and you can always top things up with an SD card too. You'll probably want to do this no matter which model you get. You can get some decent deals on large-capacity cards now, too, so slapping a 1TB card in is an excellent way not to have to think about juggling your storage needs for a while.
Alternatively, if you're feeling bold, you can swap out the internal SSD for another m.2 2230 drive (the small one used in the Steam Deck) yourself.
---
Beyond the storage variations, there are a few other minor differences to be aware of between models.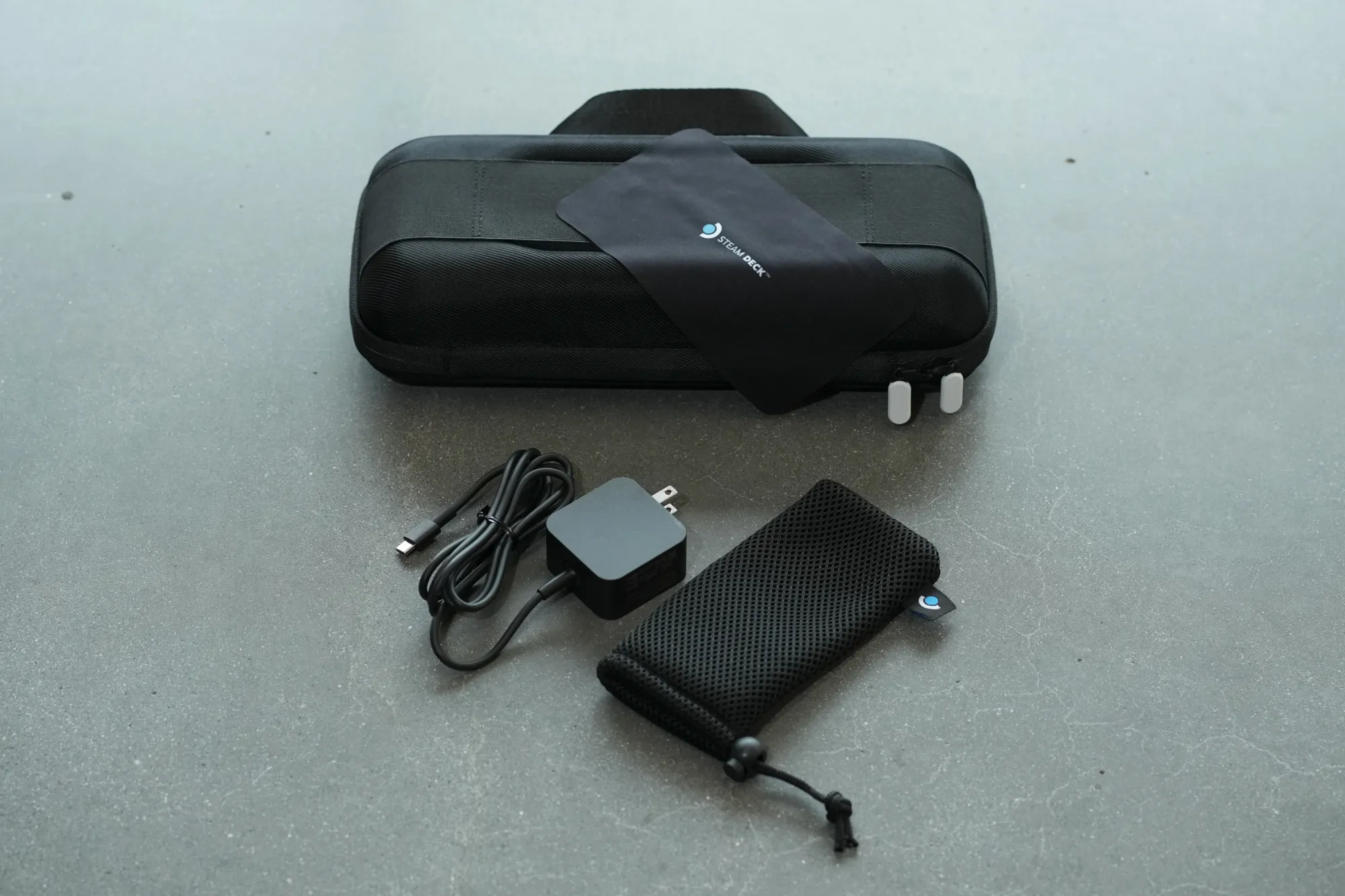 All Steam Deck models come with a nice carrying case — but the top-end 512GB model comes with an exclusive version (seen above), sporting a coloured logo, unique zips and a different fabric finish. This pricier version also comes with a little drawstring pouch to store the power cable and a cleaning cloth. Nice little extras.
The most expensive $649 Steam Deck model also comes with an etched-glass screen designed to help reduce glare. If you plan to play outside a fair bit, this is probably worth considering.
---
Which Steam Deck is the best value?

Those are the main differences you'll want to be aware of before purchasing. It's a classic 'good, better, best' tier.

The base model has pretty much the same internals, but the faster, beefier storage will most likely get you to pause and consider opting for that mid-tier version. Then it's just a case of whether you want to splash out for a nicer case and better screen and upgrade again.
If you don't always want to be thinking about storage, managing your library, and the base model's slightly slower read/write speeds are a concern, then the mid-tier is undoubtedly the best option for most folks. Get a good quality, really big micro SD card installed, and you'll be more than happy.
💡
Our Steam Deck recommendation:
The middle tier 256GB Steam Deck option is the best choice for the price conscious, offering a good balance of storage, speed, and affordability in the line-up.
Now, the top model carries a $120 price difference compared to the mid-range and a significant $250 difference when placed alongside the base model. These are notable price differences. When making your decision, it really comes down to two things: how sensitive you are to the pricing scale here and what works for your wallet, and just how much time you ultimately want to spend thinking about storage.
I will note, however, that it seems that most folks are opting to spend that extra cash and go for the high-end version. Valve co-founder Gabe Newell revealed as much in an interview with the April 2022 issue of the ever-excellent Edge magazine, sharing that the 512GB $649 version is the most popular right now.
"We thought the entry price was going to be the critical factor [for Deck's success] but it turns out that far and away the most popular SKU is the most expensive one" — Gabe Newell
---
Ready to make your choice?
Those really are the key differences to be aware of. So, if you're now confident about what Steam Deck to buy, you can place your order for over on the official store page.
Got yours already? Here's the first things to do with Steam Deck.
Still unsure if the Steam Deck is right for you? There are plenty of great Steam Deck alternatives and competitors worth looking at, including the ASUS ROG Ally and AYANEO 2S.