How does the new DLC for CD Projekt Red's ambitious spy-thriller stack up on Steam Deck? We take a look at just how the Phantom Liberty DLC, along with the 2.0 patch, perform on Steam Deck.
When CD Projekt Red (CDPR) announced Cyberpunk 2077's first (and apparently only) expansion, Phantom Liberty, I knew we were in for something special. More than a year later, it's now here, and I can happily confirm: The Polish development team outdid themselves once again and added much more to Night City than just a sole new district and some extra narrative content.
However, Phantom Liberty, along with the 2.0 patch, introduced a slight raise in the base hardware requirements to allow for advanced rendering techniques and more headroom, along with giving CDPR some additional, artistic freedom. This change in hardware requirements inevitably leads to another concern — will the updated spy-thriller, this time starring actor Idris Elba, still perform well enough on Steam Deck? As Johnny Silverhand would say: Time to fuck around and find out, Samurai.
Dogtown is calling
First off a quick note: Cyberpunk's expansion and Patch 2.0 come in at a size of around 70GB, totalling 80GB on your Steam Deck's internal SSD. It's known by now that massive patches really take an unnecessary amount of time on Steam Deck – depending on your internet speeds you may want to download the whole client instead. Also, please don't try playing Cyberpunk off of the Deck's SD card anymore — unless you really want to give yourself a bad time.
Upon start, the game either sticks to the settings you applied in the past, or resorts to the defaults: 800p, a mix of low and medium visuals, and in-engine 30FPS lock and FSR balanced. Weirdly enough, these settings are not exactly the same as what the game utilises with its official 'Steam Deck' stock preset.
As you may already know, this is certainly not my first rodeo with Night City on Valve's handheld console. Naturally so, I included my old 'Golden 40' settings in my initial benchmarks, to put all three 'presets' up against each other for a first quick assessment:
For a consequential baseline, I began with the original in-engine benchmark of the game, starting in Mama Well's bar, the Coyote Cojo in Heywood:

Those eagle-eyed among you may have already spotted that these numbers were taken on SteamOS 3.5. I figured it surely makes sense to future-proof my findings, as its public 'stable' release may be imminent. In plain comparison with 3.4, however, the results stack up quite nicely, and it's great to see that Valve even provides slight performance gains with the upcoming OS update.
There's still a reason CDPR increased the net hardware requirements with the release of Phantom Liberty and even went so far as to abandon mechanical HDDs entirely: While Night City itself received a plethora of updates in terms of lighting, props, and crowd rendering, visiting the new areas actually feels like a generational leap.
💡
On a side note: As an AMD-only user, I can only imagine how glorious DogTown would look and feel when fully utilising, say, path-traced lighting and DLSS 3.5—features sadly only the streaming service GeForce Now can offer on the Steam Deck. Let us know if you'd like to see a guide for setting up GFN on the Deck!
Style over substance
While many early impressions suggested that you wouldn't notice any major frame rate issues on the Steam Deck, this couldn't be further from the truth. In fact, my own experience with Phantom Liberty entirely begs to differ.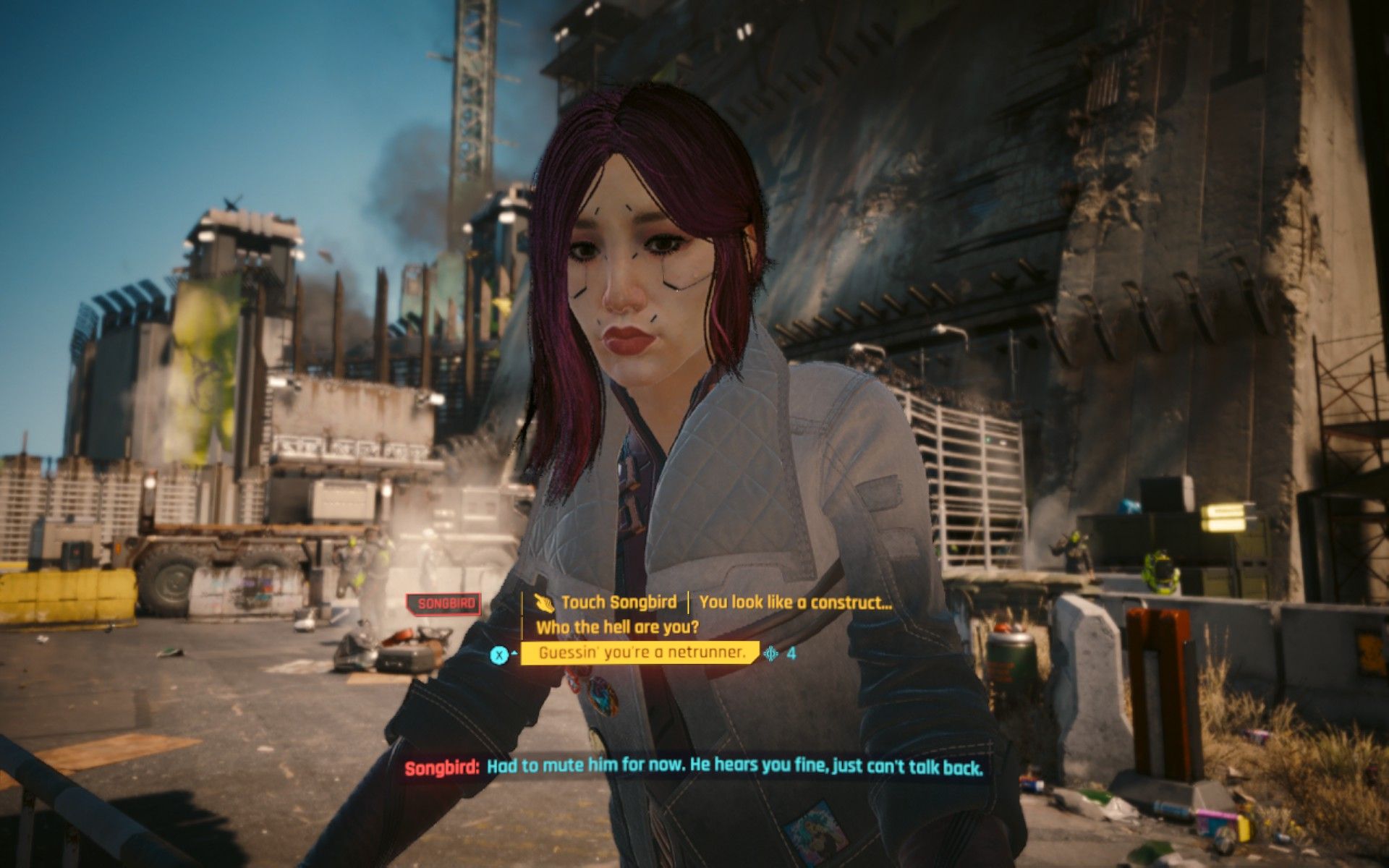 Your first encounter with netrunner Songbird — one of the most significant new faces — costs you a quarter of the frame rate due to some new transparency effects, and gives you a good teaser of what to expect. The new region, DogTown, gives Valve's handheld massive headaches. It seems that CDPR amped up the amount of detail and props in all new areas tenfold. But without spoiling too much of Phantom Liberty's amazing new content, I'll keep it short and dirty: No tweak could possibly ensure good frame pacing at all.
For example, the Black Market tends to give the Steam Deck's APU a heavy workout, primarily due to its many NPCs entering and leaving the player's view. Expect regular dips into the 35 FPS range during movement. When engaging with the grim folk down there, the frame rate often tends to stabilise after a while. Heavy Hearts (an upper-class trance club nestled in the iconic pyramid next to DogTown's stadium) presents a bigger challenge: Regardless of movement, the numerous NPCs and laser-show effects take their toll.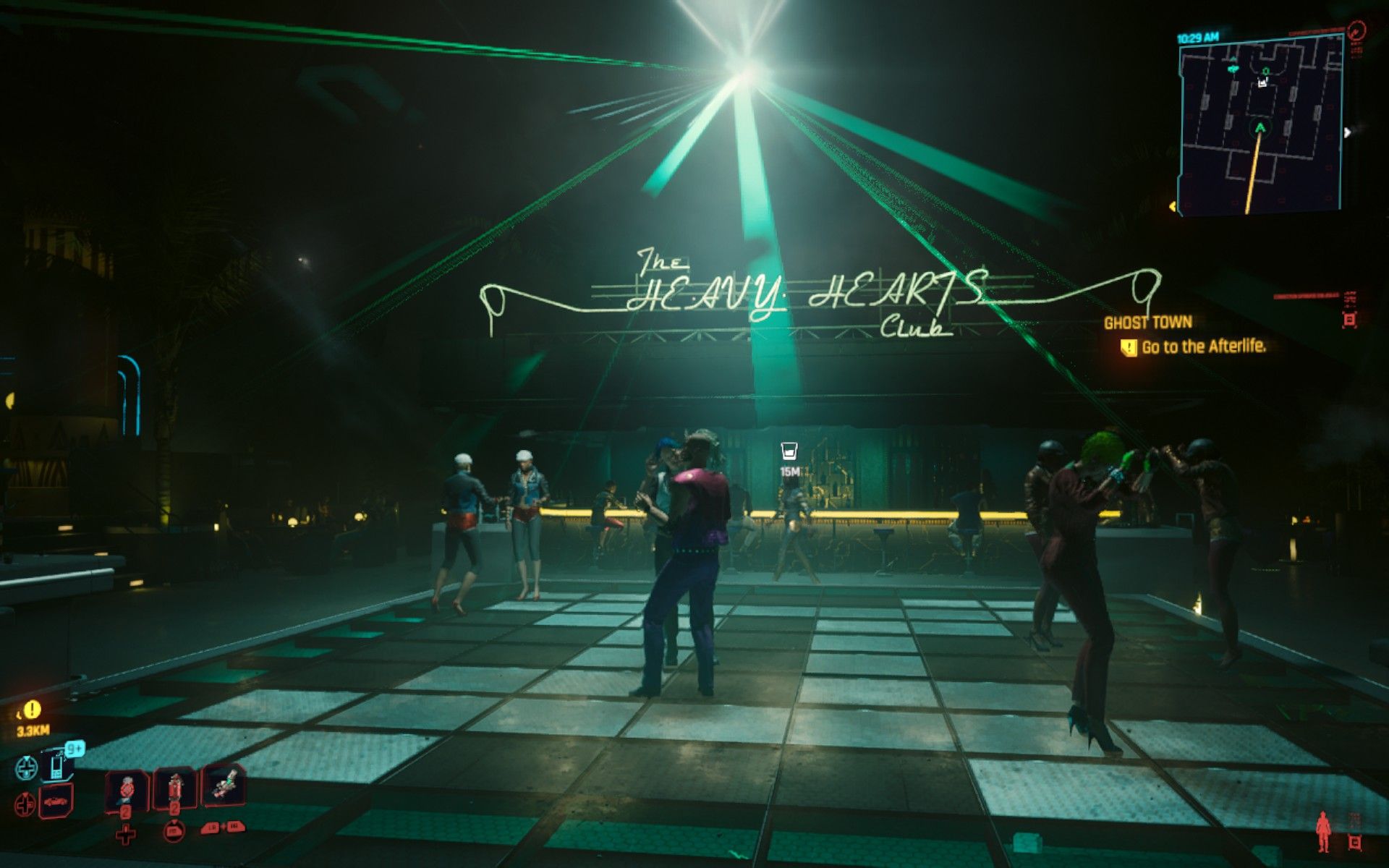 The moment you hit DogTown's streets, preferably via car, you'll notice the full scale of performance costs in comparison with the rest of Night City. These findings were the exact moment I realised that some people might prefer playing at a locked 30 FPS. It's hard for me to argue for extended frame times, solely for better frame pacing, yet here we are. The good news is that my original set of 'Golden 40' settings for Cyberpunk 2077 still applies for Patch 2.0 and Phantom Liberty, but you'll want to limit the frame rate to 30 for solid frame pacing.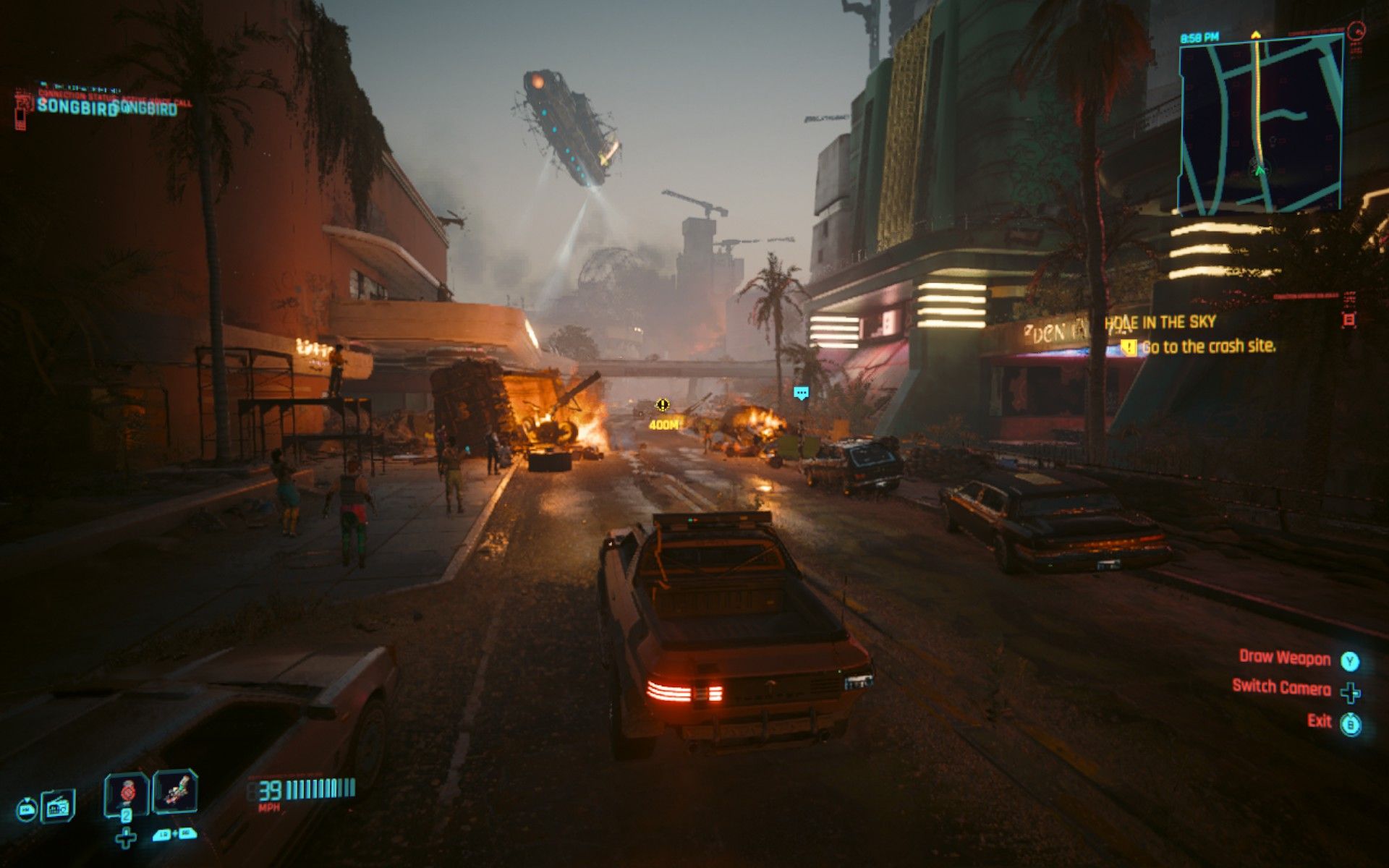 💡
If you still opt for the 40 FPS cap, you'll have to accept that there's no way around those lower FPS moments. Thankfully, at least in most interiors and the majority of the game's original content—for instance, every region outside of DogTown—the Steam Deck still manages to deliver that frame rate target most of the time. So, I'd say, a good rule of thumb would be: In DogTown, the Dirty Thirty is king.
Best Settings for Phantom Liberty on Steam Deck
While straight-up recommending something as 'the best' is objectively a massive challenge in its own right, I can assure you with certainty that I can provide 'the best possible' performance on the Steam Deck as of right now. It is what it is: The biggest problem you'll come across in Phantom Liberty is definitely the massively increased prop count, and perhaps the number of NPCs roaming the dirty streets of DogTown.
To iron out the frame pacing and overall stability even further, I'd say using CryUtilities' recommended tweaks and a UMA frame buffer of 4GB would be mandatory. The next logical step would be to lower AMD's Fidelity Super Resolution (FSR) from 'Quality' to 'Balanced'.
Taking all findings and tweaks into account, these are the best optimizations for Cyberpunk 2077 Phantom Liberty on Steam Deck so far:
| In-game Settings | Value |
| --- | --- |
| VSync: | 60 |
| Maximum FPS: | Off |
| Windowed Mode: | Fullscreen |
| Resolution: | 1280x800 |
| Texture Quality: | Medium |
| Dynamic Resolution Scaling: | Off |
| FidelityFX Super Resolution 2.1 | Quality / Balanced |
| FidelityFX Sharpening: | 0.5 |
| Field of View: | 75 |
| Film Grain: | Off |
| Chromatic Aberration: | Off |
| Depth of Field: | On |
| Lens Flare: | On |
| Motion Blur: | Off |
| Contact Shadows: | On |
| Improved Facial Lightning Geometry: | On |
| Anisotropy: | 8 |
| Local Shadow Mesh Quality: | Medium |
| Local Shadow Quality: | Medium |
| Cascaded Shadows Range: | Low |
| Cascaded Shadows Resolution: | Low |
| Distant Shadows Resolution: | Low |
| Volumetric Fog Resolution: | Medium |
| Volumetric Cloud Quality: | Off |
| Max Dynamic Decals: | Medium |
| Screen Space Reflections Quality: | Medium |
| Subsurface Scattering Quality: | Medium |
| Ambient Occlusion: | Low |
| Color Precision: | Medium |
| Mirror Quality: | Low |
| Level of Detail (LOD): | Medium |
| Crowd Density: | Low |
| Steam Quick Action Menu | |
| Use per-game profile: | On |
| Framerate Limit: | 30 |
| Refresh Rate: | 60 |
| Allow Tearing: | On |
| External Changes | |
| CryoUtilities: | Recommended Tweaks |
| BIOS: UMA frame buffer | 1G -> 4G |

Down the Line
In conclusion, it's impressive how well Cyberpunk 2077 still runs (and looks!) on Valve's popular handheld console. While there isn't all that much headroom for the Steam Deck's APU to perform at the same level as it does outside of DogTown, the new areas are packed to the brim with details, secrets, and new content.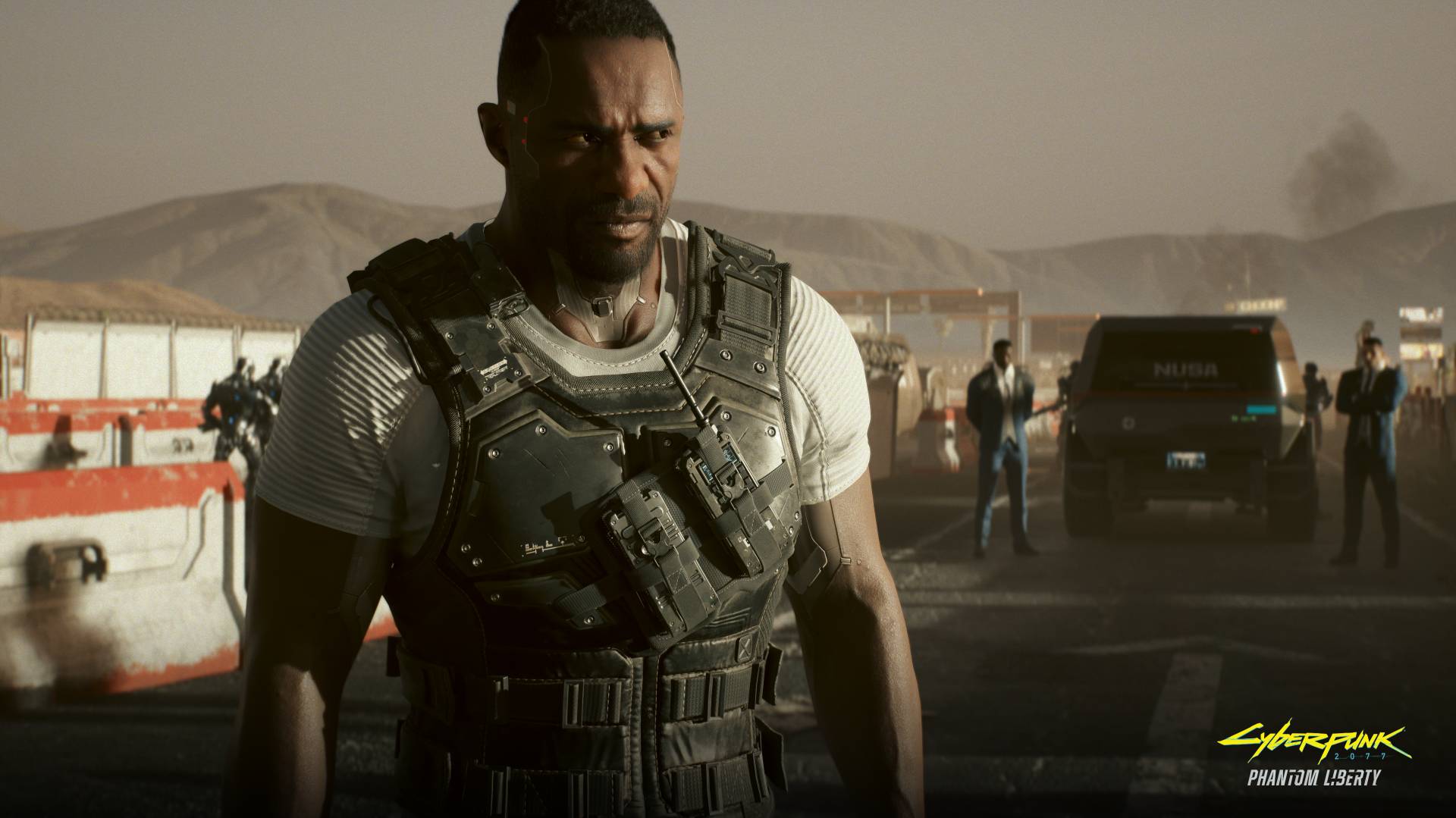 The story of Phantom Liberty is incredibly captivating from the get-go, the stellar soundtrack (again composed and produced by the amazing P.T. Adamczyk) pumps more than just blood through your veins, and the cast truly shines. Netrunner Songbird and FIA-agent Solomon Reed actually manage to give good ol' Johnny Silverhand a run for his money, and the game's new endings perfectly complement the already impressive Patch 2.0 overhauls.
As for the plain handheld experience, there's a small but promising ray of hope: I'm in touch with CDPR, and it looks like they might have more Steam Deck-related improvements up their sleeves. That's all I can say for now—until then, I'd say we leverage the tools and tweaks we have at hand to save NUSA-president Myers.