We surveyed over 3000 Steam Deck owners to see what they think about Valve's portable PC. Here's what they think!
Over the last few weeks, Chris and I have been digging into 2023's Steam Deck Survey results. The number of people who participated in the survey compared to last year has tripled, making for much better results (with over 3,000 participants this year).
Here is the 2022 edition if you missed it: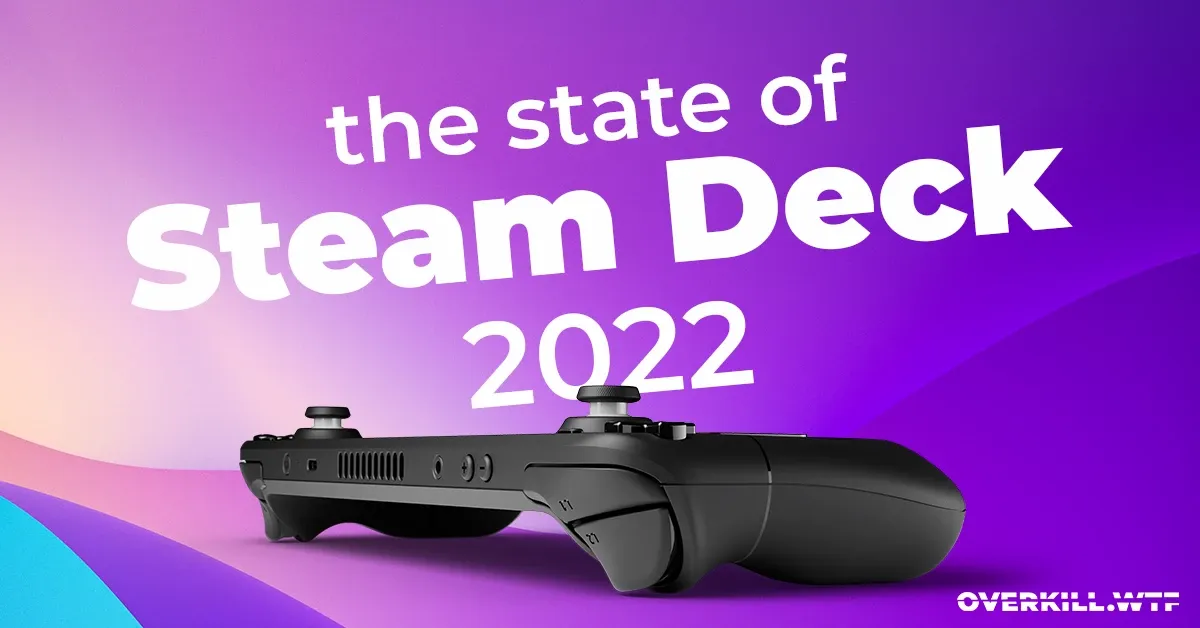 There have been some exciting learnings in this year's results. Did you know the 64GB Steam Deck is the most popular? Or that most people feel negatively impacted by the Steam Deck's lower performance? Or are you wondering what the Nintendo Switch and the Steam Deck have in common?
---
Before we start, here are some critical details on the methodology used to gather the data.
The survey was open from September 5 until September 20;
The questionnaire consisted of some ~50 questions about the Steam Deck;
3150 people participated;
Overall average satisfaction with the Steam Deck is 8.94 out of 10;
48% of participants reside in North America (6% fewer people than last year), 41% in Europe, with the remaining people scattered all over the world;
The bulk of people responding are between the ages of 18 and 39 (41%);
Most respondents came via the Steam Deck subreddit.
As outlined above, most of those completing the survey came via a dedicated subreddit for the device in question. As such, it's fair to assume this group of respondents are highly interested in the Steam Deck platform and its success — this is worth keeping in mind, as they are more likely to be favourable towards the device when compared to a random sample (such as asking folks on the street).
Regardless, let's look at the results.
---
Do you own a Steam Deck? If not, why not?
95 per cent of the people surveyed this year own a Steam Deck. 83 individuals of the 3150 surveyed (around 3%) even own multiple Decks. Of course, some people don't own Valve's handheld – 5% to be precise.
The number one reason those gave for not owning a Steam Deck was price – which also happened to be the number one reason in last year's results. Here's the full breakdown:
What storage option did you choose? And did you upgrade your storage in any way?
Last year's most popular option was the 512GB Steam Deck. This year, that has changed, with the 64GB Steam Deck now being the most popular variant at 37%. The 512GB Deck, however, follows very closely at 36%. Around 800 people opted for the 256 Steam Deck.
But people didn't necessarily stick with the included storage. 1000 people out of all the participants upgraded their internal storage, with the most popular option being a 1TB SSD. Most people, in fact, updated from their initial 64GB to 1TB. Here is a complete chart:
But even if 65% didn't upgrade their SSD, most (85%) added a new microSD card. Here are the most popular options: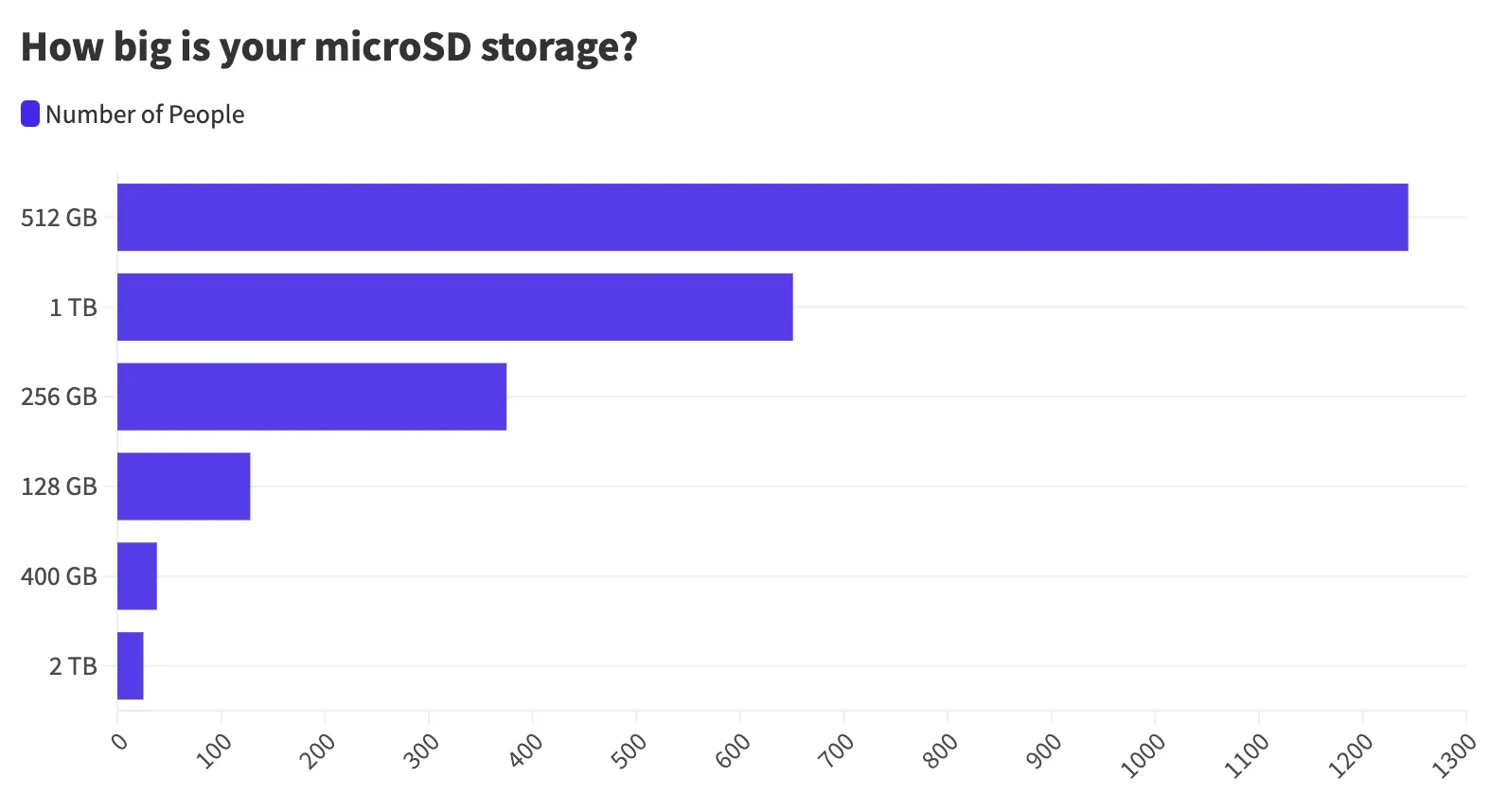 Maybe next year we will see more of the new, higher capacity cards, like this 1.5TB card from SanDisk.
Did you have any issues with your Steam Deck?
Last year, the outcry on the Steam Deck subreddit was loud. Many early adopters complained about issues that forced them to return their Steam Deck.
Naturally, we asked the same question again this year, and 200 people said they had to return their Steam Deck. Despite this inconvenience, people rated their experience with Valve support on average 8.7 out of 10 — a great score.
As for why people had to return their Steam Deck, most issues were related to the display. From stuck pixels to flickering, 37 out of 200 people had screen problems. 16 participants also seemed to have issues with the fan, followed by the infamous 400mhz lock bug – 13 people reported such problems.
Have you modified your Steam Deck?
One of the major selling points of the Steam Deck is how easy it is to open up. Naturally, several brands, from ExtremeRate Skins to JSAUX, jumped at the chance to offer customization options.
From our results, nearly 500 people (around 15%) modified their Steam Deck somehow. Most changes were cosmetic, with Steam Deck skins leading the list, closely followed by new backplates. A (to me) surprising amount of people also changed their cooling solution by reapplying thermal paste often by Kryonaut. This number, however, doesn't include the number of people who upgraded their SSD mentioned above.
Whilst many people have installed skins on their Steam Deck, even more people use a case: 900 people, in fact —and while we're on the topic of accessories: Over half of the participants own a dedicated dock for their Steam Deck.
---
Let's talk about usage
Like last year, we asked people how they use their Steam Deck.
First, we asked about Windows usage. Last year, just 2% of those surveyed used Windows as the primary operating system on their Steam Deck. This year? 1%. This number might explain why Valve is taking their time to roll out proper Windows support for the Steam Deck. But maybe this is a chicken and an egg problem. Because from our survey, we learned that around 33% of Steam Deck owners are at least considering installing Windows on the handheld. Would they have done so if Windows support on the Deck had been better?
How many hours do you play on average per week?
Next, we wanted to know how much time people typically spend playing their Steam Deck each week. People generally game around 1 to 7 hours weekly on their Steam Deck. Approximately 60% of users reported so: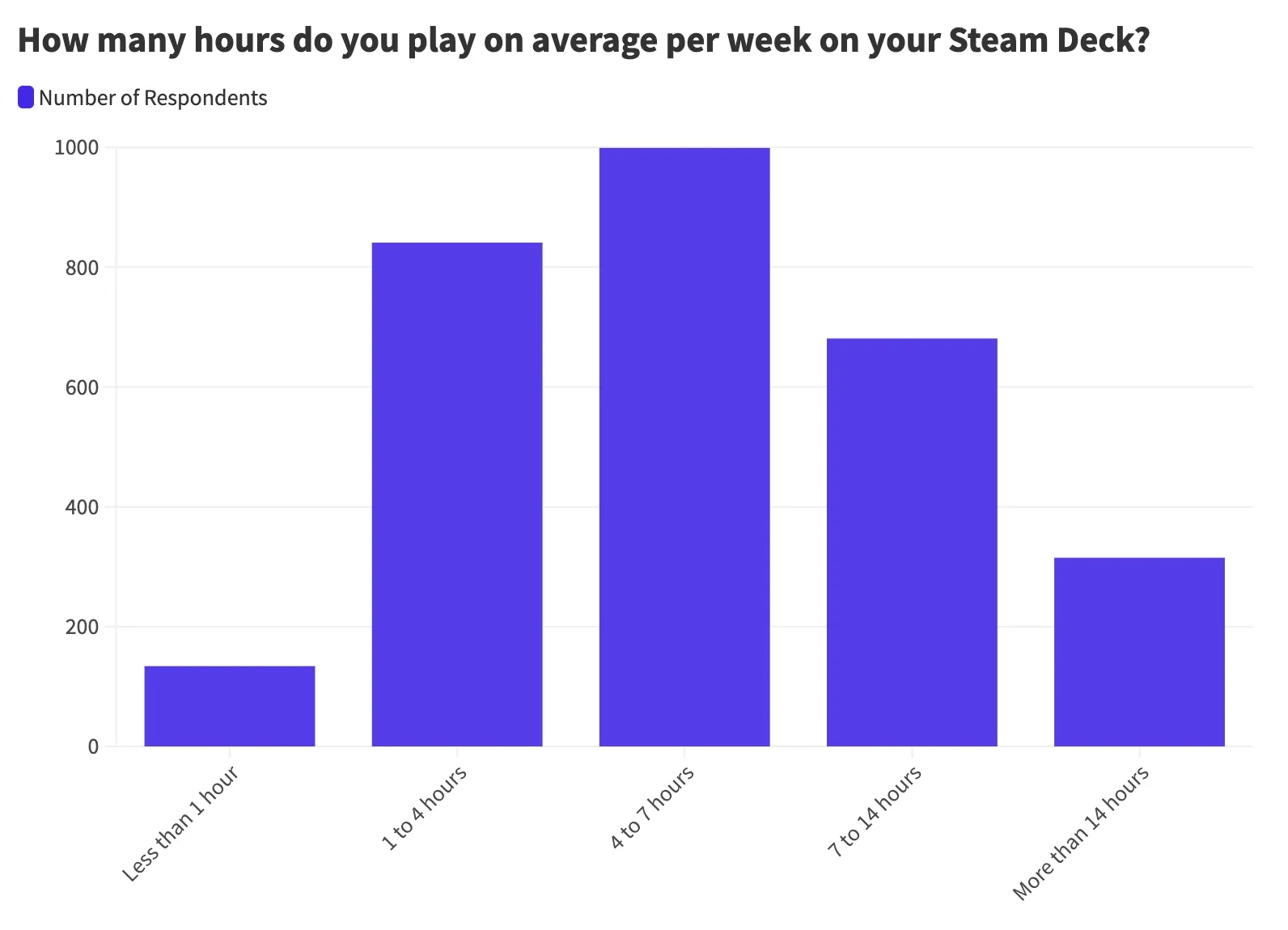 But if we compare the hours played on Steam Deck this year vs last year, it looks like usage went down ever so slightly: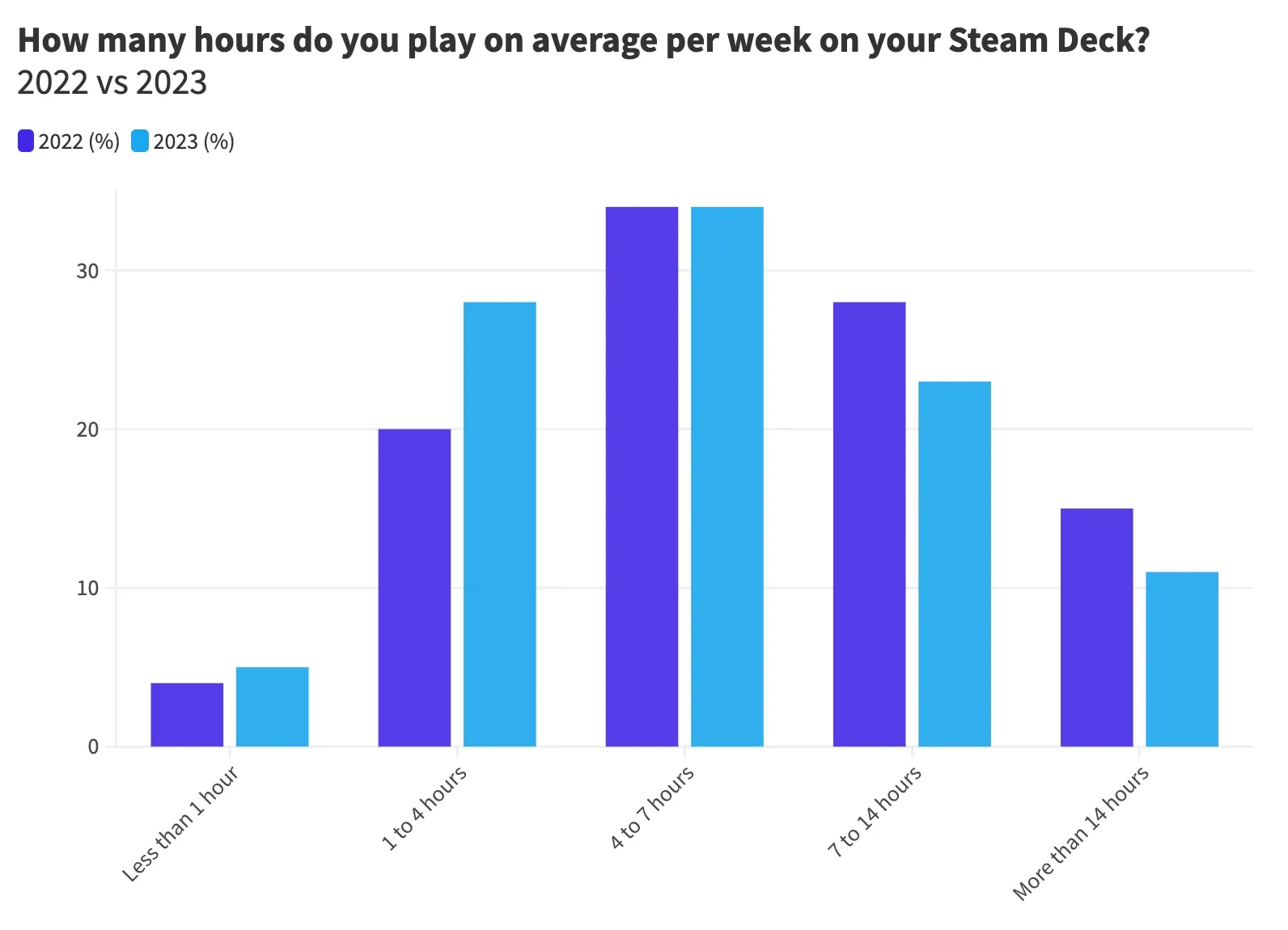 How do you use your Steam Deck?
Now, you might wonder what people do with their Steam Deck.
The primary use (What do you use your Steam Deck for the most?) for the Steam Deck is to play indie games (45%), closely followed by Triple-A games (37%).
And yes, the most popular game this year – just like last year – is still Vampire Survivors. Here is the Top 10 for this year (including the changes in position compared to last year):
Vampire Survivors (=)
Elden Ring (🔺, 3)
Baldur's Gate 3 (new)
Hades (🔺, 4)
Dave the Diver (new)
Stardew Valley (🔺, 12)
Cyberpunk 2077 (new)
Slay the Spire (new)
Hogwarts Legacy (new)
Red Dead Redemption 2 (new)
If you're wondering what the most popular genres are, we've got you covered: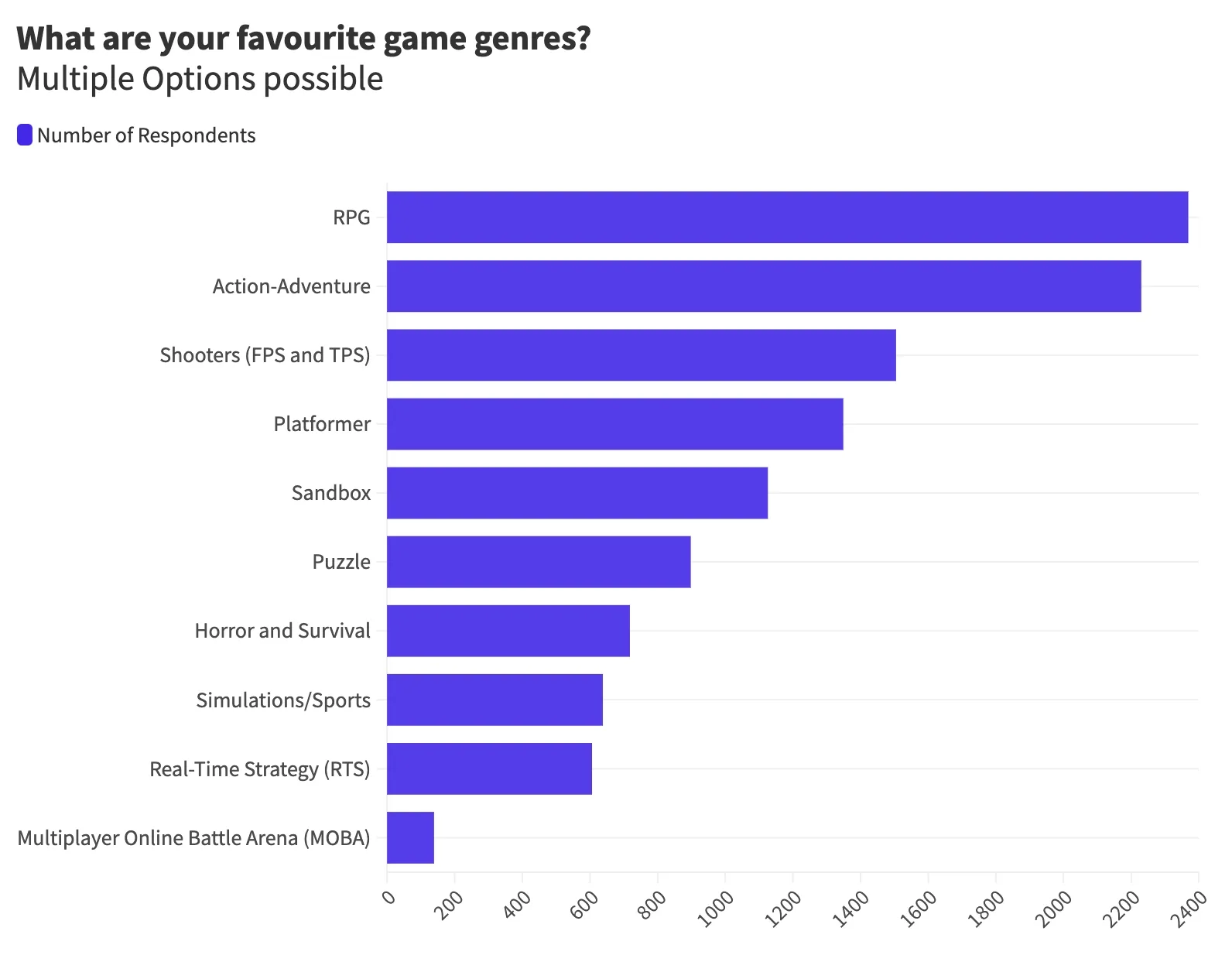 There is also a significant chunk of people emulating games, with over half telling us they've done some emulation on their Steam Deck. But what platforms are the most emulated? PlayStation 2, the Game Boy family, the GameCube, and then emulation of Nintendo Switch titles. Here are the details of how emulation usage on Steam Deck breaks down: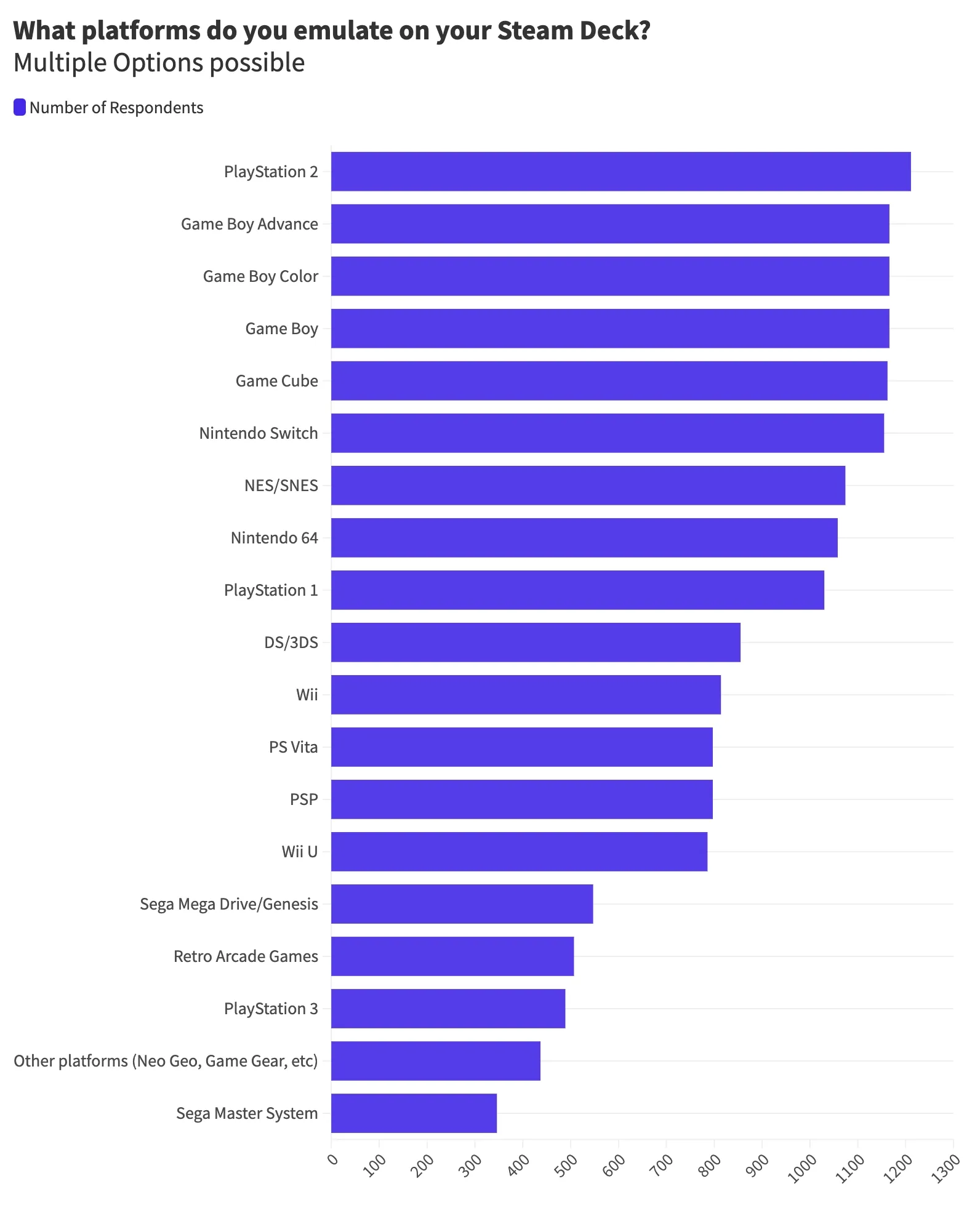 How do you play games?
Being a portable device, it makes sense that 86% of people have used their Steam Deck outside of their homes. Most people still predominantly play their Deck within their own four walls, with most playing primarily on their couch, followed by their bed.
Compared to last year, the number of people using their Steam Deck primarily during their commute doubled, but is still low at only 5%. And because you probably wanted to know: 20 people use their Steam Deck predominantly on the toilet — poop deck gaming.
One of the main selling points of the Steam Deck is how many games can be installed locally. But what about the games that may either not run or be too performance-hungry?
Thankfully, for these situations, we can use streaming options, either in-house streaming from one of your local devices to another or cloud-based streaming options. Here is what people had to say:
956 people use in-house streaming options (e.g., Moonlight, Steam Remote, PlayStation Remote Play).
520 people use offsite streaming options (e.g., Nvidia GeForce Now, Xbox Game Pass Cloud).
Have you installed any other method of acquiring games on your Steam Deck?
Thanks to the open nature of the Steam Deck (say, compared to a Nintendo Switch), the Steam Store is not the only option for installing games on the Deck. So we asked people what other methods they use.
Here's the breakdown, with the Heroic Launcher leading the way: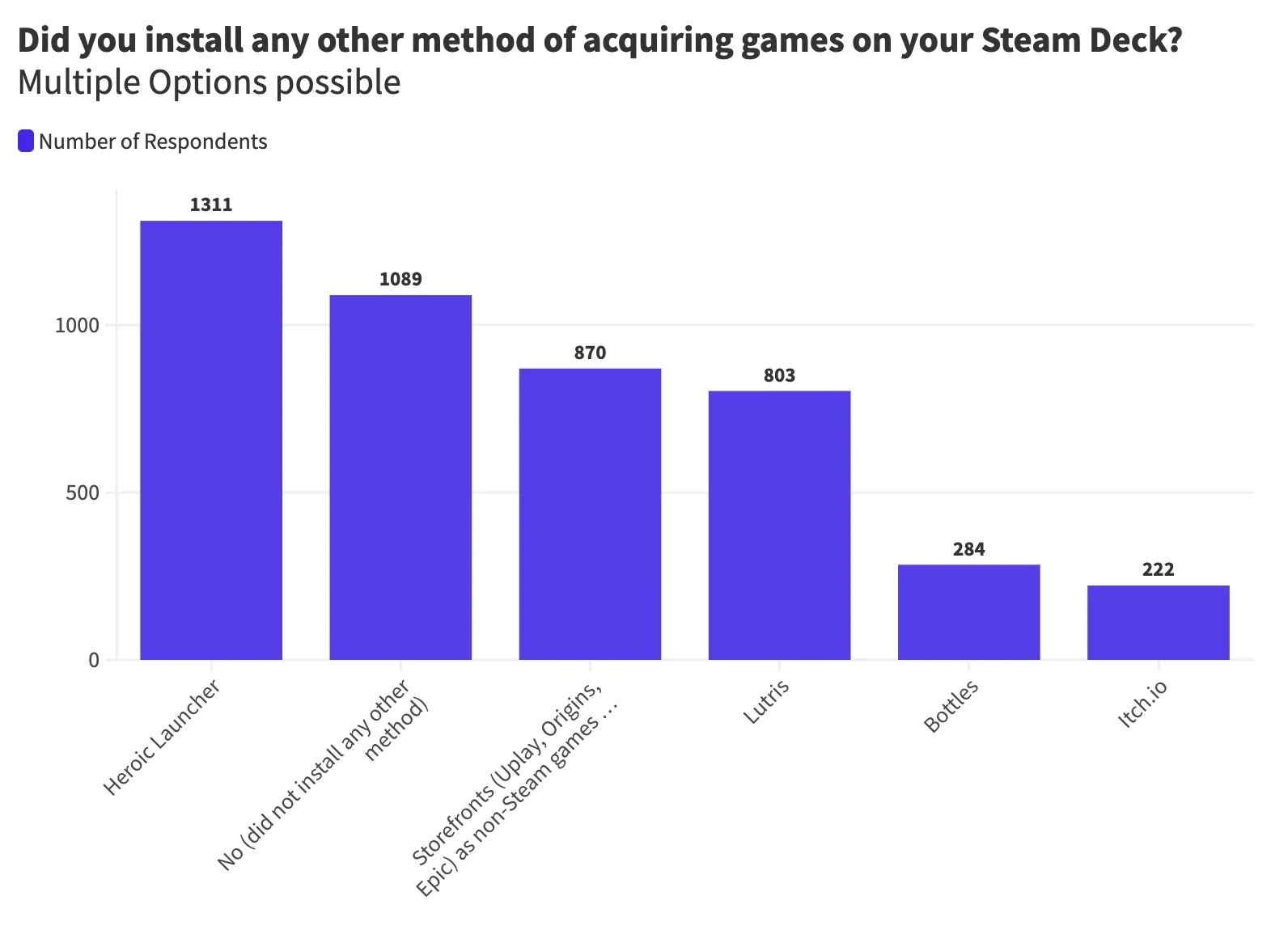 Around 37% don't bother with any other store.
And if you wonder how many games people buy for their Steam Deck, to begin with, most people (around 1500) reported having purchased between 1 and 10 games primarily to play on their Steam Deck. Around 1000 people bought 10 to 50 games. 101 people said they mainly purchased over 100 games on Steam Deck!
Compare this to the average size of a Steam Library: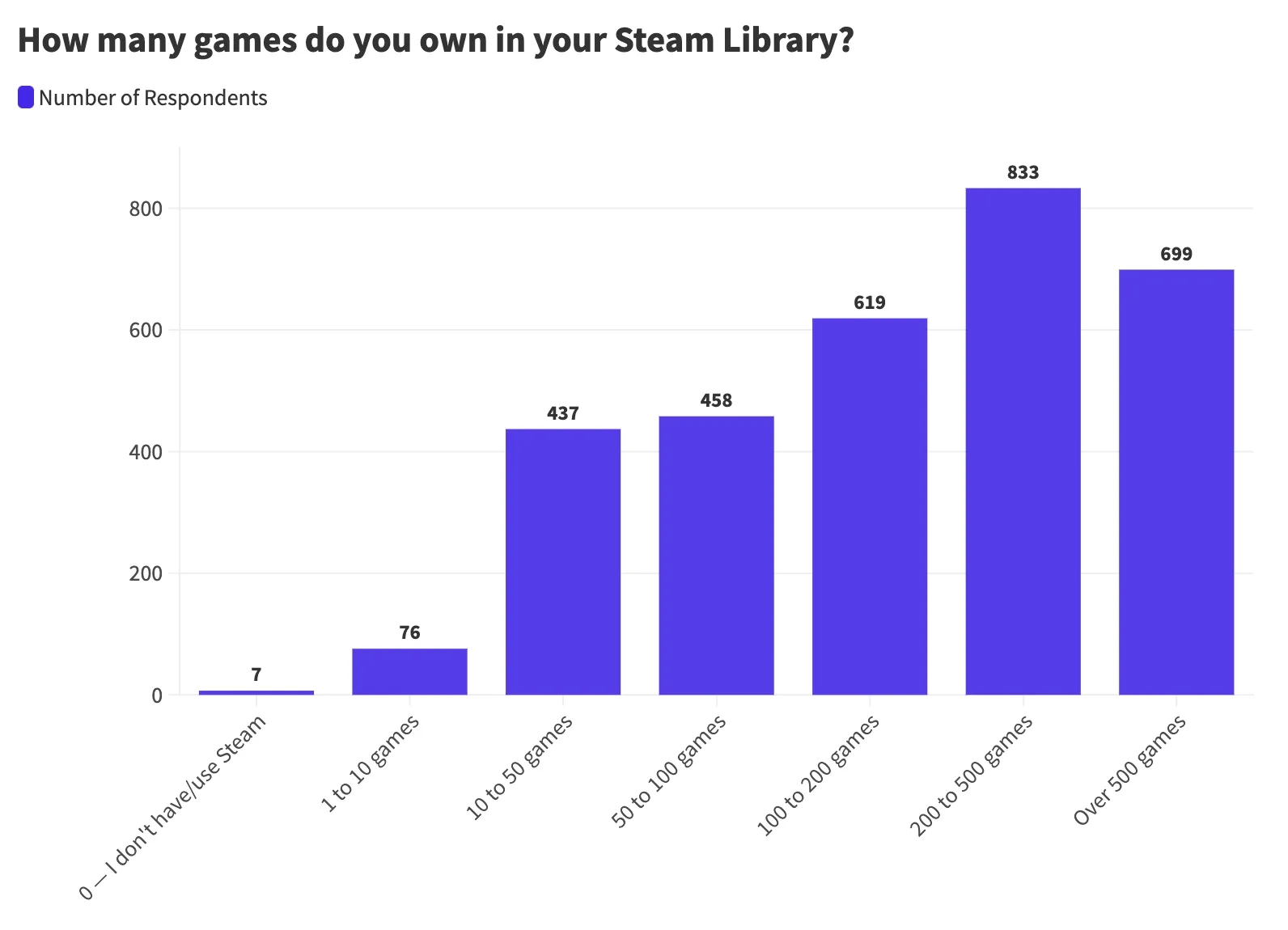 The green checkmark dilemma
We've recently covered how Valve's Verification Process can seem broken from the outside. It is an excellent idea on paper: if a game is verified or playable, you can be assured that it runs great on Deck. But we've seen that this might not always be the case in practice.
So it only makes sense that most people (70%) don't consider a game's Verified Status in their buying decision – of all the participants, the majority instead check ProtonDB or the Steam Community Pages to see if a game runs.
This also explains why 75% have previously changed the compatibility layer and why a whopping 2000 people have installed GE-Proton.
There are, however, still 30 percent of surveyed people that will only buy playable or verified games for their Steam Deck.
Let's talk about input methods
So far, the Steam Deck is one of the only handheld PCs with built-in trackpads. But since most competitors don't bother adding them, does that mean Valve could do without them in their next Steam Deck revision?
Nope, because 55% use the trackpads to play video games, with the remainder using them to navigate the Steam Deck's Desktop mode.
As for community controller layouts, 2552 surveyed people told us they had used them before, with around 100 people unaware they existed in the first place.
---
Steam Deck versus other gaming platforms
We naturally asked people if the Steam Deck was responsible for decreasing their usage of other platforms, and 87% of people reported at least a slight decrease (around 550 people stopped using any other platforms.)
Here are the hours per week spent playing on other platforms: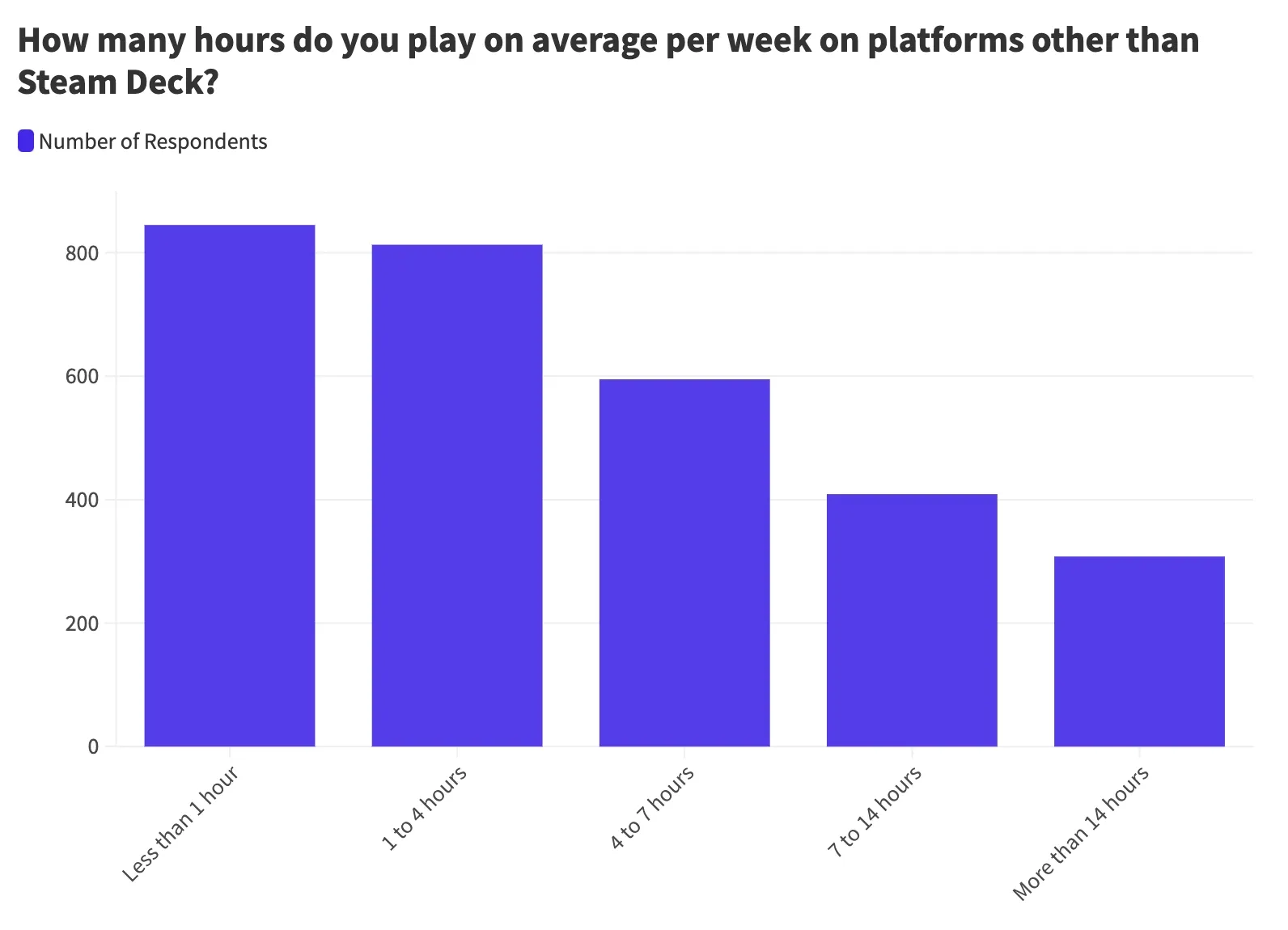 Let's compare that to hours played on Steam Deck: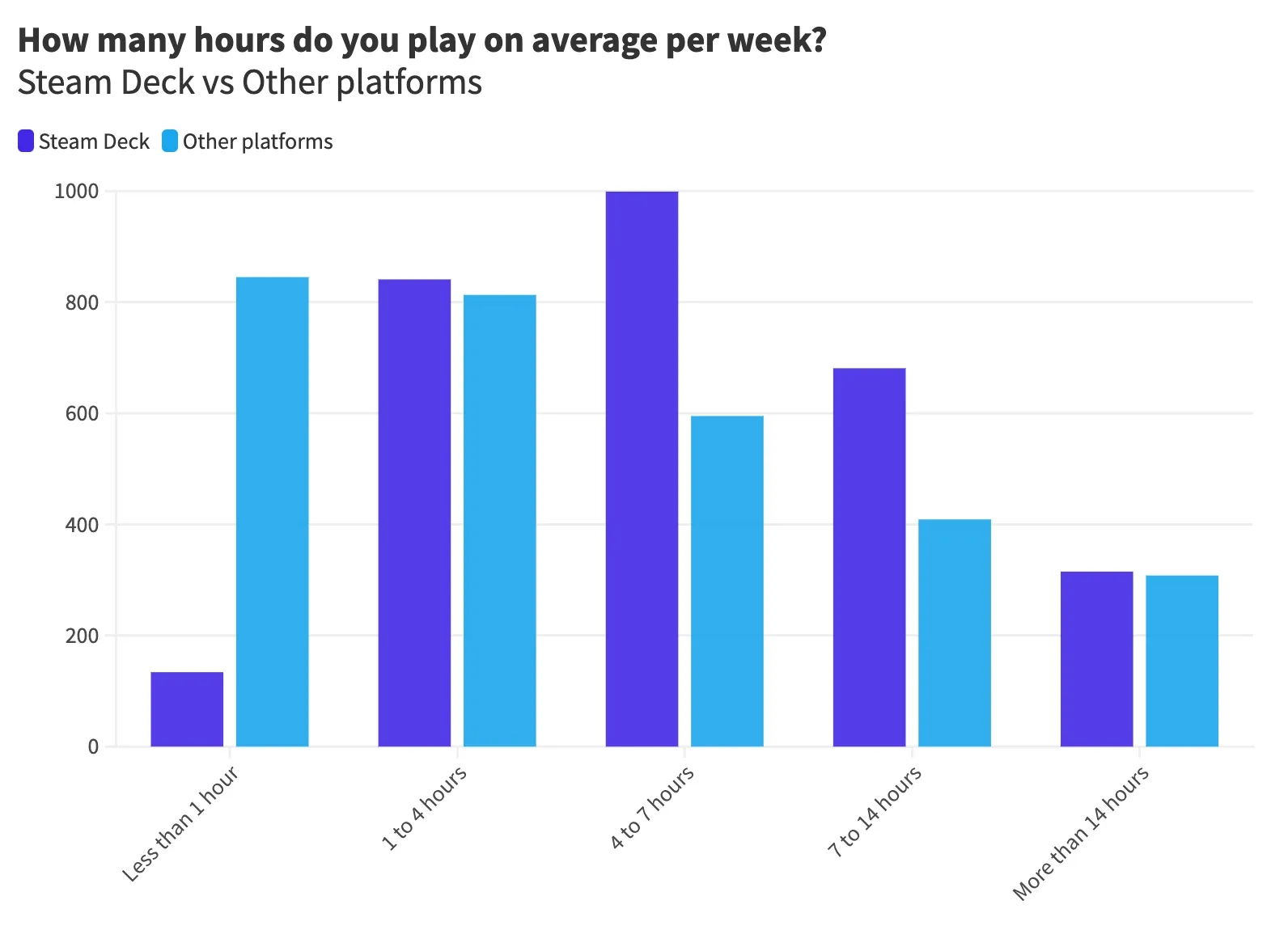 As for what platforms they own, here is what we learned.
What other platforms do you own (multiple answers were possible):
PC / Mac: 2,710 respondents
Nintendo Switch: 1,850 respondents
PlayStation 4: 1,013 respondents
PlayStation 5: 901 respondents
Xbox One: 483 respondents
Xbox Series S/X: 564 respondents
Other x86 handhelds (AYANEO, ROG Ally, GPD, etc): 152 respondents
Retro handhelds (PS Vita, Nintendo 3DS, Game Boy Color, etc): 1,506 respondents
Retro consoles (SNES, N64, Wii, PS3, Xbox 360, etc): 1,438 respondents
Further Breakdown:
In addition to the Steam Deck:
18 respondents also own all the platforms listed.
818 respondents own only a Nintendo Switch.
6 respondents own another x86 handheld an excellenta (AYANEO, ROG Ally, GPD, etc. ).
990 respondents only own a PC / Mac.
525 respondents only own an Xbox Series S/X.
609 respondents only own a PlayStation 5.
---
Looking ahead
With that, Valve may be revising the Steam Deck, we asked multiple questions to check what Valve could enhance in a potential Steam Deck 2.
Going by the fact that the average satisfaction score for the Steam Deck is a whopping 8.94 out of 10, the answer might be "not much"? Yet, when we asked people what they wanted to see in a Steam Deck 2, the two most requested answers were an OLED screen (1230 replies) or a bigger battery (1198 replies). We saw the same results last year.
However, we've also asked if people sometimes felt limited by the Steam Deck's performance. And the answer is yes, with around 65% telling us so. This makes sense, seeing that some of the Triple-A games released lately don't run that nicely on the Steam Deck. You either have to accept a lower frame rate or lower graphic fidelity to make these games run.
So, Valve, you know what to do! But please keep the price as is, as over 80% of participants told us they were delighted with the price.
---
Ok, phew. That's a wrap. A massive thank you to everyone for taking the time to look at this year's results and to everyone who filled out this year's State of Steam Deck Survey.
Of course, we'll be back next year with an even better survey.

---
Wait, there is more!
We have one more bit of news! We are launching our own Patreon profile today. For $5 a month you can support our website, the YouTube channel and more.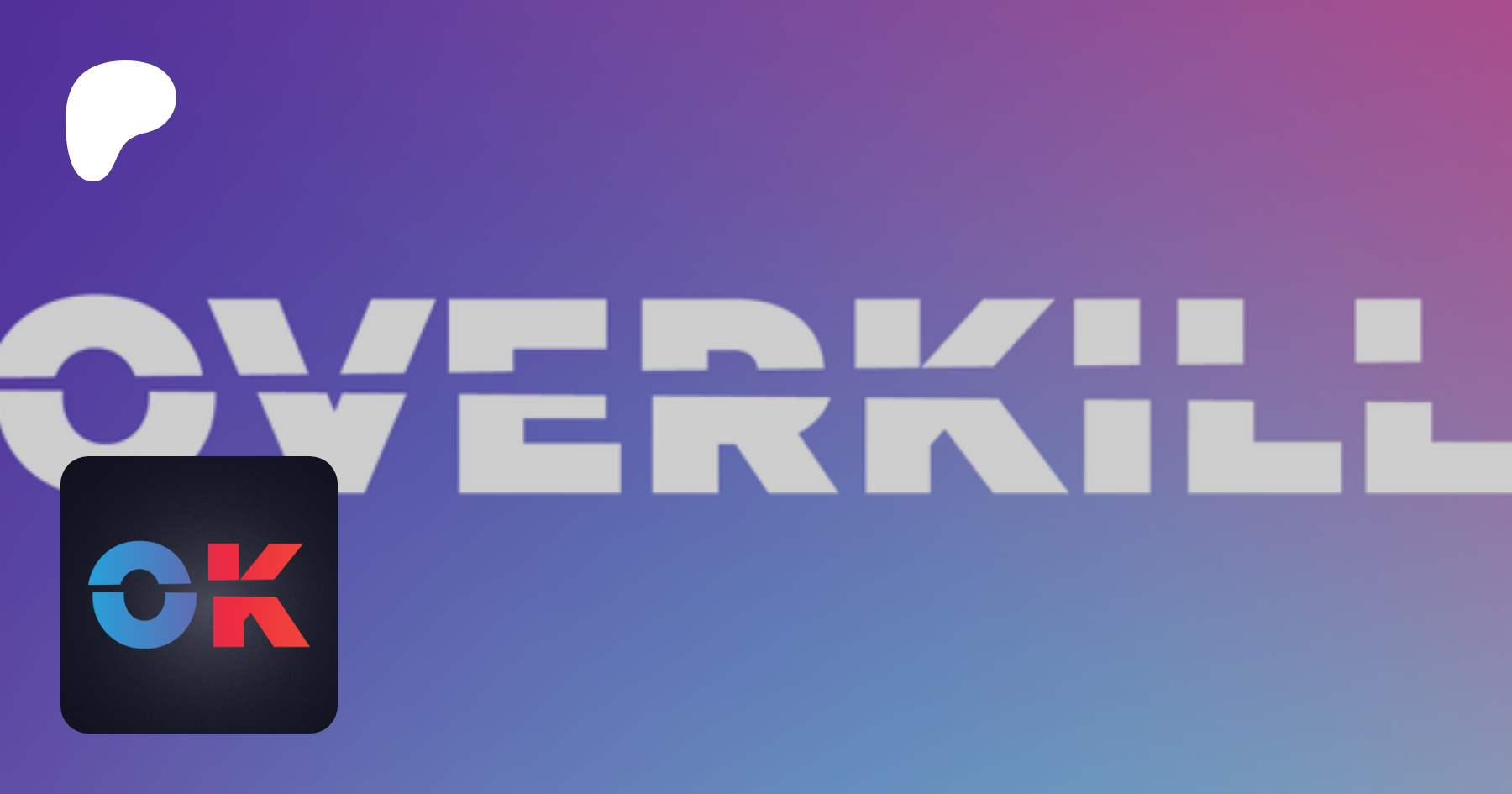 In exchange, you'll get access to overkill Premium, which includes the following perks:
Weekly overkill digest newsletter (sent on Sundays)
Access to comments feature
Ad-free browsing experience on overkill
Behind-the-scenes posts
Access to members-only Discord server
More to come...
So, if you want to support us and help grow overkill, please consider pledging.
Thanks for your support, and once again thank you for reading. <3!