Looking for a decal wrap to switch up the look of your Steam Deck? Here are some top options.
Yep, the Steam Deck is amazing, but if you're looking to spice up the look of your new portable PC... well, you are not short of options.
Due to the growing popularity of the Steam Deck, there are now countless skins (and other great accessories) that you can get from accessory makers, and independent sellers alike — so you're bound to find something that you'll dig the look of.
Of course, in addition to refreshing the look of Valve's debut handheld, these Steam Deck decals also offer a little bit of protection to your device — which is a nice bonus if you've ever found yourself asking if Steam Deck skins are worth it.
We've taken a look at a ton of the options available and brought together a handful of neat ones here — from smart-looking vinyl wraps, to colourful decals and unique skins.
---
The best skins for your Steam Deck

The skins experts over at dbrand have a huge selection of great-looking Steam Deck wraps/skins, including camo options, carbon fibre looks, concrete patterns, leather looks, a ton of colour options, and matte black, too, of course.
All of dbrand's Steam Deck skins are super thin, precision cut, offer scratch protection, and have a premium textured feel. They start at $24 and go up to $50.
If you're curious about how to install a dbrand skin on your Steam Deck, this video should help: How to apply a dbrand Steam Deck skin.

I quite like the Glitch Camo look at $28.
Also, if you're a Nintendo fan, dbrand has a neat limited edition 'SwitchDeck' skin, sporting a neat Neon Red and Neon Blue look.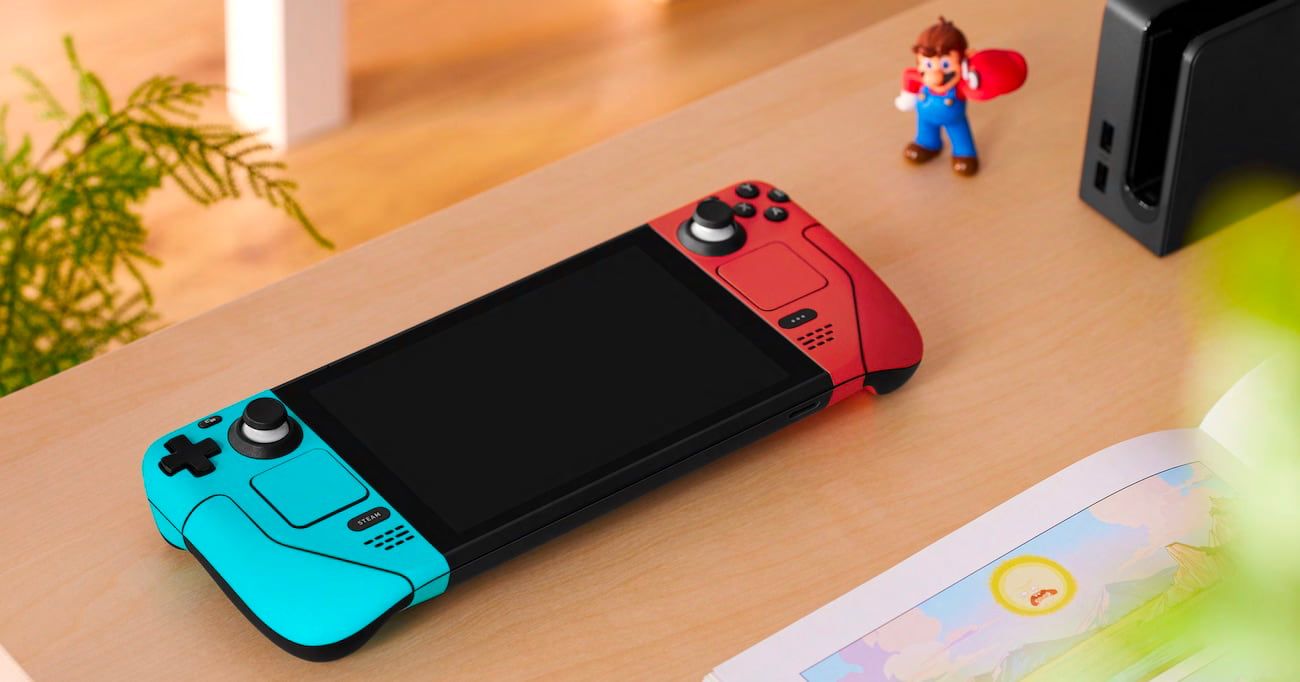 ..and if that wasn't enough, dbrand also have a new Nintendo Switch and Steam Deck skin that riffs off the Zonai design elements seen in Zelda: Tears of the Kingdom.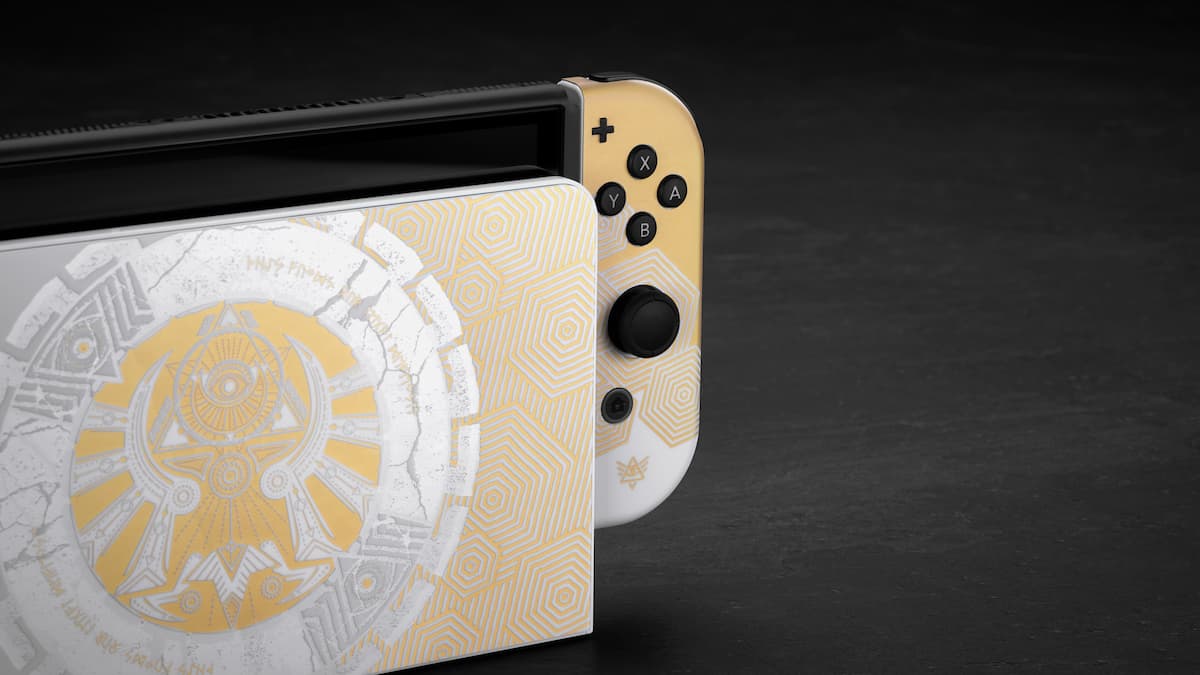 ---

Vinyl wraps company Slickwraps currently have just shy of 20 different styles of 'Made in the USA' Steam Deck skins available in a variety of colour options (and a handful of them are on sale). They also offer a 'design your own' service where you can upload images and add text to a custom skin.

Expect to pay around $35.  
---

UK retailer XtremeSkins ship their growing range of Steam Deck skins worldwide, with prices set at around $28.
In addition to a neat 'custom skin builder', they also have a range of 33 set designs to choose from, including the above 'Aged Oak' wood look. Other options include brushed metal, camo, stone, and leather styles.
---

The South Korean 'electronic device skin artist' known simply as 'Pop Skin' has been creating custom covers for a whole range of products since 1997 — so it's fair to say that with 25 years of experience, they know what they are doing.
The image above shows an example of their work (a snazzy-looking Super Nintendo-style vinyl Steam Deck skin).
They sell select designs over on Amazon, including a neat Gundam design, but the best way to get what you really want is to DM them on Twitter and commission a custom piece.
---

Handmade destination Etsy has a ton of great finds for Steam Deck owners, from thumb grips and SD card holders to custom docks — but today, we're going to focus on the huge variety of skins/vinyl wraps you can get to change up the look of your portable PC.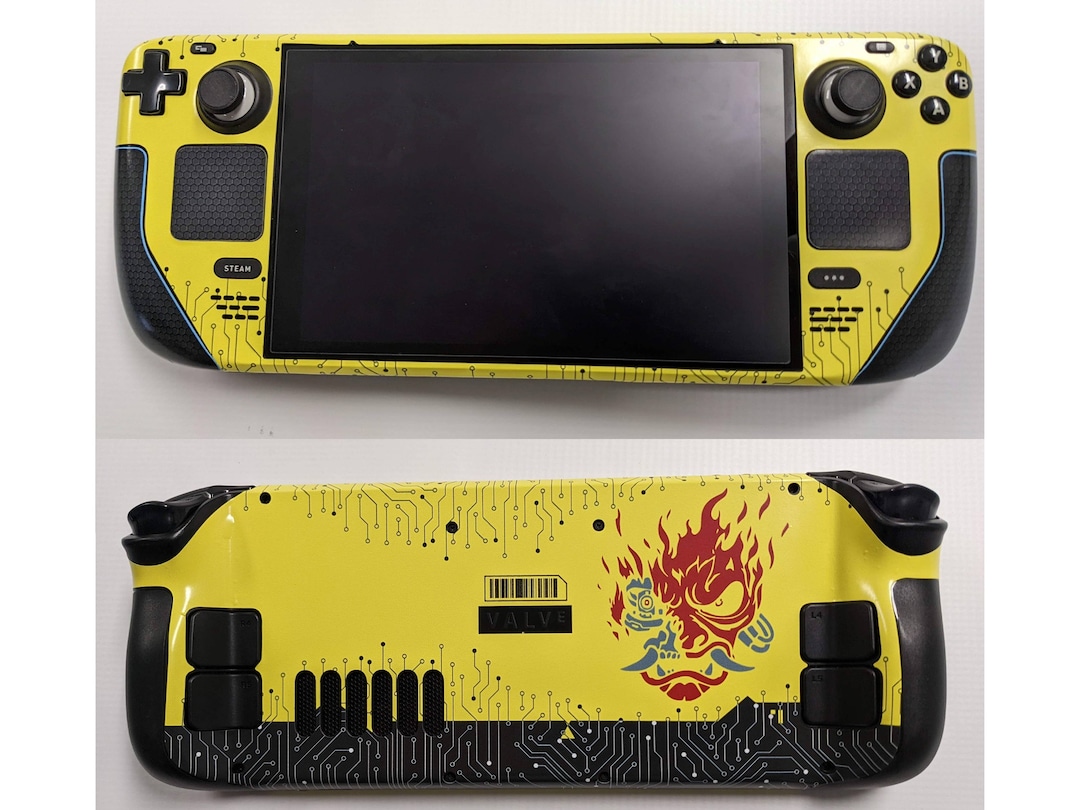 Want a cyberpunk vibe on your Steam Deck, this vibrant, bright yellow option (around $27) will likely do the trick. There's a video guide showing you how to apply it, and you can also get a matching skin for the Steam Deck Dock.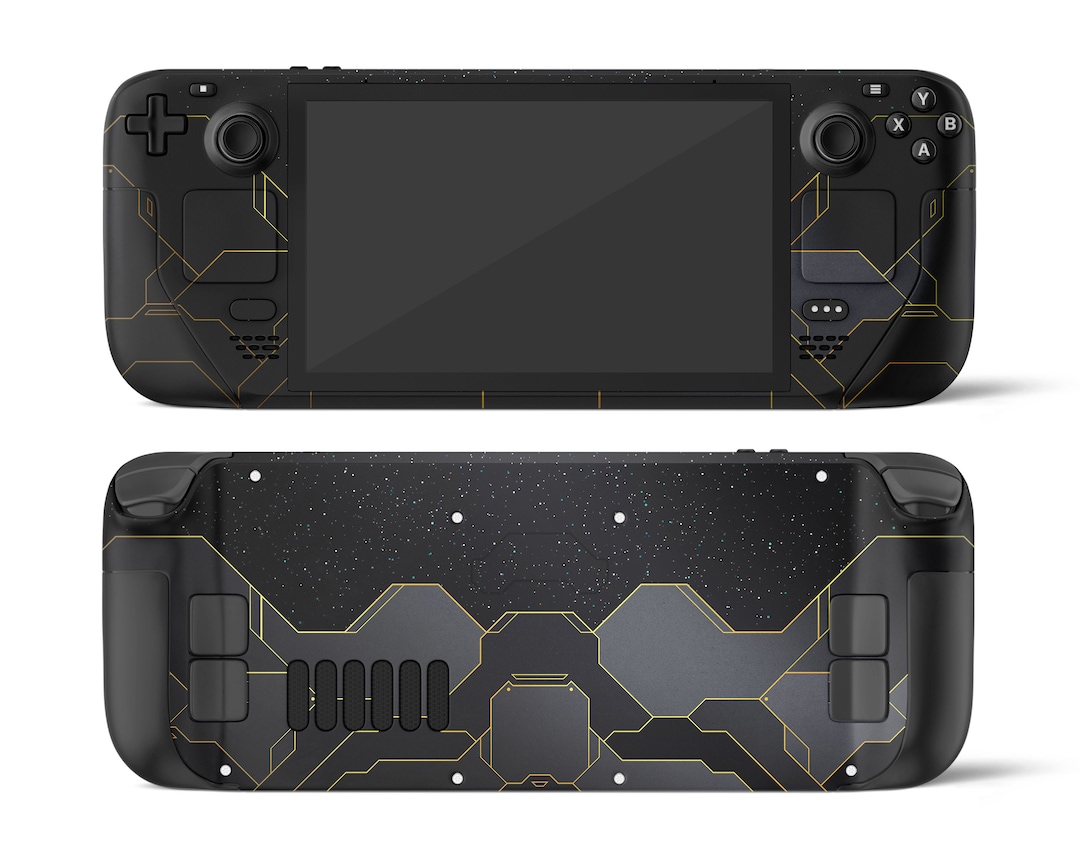 Halo fan? Playing Infinite on your Deck? Well, this themed vinyl wrap should tick the box, as it features a sci-fi Halo-esque vibe front and back. Expect to pay $35.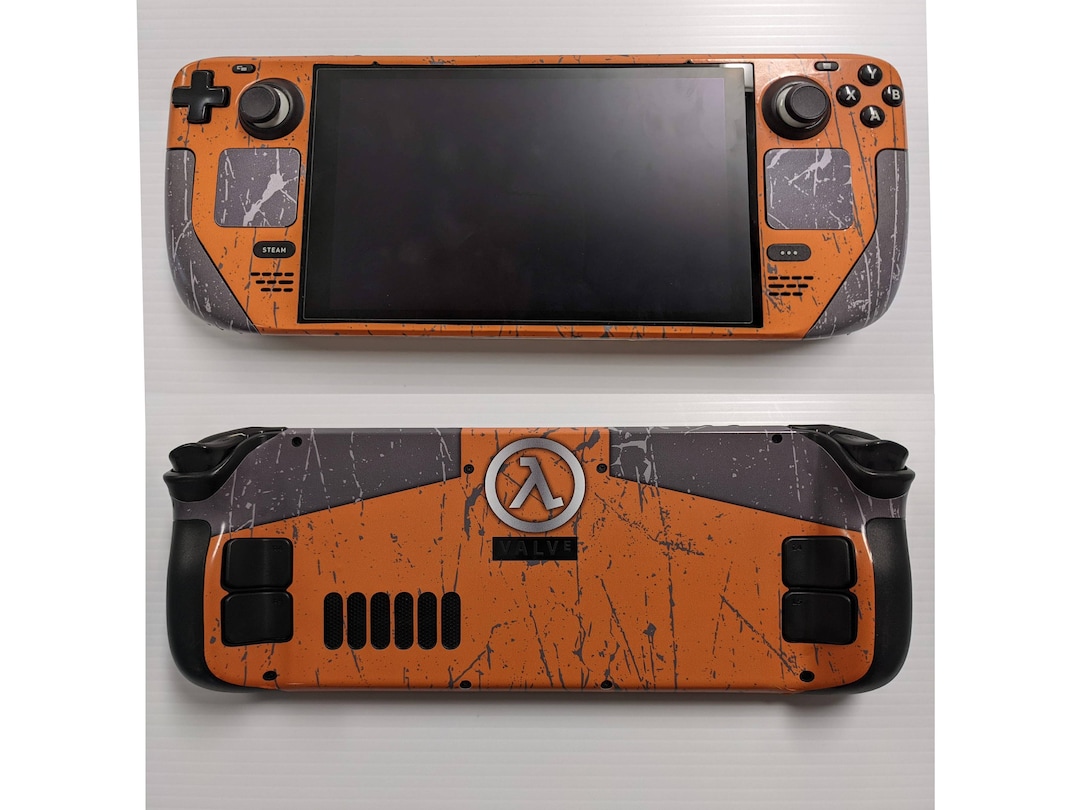 This Half-Life themed vinyl Steam Deck skin features a metallic, worn look in addition to the series logo — no crowbar required for install. It's currently on sale, and should set you back around $27.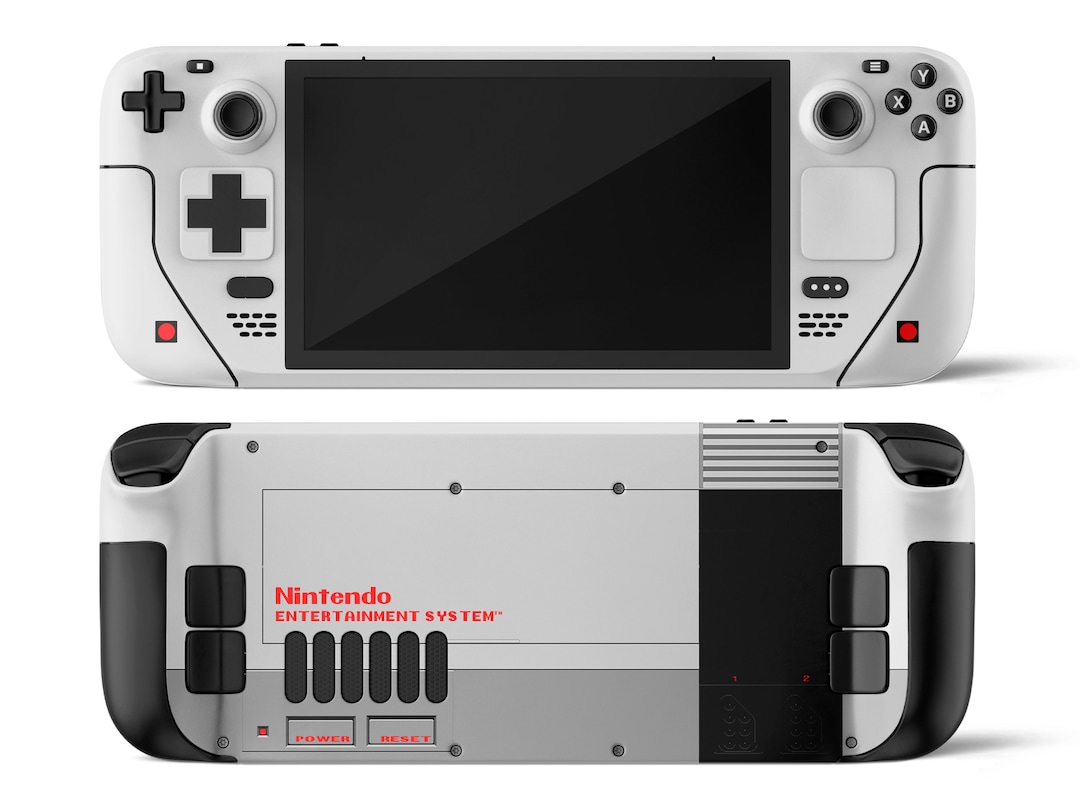 Here's one for retro Nintendo fans. With this skin, you can give your Deck a NES-style makeover. It's currently available for around $36.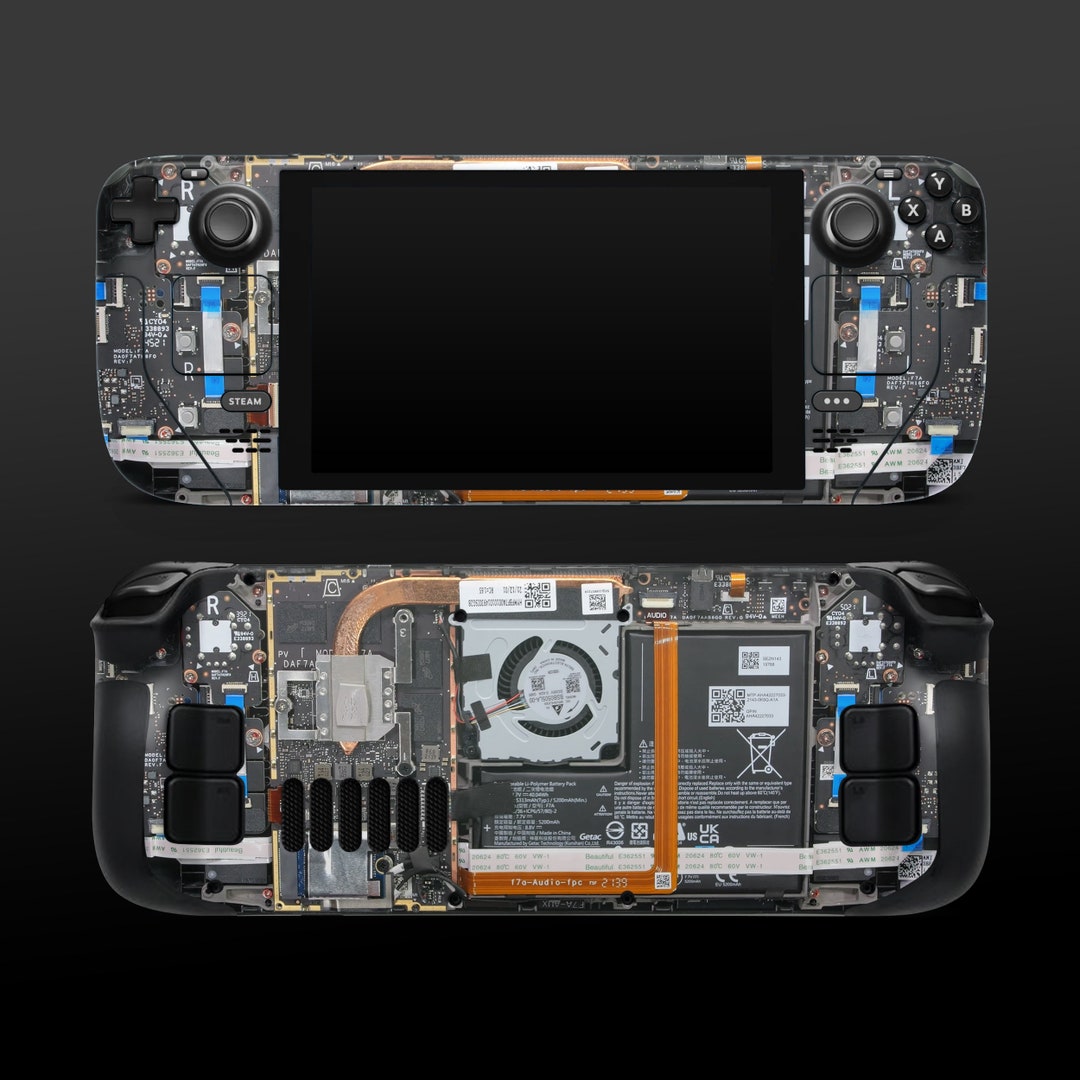 Finally from Etsy, we have this cool decal which lets you take a look inside your deck, without the need for a potentially troublesome teardown. It's about $31.
---

Before we go — if you're looking for a way to customize your Deck without going all in on a skin, then Colored Controllers offer up a minimal option — changing only the look of the Steam Deck's touchpads.
Yes, these 'TouchProtect' skins sit on top of the two touchpads, adding a touch of style, and, more importantly, a bit of grip to the panels.
They are available in a handful of tasteful finishes and colours and will set you back roughly $13.
---