We surveyed over 1000 Steam Deck owners to see what they think about Valve's new portable PC.
Over the last couple of weeks, we've been busy digging into the results of our first 'State of Steam Deck Survey', looking over all the numbers,  graphs, and stats. Our eyes hurt, but we're finally done — the results are in.
Steam Deck owners love playing the likes of Elden Ring and Marvel's Spider-Man on the handheld, over 60% of those with a Steam Deck also have a Nintendo Switch, and the 512GB model of Valve's portable PC is by far the most popular option.
So, that's just a taste of the results — we've got much more to get into below, so let's dig in.
---
Before we start, here are some key details on the methodology used to gather the data.
The survey was open from August 25 until September 9;
Data was collected using the survey platform Wispform;
The questionnaire consisted of some ~40 questions about the Steam Deck;
Over 1200 people participated (1296 to be precise);
54% of participants reside in North America, 41% in Europe, with the remaining people scattered all over the world;
The bulk of people responding are between the ages of 18 to 39;
Most respondents came via the Steam Deck subreddit.
As outlined above, most of those completing the survey came via a dedicated subreddit for the device in question. As such, it's fair to assume this group of respondents are highly interested in the Steam Deck platform and its success — this is worth keeping in mind, as they are more likely to be favourable towards the device when compared to a random sample (such as asking folks on the street).
Regardless, let's look at the results.
---
Do you own a Steam Deck? If not, why not?

Of all those answering the survey (1296), 94% (1228) have purchased a Steam Deck.
This number comprises those who both currently own the device and those who have preordered (but, at the time of answering, had not yet received their Steam Deck). Amusingly, ten respondents detailed that they own several Steam Deck devices.
17% of those responding do not have a Steam Deck or are yet to order. So why haven't they bought one? Let's take a look: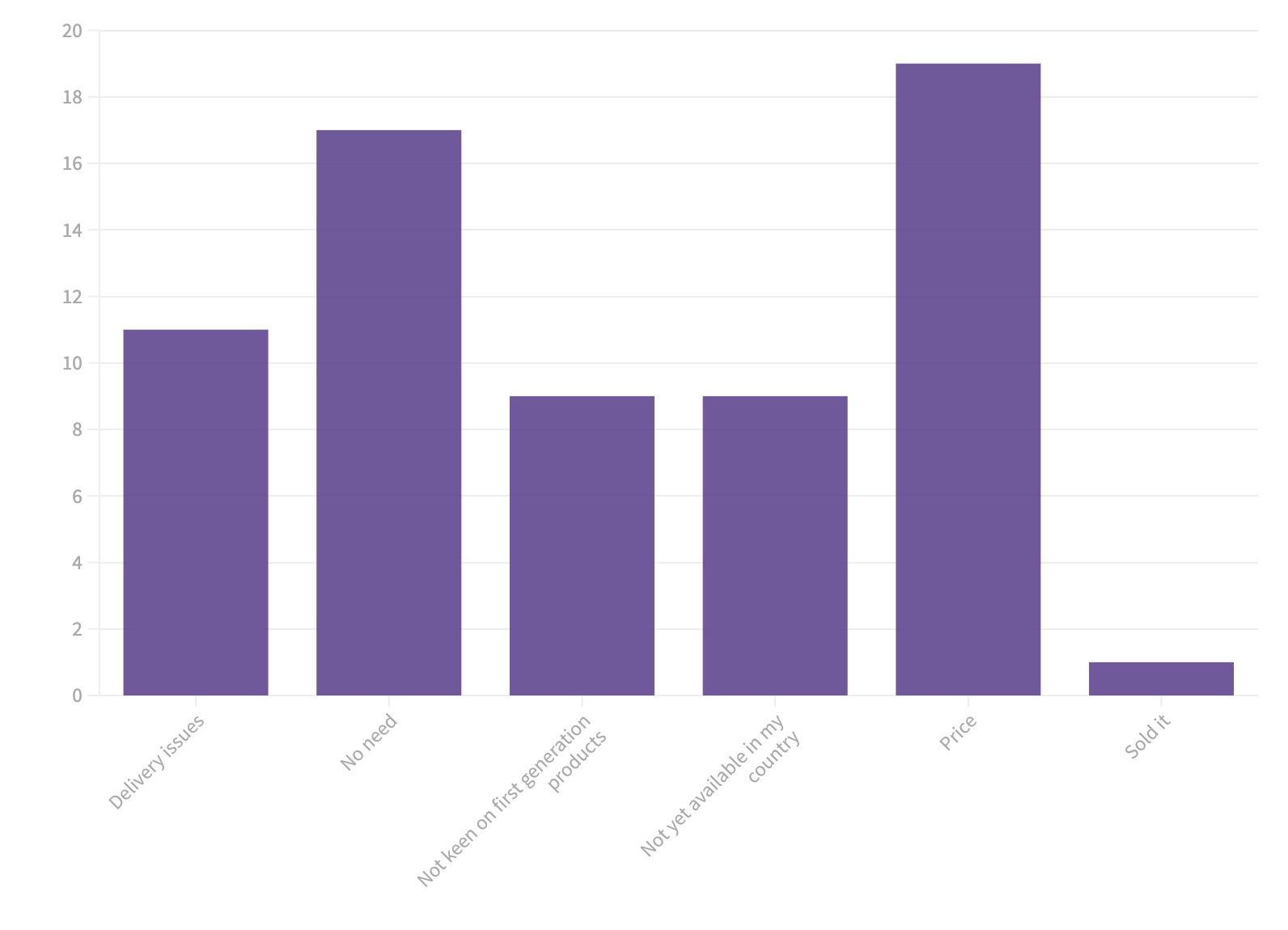 What storage option did you choose? And did you upgrade your storage in any way?

The most popular version of the Steam Deck is the 512 GB variant, with 57% of people choosing that storage option, followed by 30% for the 256 GB option and 13% for the cheapest tier.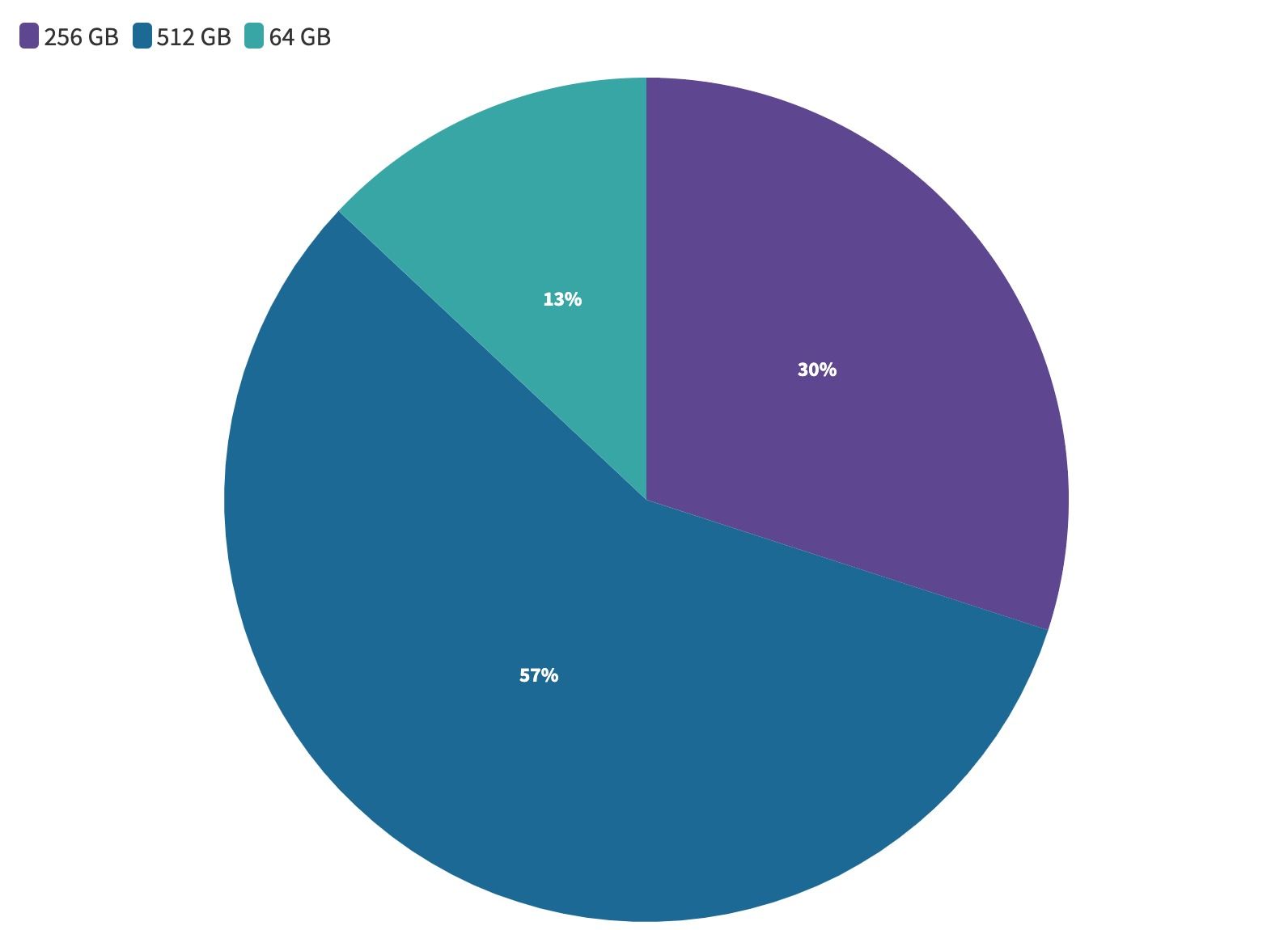 As the Steam Deck is user upgradable, meaning people can swap out their SSD drives and install their own, around 60 respondents — mostly buyers of the 64GB option — did just that. When installing an SSD, the most popular size added was a 1TB drive, followed by a 512GB stick.
Of course, swapping the SSD is not the only way to upgrade your storage on the Steam Deck, as you can also use a microSD. Over 71% of Steam Deck owners shared that they have done this. Most people seem to opt for a 512GB microSD card (including yours truly).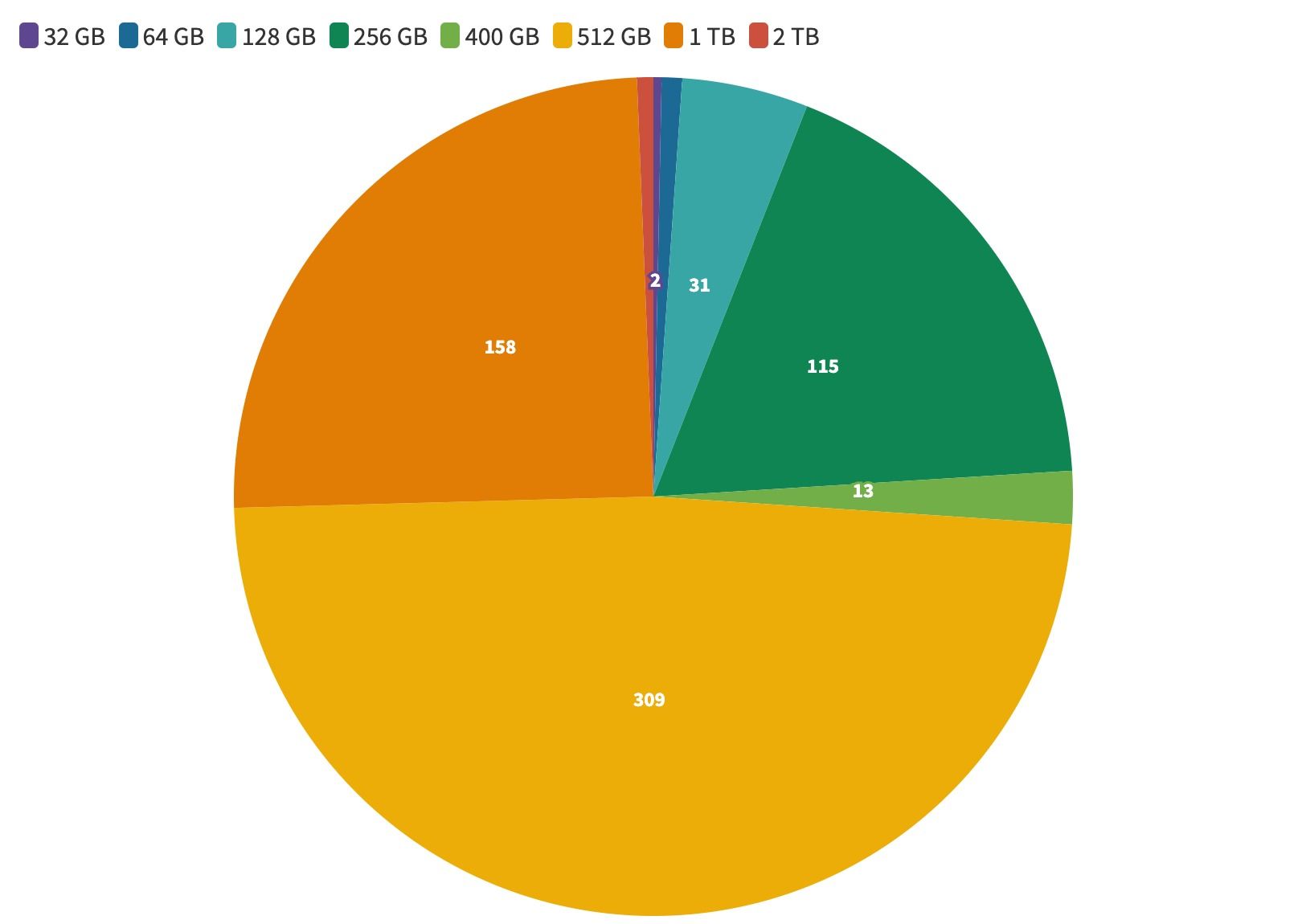 Did you have any issues with your Steam Deck?

If you go by comments made on the Steam Deck subreddit, many people seem to have issues with faulty Steam Decks that require a return (Return Merchandise Authorization — RMA) or, even worse, Steam Decks stolen during delivery.
However, going by the results of our survey, only 27 people had to RMA their Steam Deck, and out of the 30 people having issues during the delivery of the Deck, none had theirs stolen.
If you spend any amount of time on the Steam Deck subreddit, there is clearly some issue of stolen devices — but the survey results don't paint any picture that can speak to that.
Let's talk about usage

After some hardware-related questions, we asked people how they use their Steam Deck.
First, we asked about Windows usage. Are people running Microsoft's operating system instead of steamOS on their Deck? Generally, no. Only 2% of those surveyed indicated they do this. While this small figure is by no means conclusive for the whole community, it might go some way to explain why Valve is taking their time optimising the Windows experience for the Steam Deck.
How many hours do you play on average per week?

Next, we wanted to know how much time people typically spend playing their Steam Deck each week.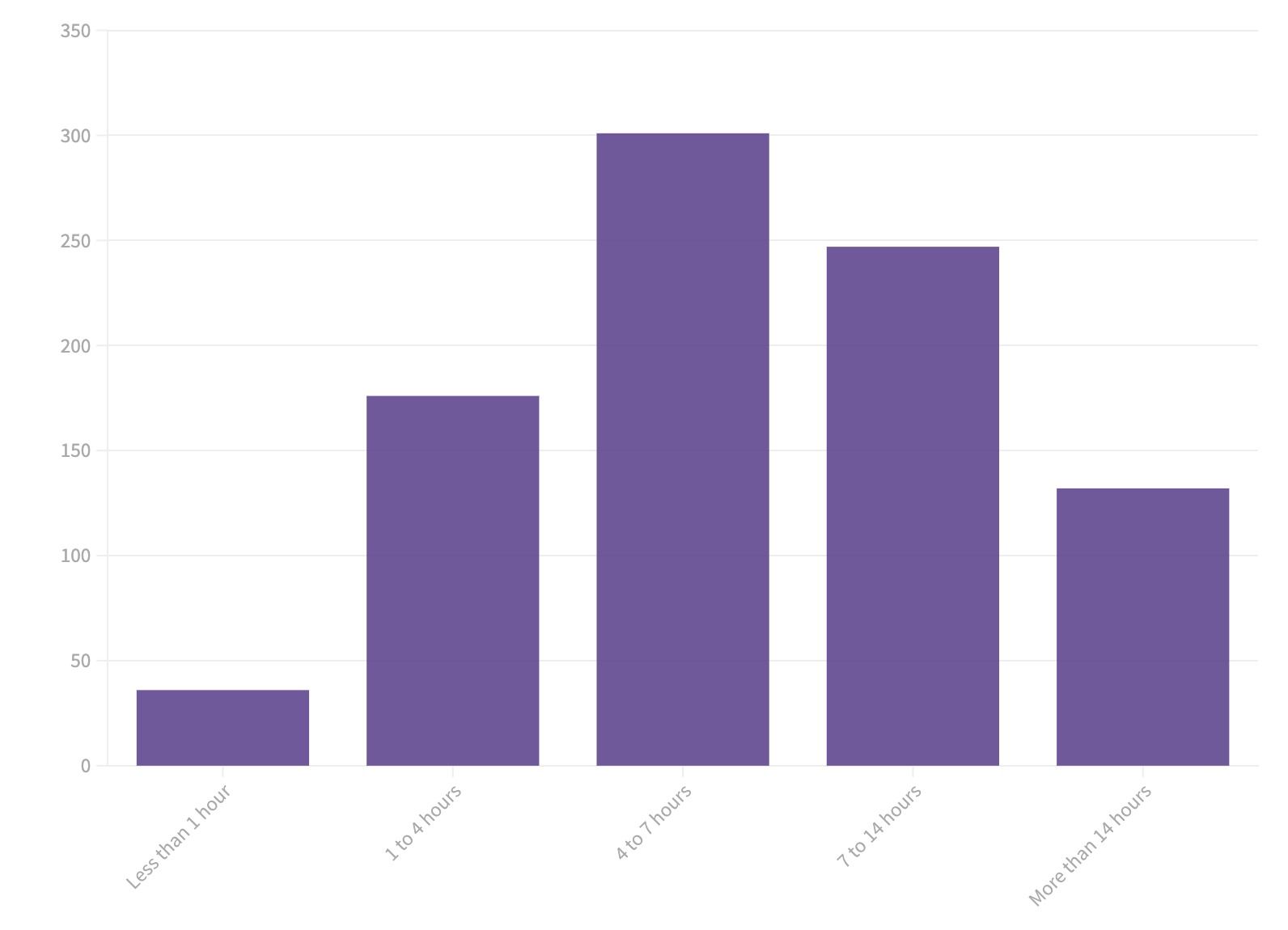 How does this compare to how many hours folks spend playing on other platforms?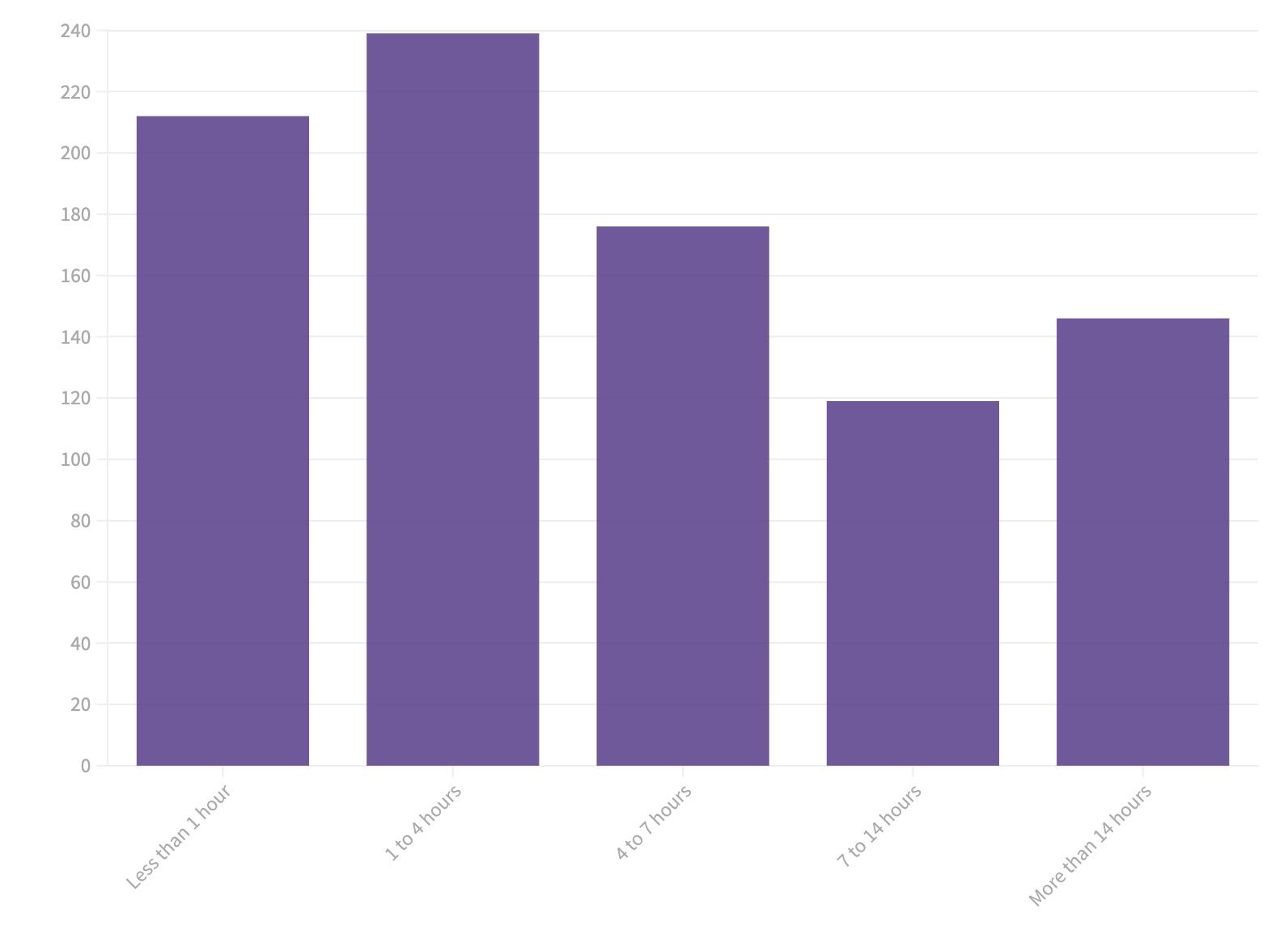 Then we asked if people felt their usage had declined on other platforms since getting a Steam Deck. 64% of respondents shared that their gaming time on other platforms had decreased since picking up Valve's handheld. 17% reported that they had stopped entirely using other platforms for their gaming.
Taking these two stats together, 80% of Steam Deck owners seemingly prefer playing on Valve's portable PC to that of other platforms/consoles.
What other gaming platforms do you own?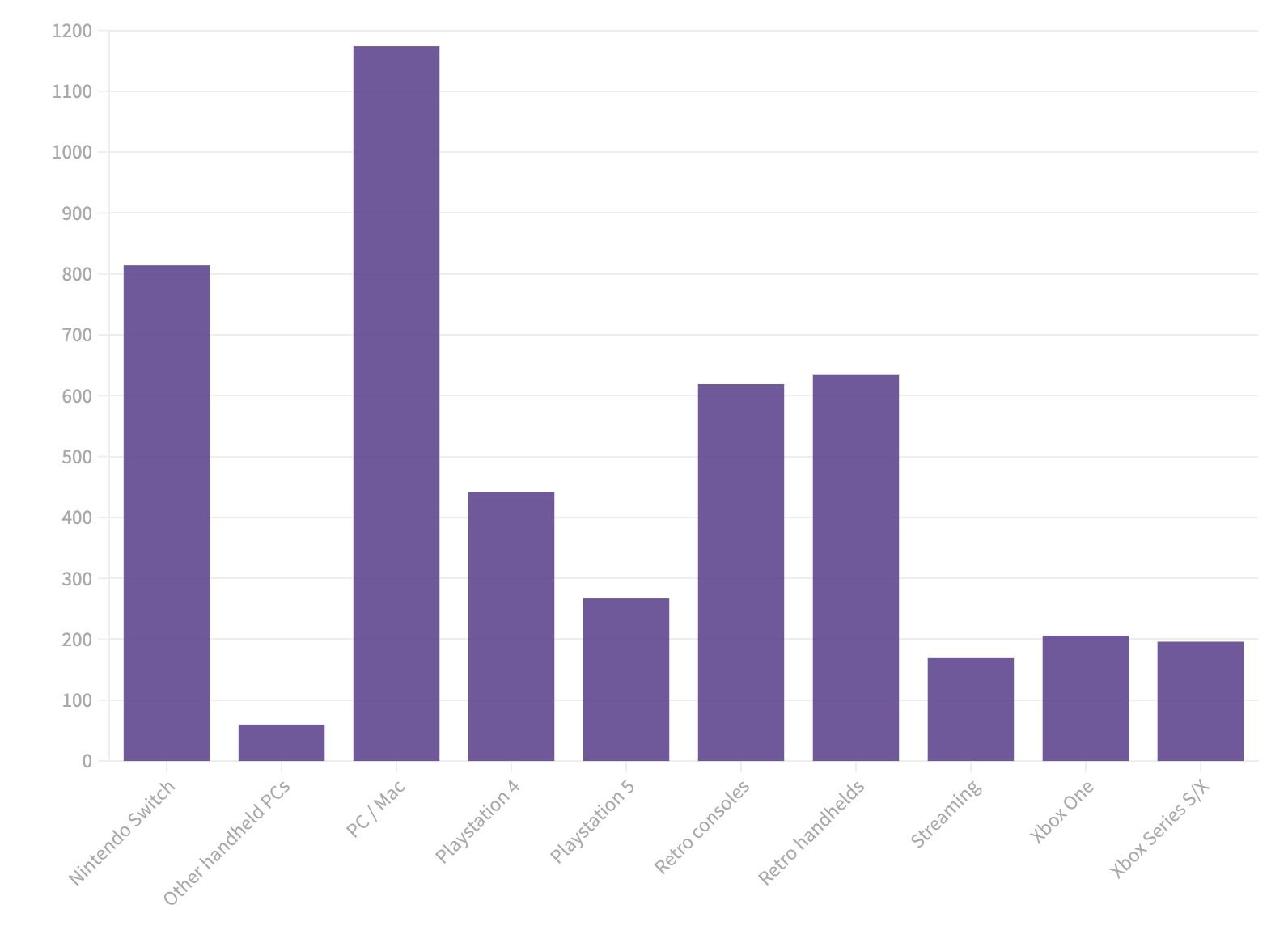 90% of people own a PC, which is not very surprising to us.
The Steam Deck is, after all, attractive to those who have already heavily invested in an extensive Steam library. And with the device only out for a bit over seven months, Valve is currently targeting early adopters and heavy Steam users. These early adopters, however, seem to crave a portable, as over half own a Nintendo Switch (814).
Around 60 people (1.3% of respondents) own a Steam Deck competitor (from the likes of Aya Neo, GPD, or Ayn). This low number suggests that the Steam Deck is the first handheld PC for most people.
How do you use your Steam Deck?
We asked where folks were using the Steam Deck, and most participants (a sizeable 82%) said they use the handheld primarily on the couch or in bed. An additional 9% shared that they use their Steam Deck mostly at their desk.
Only 30 people (3%) said they use their Steam Deck the most whilst commuting — but this may be a side-effect of the increase in working-from-home following the pandemic. Could we see this commuting stat increase as more folks return to the office?
Eight individuals also felt the need to share that they play the Steam Deck primarily on the toilet.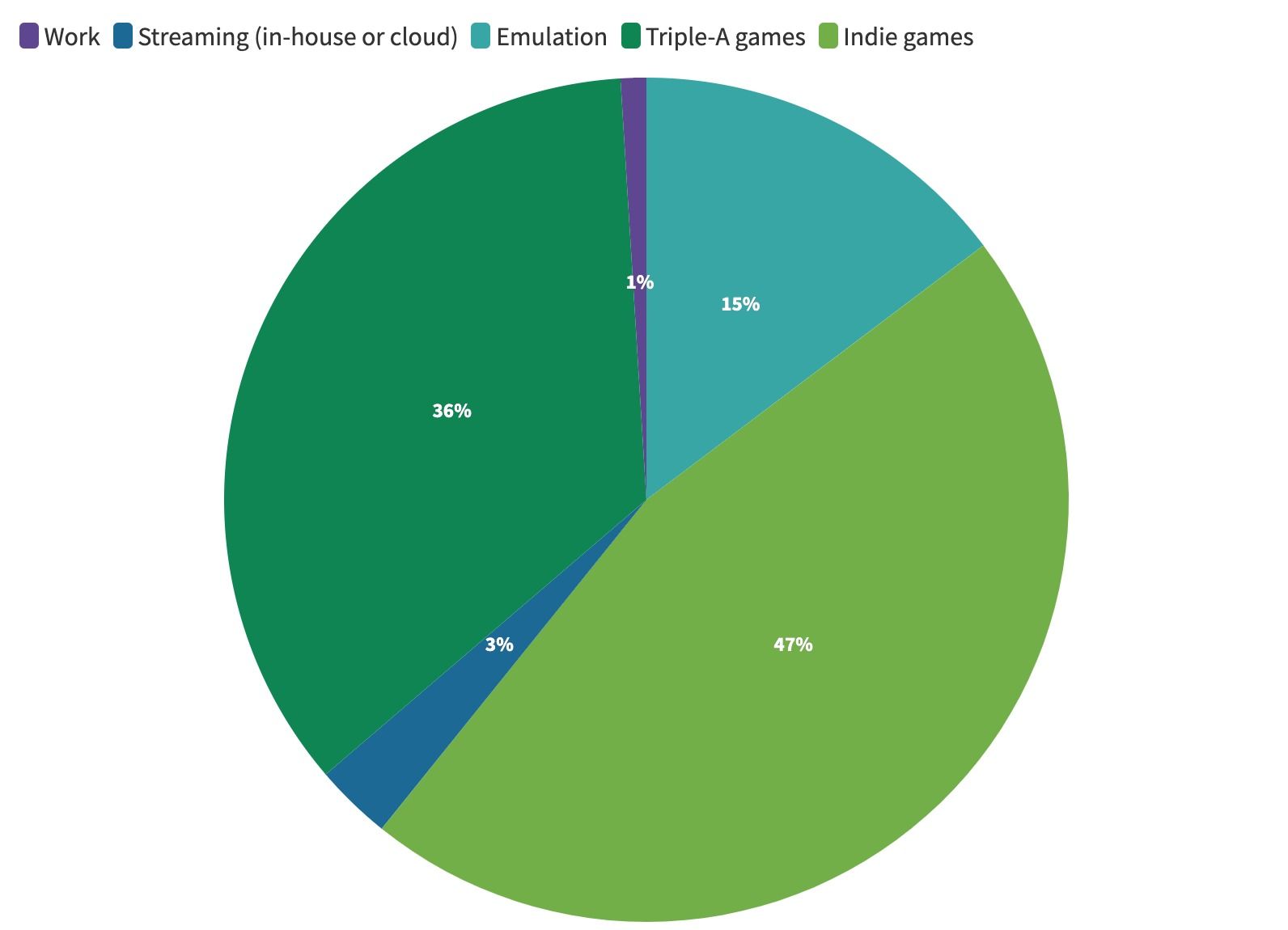 The Steam Deck is clearly a hit for fans of indie games — with nearly 47% using it primarily for playing these sorts of games, followed by just over 35% for Triple-A titles.
Only around 15% of Steam Deck owners use their devices for emulation.
Nearly 30% of Steam Deck users indicated they use in-home streaming services like Moonlight and Steam Remote. Around 20% shared that they have used off-site streaming, like Stadia and Xbox's Game Pass cloud services on the Deck.  
Have you installed any other method of acquiring games on your Steam Deck?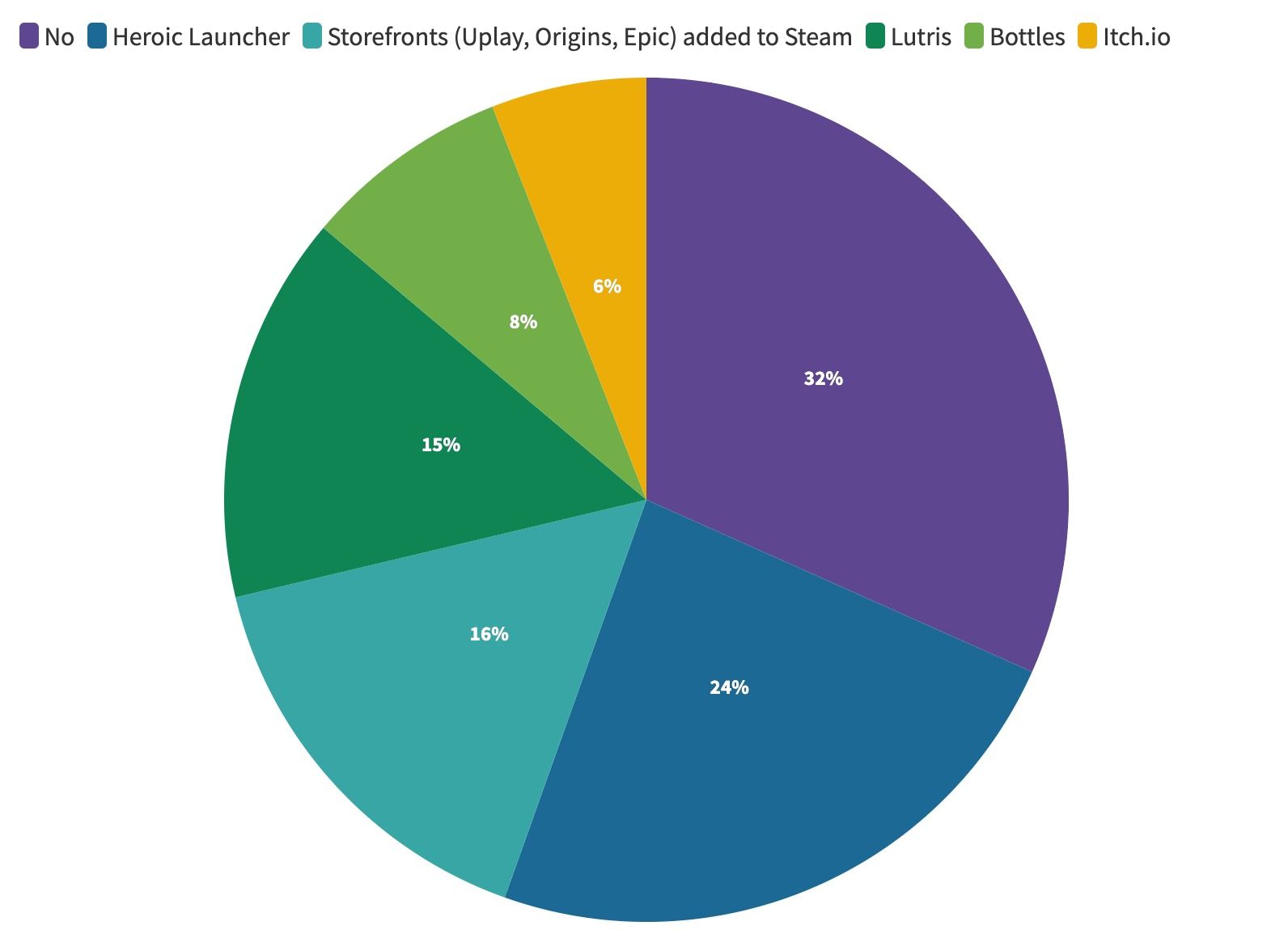 Going via Steam is not the only way to install games onto the Steam Deck, and as the chart above shows, folks are open to trying alternatives. Heroic and adding dedicated launchers to Steam lead the way here.
Most people are seemingly happy to stick with Steam — just over 30% said this is the only way they get games onto their Deck.
How many new games have you purchased to play on your Steam Deck primarily?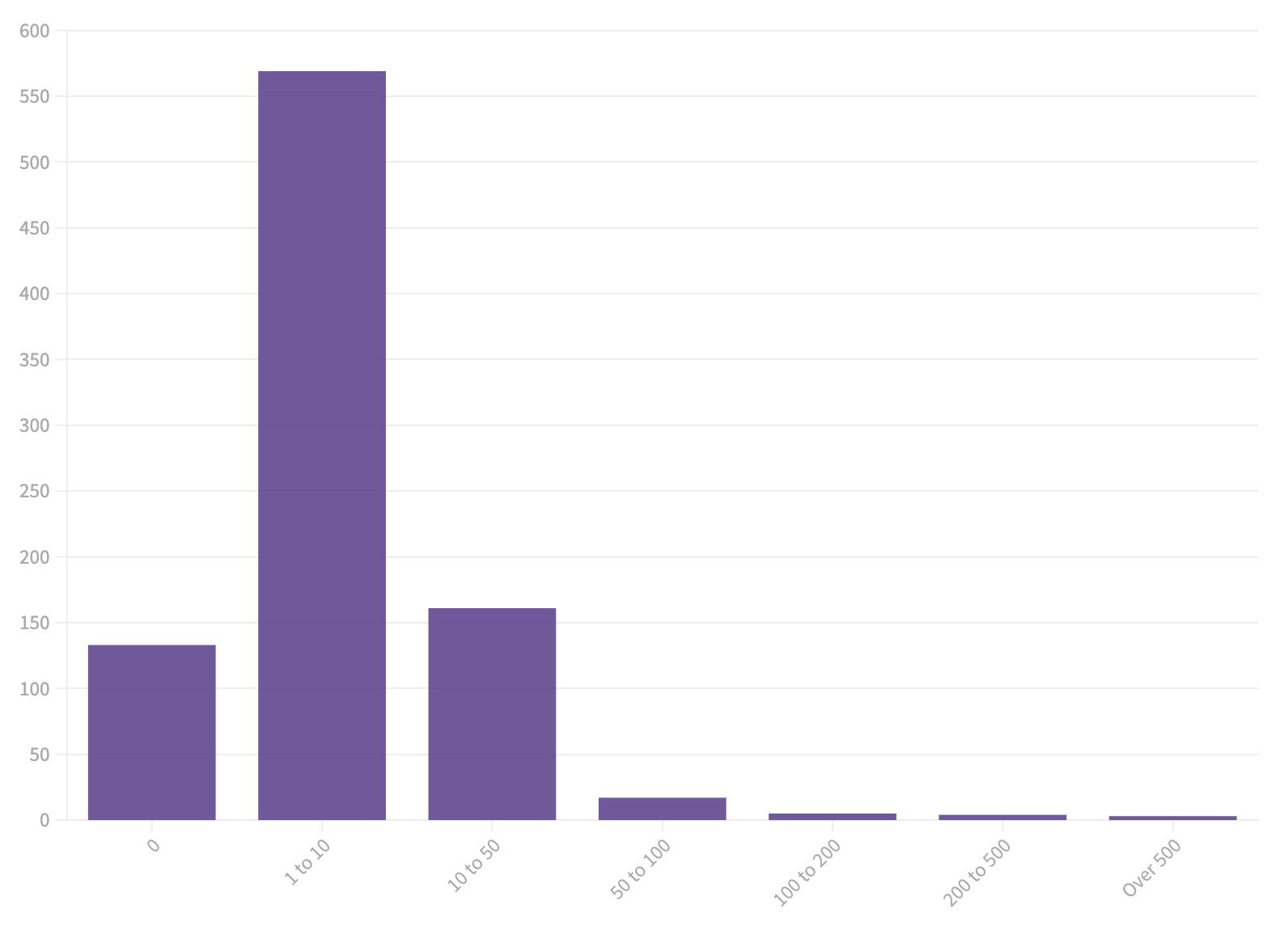 Since getting a Deck, we asked how many titles folks had picked up specifically to play on the handheld PC — and folks sure do love to buy games for this thing!
63% indicated they had bought at least one game to play specifically on the Steam Deck. 18% said they purchased 10-50 games to play on the portable PC. Around 15% of respondents said they had not yet purchased any game for the Steam Deck primarily.
And a few fanatical Steam Deck owners shared they had grabbed over 100 games for the Valve handheld!
Here's a look at how many games are in the typical Steam library of a Steam Deck owner (I'm firmly in the 'Over 500' segment):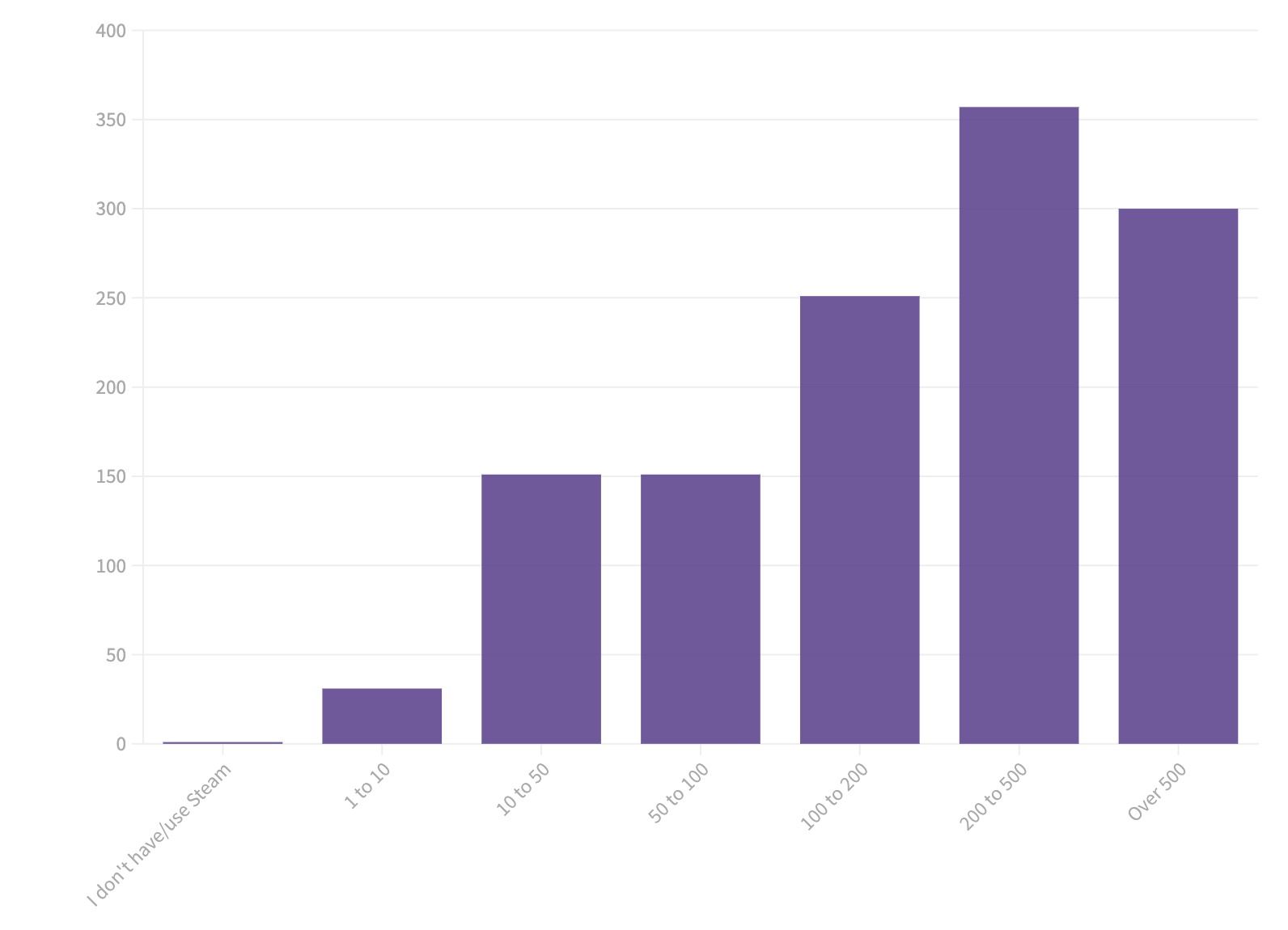 What games are you playing?

We asked our participants a few questions regarding the games they were playing. First, their favourite genre:
RPGs are the most popular games played on Steam Deck, followed by action-adventure titles and shooters.
Next, we asked what single game Steam Deck owners play the most. As you'd expect, the list of replies is long, but here's a look at the top twenty most common responses (in order of popularity):
Vampire Survivors
Marvel's Spider-Man
Elden Ring
No Man's Sky
Hades
Cult of the Lamb
Horizon: Zero Dawn
Monster Hunter Rise
The Binding of Isaac
Final Fantasy VII Remake Intergrade
One of the different Pokémon versions
Stardew Valley
The Elder Scrolls: Skyrim
Dead Cells
Portal 2
Stray
Final Fantasy XIV
Yakuza 0
Hollow Knight
Multiversus
Have you used your Steam Deck for productivity tasks?

The Steam Deck is a Linux-based PC, so technically, it could function as your sole work device – albeit with the right accessories. It seems, however, that for nearly 73% of people, the Steam Deck remains a gaming platform.
Maybe it's too risky for people to use their Steam Deck as a work device as the games are but one mere tab away. We know that this is why we don't write these posts on our Steam Deck!
How satisfied are you with your Steam Deck?

Finally, the big question: are people happy with the Steam Deck?
The answer is a resounding yes, with over 90% of respondents giving Valve's new handheld a score of 7 and above.
It seems fair to say Valve have done an excellent job, and the device is meeting expectations.
However, that's not to say things can't be improved for future hardware. Here's what folks wish to see in any potential 'Steam Deck 2':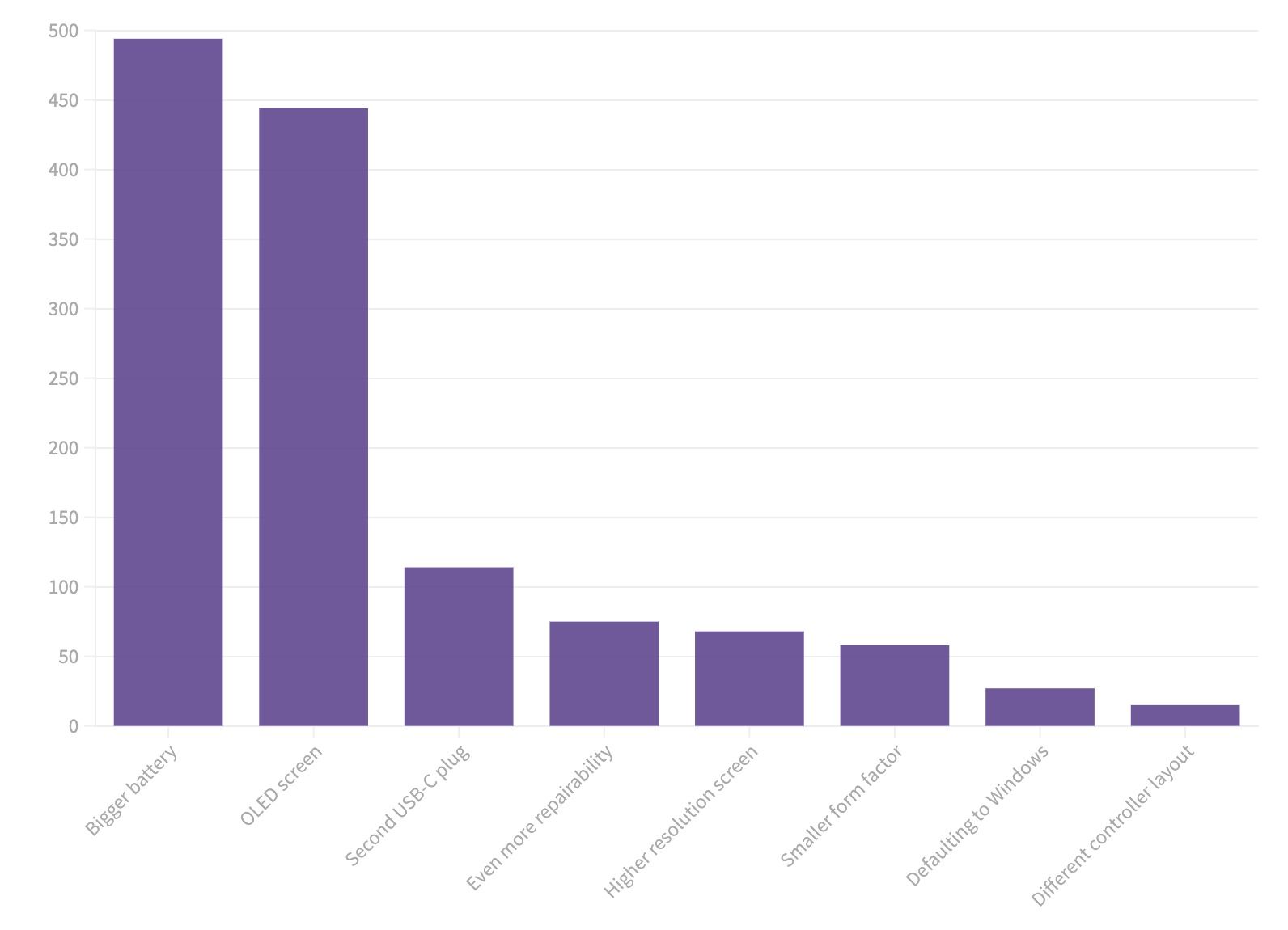 The takeaway? Give us a bigger battery, and an OLED screen and folks will be all-in on the next upgrade.
That's it

Ok, that's a wrap.  A massive thank you to everyone for taking the time to look at the results shared here and to everyone who took time out of their day to fill out this year's State of Steam Deck Survey.
We plan to return with a new survey with additional questions sometime next year.
Again, thank you very much for reading.
---
Oh, and one more thing:
We have launched a free weekly email, called overkill digest.
Going forward, we will send out a newsletter every Sunday to all our subscribers, summarising the most important news that happened that week on overkill and elsewhere. We'll also go through the list of Deck verified games for that week, what we're currently playing and more.
We hope you'll like it. Tap here to sign up for free.