Here's a first look at a new highly modular case accessory for your Steam Deck from JSAUX.
Accessory maker JSAUX have introduced a new case option for the Steam Deck called the ModCase, with preorders set to go live on December 19, 2022.
UPDATE: Preorders are now live.
As the name implies, this case is highly modular, allowing you to attach several different accessories to the Steam Deck.
You can see the case and what it offers in this short introductory video:
Similar to dbrand's delayed Project Killswitch (although with a less cringy name, if I may say so), the ModCase will have a special mechanism to attach different peripherals to the back of the Steam Deck.
At launch, JSAUX will offer a few add-on peripheral options, like an active cooling mechanism and a USB-C hub.
The cooling mechanism (which you can see in the video above) sucks the air out of the Deck's top vents, hopefully helping dissipate heat much quicker than relying on the Deck's internal vents.
The USB-C hub, another optional purchase, will come with a whole plethora of ports: two USB-C ports, three USB-A ports, one HDMI and one DisplayPort, an SD and MicroSD card reader, and a 3,5mm audio jack and an Ethernet Port.
💌
Did you find this post helpful? We publish
a free weekly newsletter
where we feature a mix of content from overkill.wtf, links to exciting gaming reads we found across the internet, and more.
Sign up here!
As for the case itself, the ModCase includes a textured case, a kickstand, a band to attach third-party accessories, and a protective front cover in the basic set.
First Look at JSAUX's ModCase for Steam Deck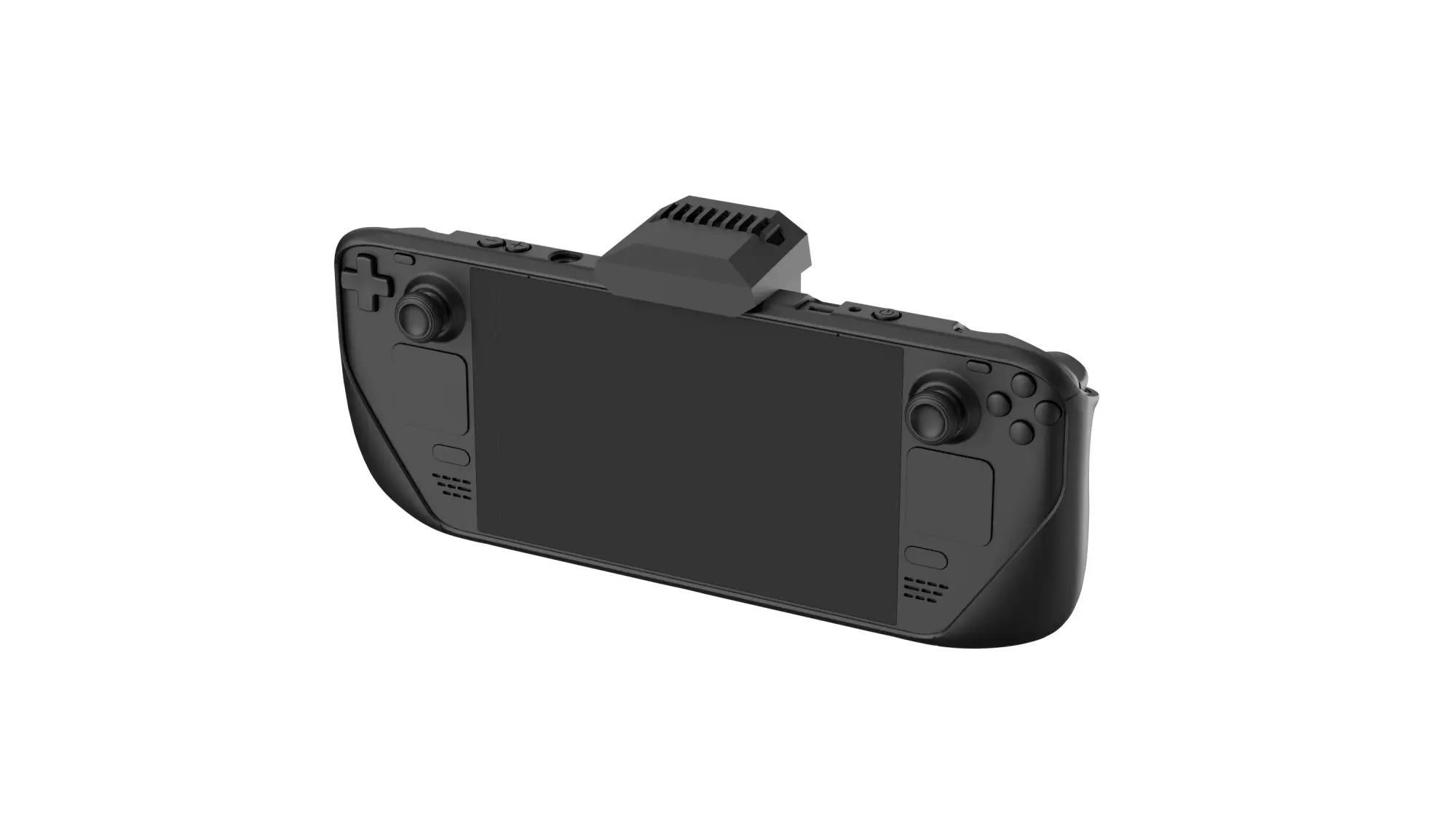 In January, JSAUX plans to release an attachable power bank and an SSD enclosure to add your own M.2 NVME SSD to the back of your Steam Deck.
They will also offer different kits depending on your needs that give you both the basic kit and one of their accessories. But if you want the whole set, you can get the Ultimate Kit in January, which includes all their accessories: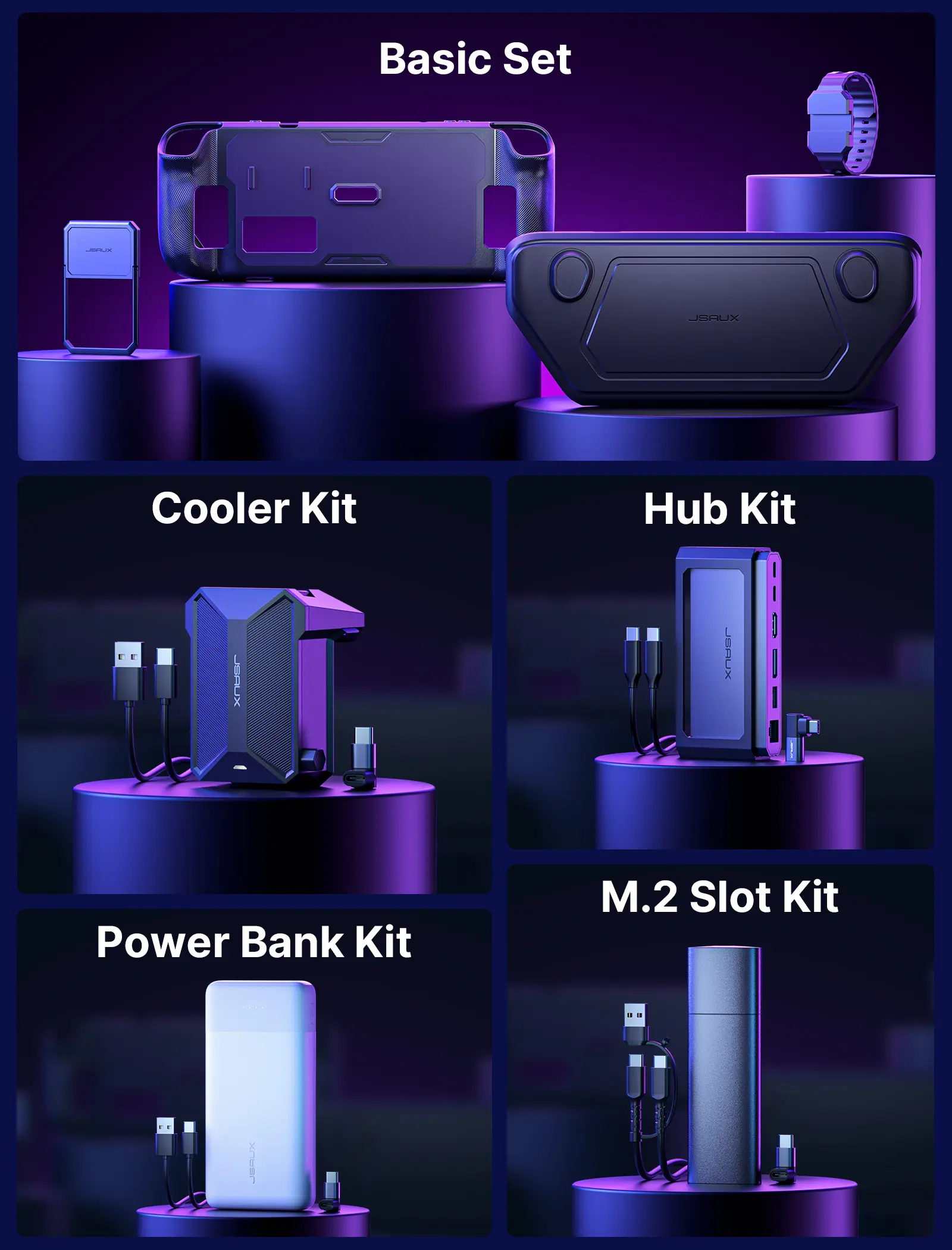 ModCase
Protective Cover
Kickstand
Bandage (the accessory adapter)
Cooling Fan
USB-C Hub
PowerBank
M.2 SSD Enclosure
The preorder campaign will start tomorrow, December 19, with shipment slated for early January. The basic set will start at $29.99 and include the front and back cover, the kickstand, and the attachment loop.
We're currently waiting for our review unit, but from previous JSAUX products and the description shared, this case might become our go-to recommendation, especially at that price point.
---
📣
Disclosure: A few weeks ago, JSAUX was in the headlines as a few Reddit users reported getting spam emails to the unique email addresses used to make purchases on the JSAUX online store. As a result, JSAUX faced accusations of selling user data, which they immediately denied to us and publicly. Whilst outright clarification on this has yet to be reached, our research discovered that other online brands saw similar issues around spam emails. As such, we can't conclusively absolve JSAUX of any wrongdoings, but we couldn't find any concrete proof of malice on their part. We have decided to continue writing about JSAUX's range of products.