EmuDeck 2.1 brings a plethora of new features and changes, like UI tweaks, a homebrew store, new emulators, and more.
The EmuDeck team have today (April 26, 2023) released version 2.1 of their all-in-one emulation installer for the Steam Deck — as teased in our recent interview with its creators.
Version 2.1 comes with many new features, including a fresh design, a new homebrew store, and additional emulators.
You can read through all of the new features listed below — and if you need help, you can follow this video guide via our good friend Russ from RetroGameCorps:
EmuDeck Store
With the introduction of the EmuDeck Store, users can download community-created games like Cave Story or Demons of Asteborg, which are widely popular in the homebrew and emulation community.
Lead developer dragoonDorise created the store "to get EmuDeck users the opportunity of discovering that kind of games, and for those developers to have a broader audience".
dragoonDorise and team are also working on a pull request form so people can add their games.
Revamped interface
For this release, the developers of EmuDeck have also worked on vastly improving the user interface.
The 2.1 release introduces new sections for quick actions, like the possibility of managing emulators and accessing the homebrew store. They've also regrouped every EmuDeck tool currently available, like access to RetroAchievements, and a BIOS checker to verify if all the needed BIOS files are installed for the different emulators.
These changes are very welcome, as they make EmuDeck easier to navigate and use.
New emulators
Update 2.1 also introduces new emulators and new RetroArch cores. The complete list of new emulators supported in EmuDeck is as follows:
mGBA (Gameboy, Gameboy Color, Gameboy Advance)
MelonDS (Nintendo DS)
Rosalie's Mupen GUI (Nintendo 64)
Pico-8 RetroArch core
Cemu (AppImage)
Yuzu (Early Access)
Transfer your ROMs via USB
One new nifty feature we came to love is the USB Transfer Wizard. This wizard allows the possibility to import ROMs and BIOS files from a USB drive automatically.
This works because the first time you connect your USB drive, it will create the folder structure for the BIOS and ROMs file. Next, you plug the USB drive into your computer, move all the files to the corresponding locations, and then reattach it to the Steam Deck to transfer the files back over.
This feature is especially great, as I only recently wanted to move my hundreds of ROM files from my PC to my Steam Deck. Unfortunately, my Samsung T5 (now replaced by the T7) seems to be at its last breath (this is still a great external SSD drive, and I will re-buy it; I might have just mistreated mine one too many times), so I had to move all the files over via FTP.
This feature (and a working drive) would have saved much time.
Some miscellaneous changes
Some other changes this update introduces are easier ways to manage emulators, like installing experimental ones, resetting their configuration and more. Version 2.1 also lets you migrate the complete installation from the Steam Deck's internal storage to the microSD card or vice versa.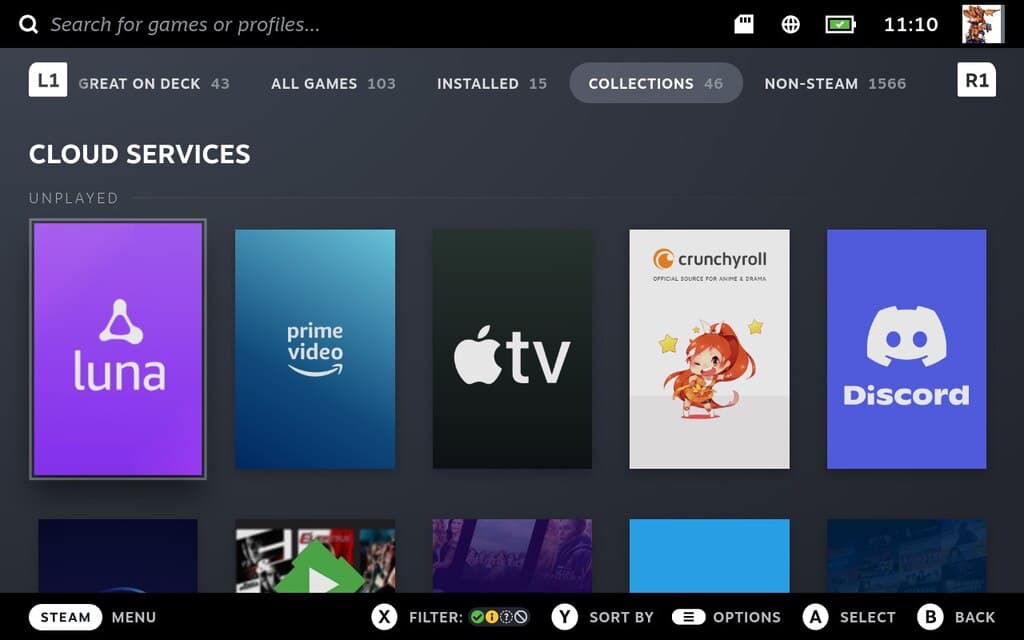 This update also lets users add streaming services to the Steam Deck. This counts for every type of streaming service, be it something like Netflix or Crunchyroll, or game streaming services like Moonlight or Chiaki.
Finally, this update also adds some changes to the Steam ROM Manager, like the curated themes we've written about previously and a method to import Steam Input profiles automatically.
---
This is an excellent update with many neat features and improvements, making EmuDeck an even better experience and easier to use for many users. dragoonDorise and team did great work with the update.
But they're not resting on their laurels because they told us that for the next update, they plan to focus on a cloud-sync feature for save files and save stats, cleaning up the code for future releases, and adding new emulators for a particular gaming company that used to make consoles.
If you like and enjoy EmuDeck, maybe consider supporting them through their Patreon page. This way, you will get early access to features like a Windows version of EmuDeck. We've been playing with the Windows version and it is working well despite its early beta status.