Valve may be preparing to sell 'certified refurbished' Steam Deck handhelds.
Update: Valve have now confirmed plans to sell cheaper refurbished Steam Decks.
---
Cheaper Steam Decks could be coming soon thanks to "Certified Refurbished" models — at least according to respected data miner Pavel Djundik, creator of SteamDB.
If true, this could be the first time we've seen official second-hand models, as they would apparently be sold directly by Valve. This could lead to a fairly sizeable uptick in the number of people with the powerful handheld device, and is also likely to be the thing that pushes a lot of people into finally getting one, assuming they've been waiting for a good excuse.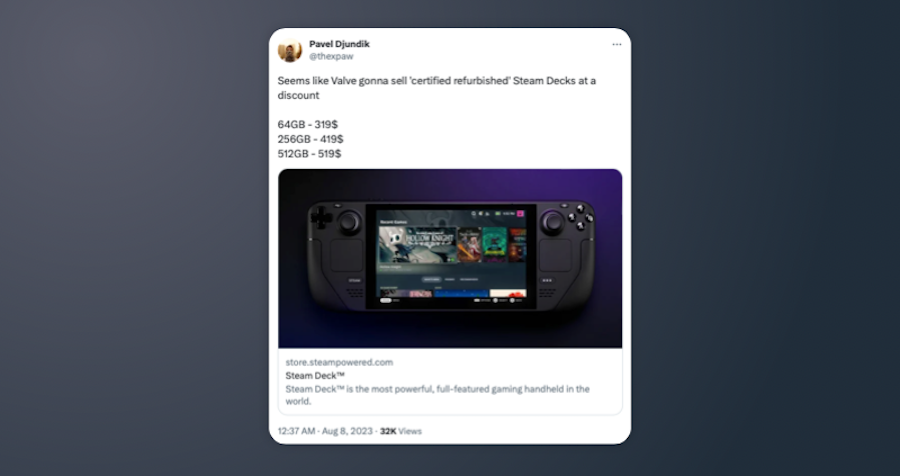 Of course, while "Certified Refurbished" devices often mean basically as good as new, these devices would have to be sold at a discount to make it worthwhile for most people.
Good news there then, as Djundik states that these cheap Steam Decks would be sold at $319, $419, and $519 for the 64GB, 256GB, and 512GB, respectively. This would be around a 20% discount on each model, which is a fair chunk of change.
We'll have to wait for an official announcement about this to get really excited, but given that there have definitely been people returning their Steam Decks because they simply don't use it, or it's too heavy, or they've decided to get an ASUS ROG and preferred it — you've got to assume that Valve is sitting on a notable number of returned Steam Decks that they've got to do something with.
If you're wondering why this wasn't a thing straight away — it's likely because selling a cheaper version of a luxury item like the Steam Deck is just going to destroy your sales of the new models. That's not something any business is going to do within the first year of a new handheld console's life. Given that we're outside of the first year now though, and we've seen discounts on the Steam Deck before, it makes sense that now's a good time, so we trust Djundik here.
It'll be interesting to see whether or not these models could also be put on sale too. After all, if you take the most expensive refurbished price of $519 and knock off another 10%, suddenly, you've got a 512GB Steam Deck for just $467, and that's a very good price for what you're getting. That's a small price to pay to be able to take Baldur's Gate 3 on the go with you.
---