AYANEO's next handheld, the Slide, is preparing to launch on IndieGoGo later this week.
Update: The AYANEO Slide has pre-launched on IndieGoGo now. While we still have no date nor pricing information, we now at least have all the important specifications:
6" 1080P Floating Screen
AMD Ryzen™ 7 7840
Customized heat dissipation
45.62Wh battery
Hidden ergonomic keyboard
Adjustable Screen
X-axis linear motor & 6-axis gyroscope
Hyper Sound stereo dual speakers
Abundant expansion interfaces
Master controller
Hall sensing joystick & Hall trigger
AYASpace 2
---
Original story: A new week can only ever mean a new handheld announcement, and this week, at least so far, it's the turn of the AYANEO Slide.
Despite sounding a bit like a dance move, this is actually a new full-keyboard AMD 7840U sliding handheld from AYANEO, and it looks incredibly good — even if we don't have a huge amount of firm information on it just yet.
But this lack of detail is set to change really soon as an announcement via Instagram states that the IndieGoGo pre-launch for the AYANEO Slide is happening later this week, on September 22nd at 3.30 pm JST (which is past midnight for many of us in Europe).
The Instagram update states that the AYANEO Slide will pay "tribute to the classic retro keyboard products". We're more interested in how well it modernizes that design though.
The device was first teased at the beginning of the year, and then more details showed up a few months later (including colour options).
While further specifics are somewhat sparse at the moment, the image shows off the device clearly, and we like the design a lot. The button layout is standard, but the keyboard being underneath the screen allows for a lot more functionality, and potentially more options in some games too, like MMOs.
The device has a good visual flair too, with a clean white body, orange highlights on the buttons and the shoulder buttons, and what looks to be backlights on both of the analogue sticks (and there's a black colourway too — seen above). We expect there to be a few other things we can't see on the back too, most likely trigger buttons, but we're always a little hopefully for pedals as well. We're not expecting them, but we can dream...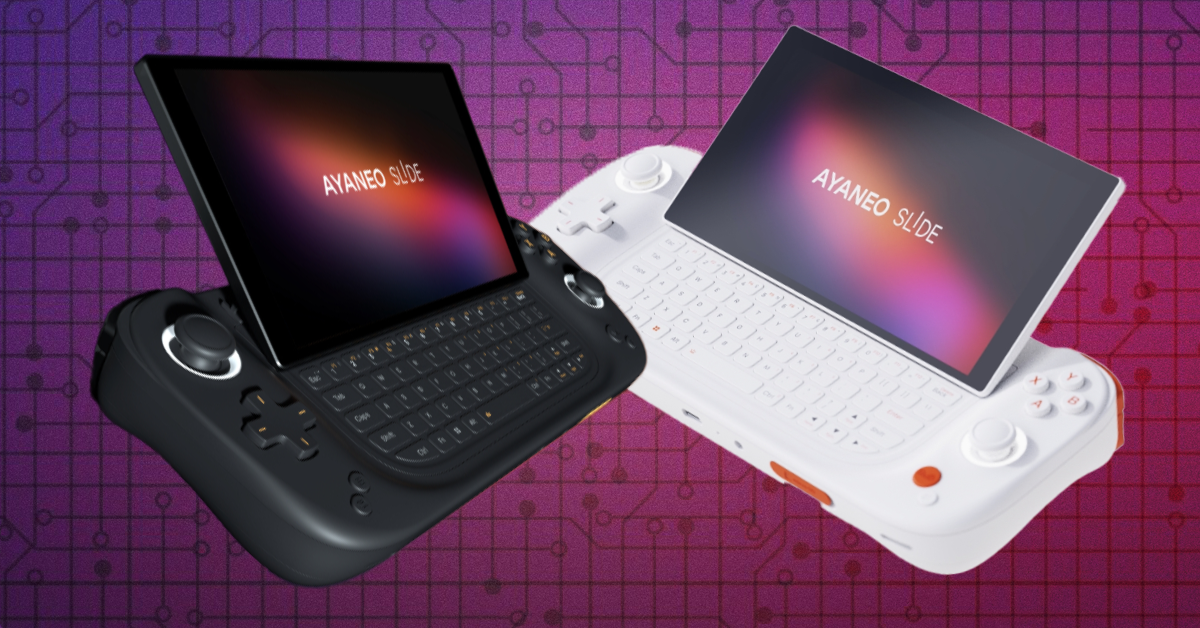 Knowing that it's a 7840U unit also helps, because it means we should be getting some decent stats alongside the visual design.
We're kinda excited to learn more about a sliding handheld like this, so we'll be keeping an eye out for the actual announcement later this week, and will bring you more as we know it.
---
We recently interviewed AYANEO CEO Arthur Zhang about how AYANEO got started, how they approach making handhelds, plus what they make of the competition.