The Pocket Air is AYANEO's first Android-based handheld. But is it any good? Here's what I think.
The Pocket Air is an intriguing device. It marks AYANEO's first foray into Android handhelds, diverging from their usual focus on Windows machines.
They know their stuff. Every time I review one of AYANEO's Windows-based handhelds, I'm surprised at how consistently they deliver high-quality products. Sure, they aren't perfect, but no such device is — and they need, after all, to dance around the mess that is Windows on a handheld.
But hardware-wise, their devices are top-notch. So I was very intrigued to see if their first Android-based device would be even better, as – on paper – AYANEO has more control over the software side with Android than on Windows.
So, let's explore how AYANEO's expertise in Windows handhelds translates over to Android devices.
Pocket Air's Technical Prowess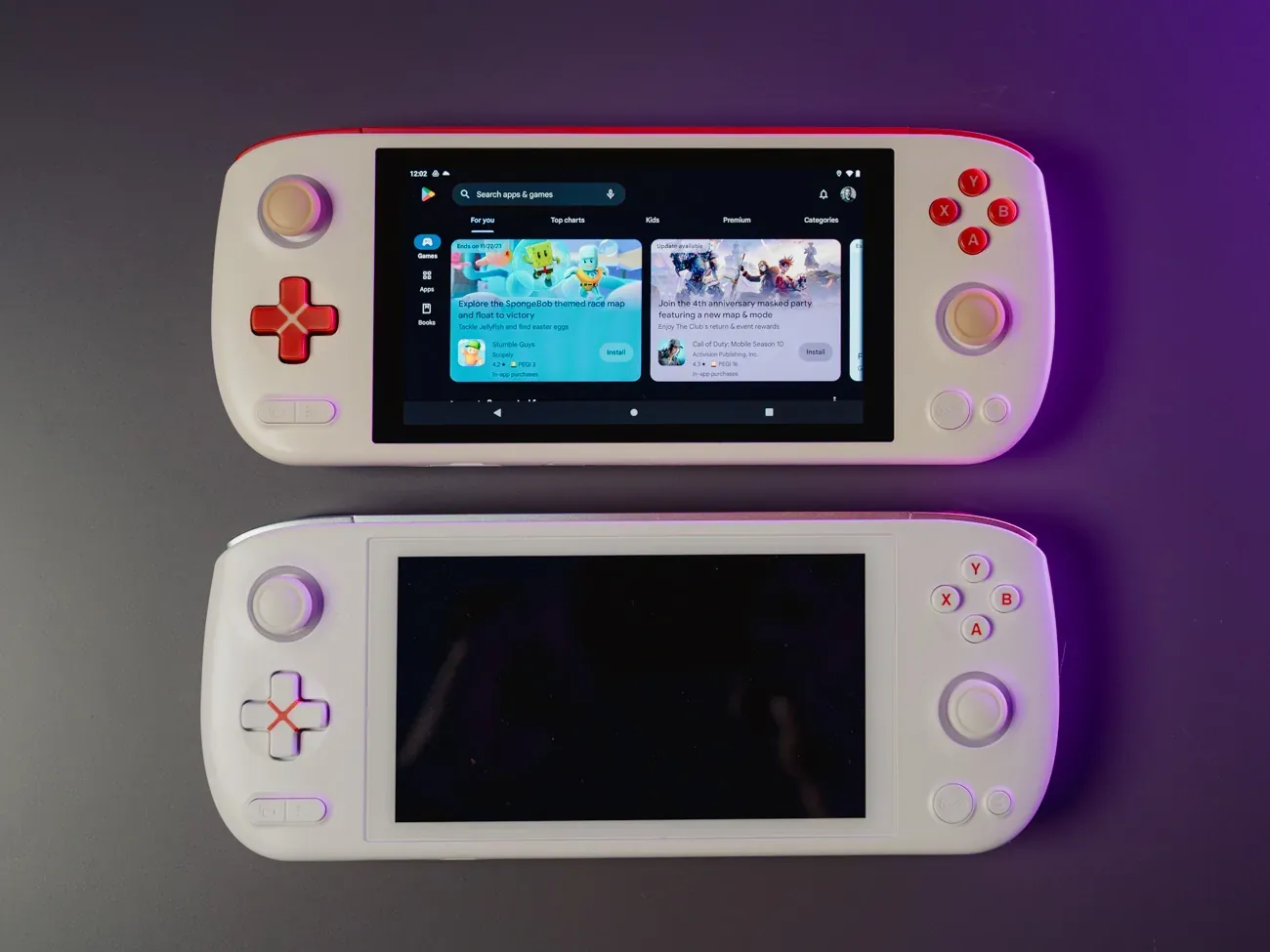 The Pocket Air is part of AYANEO's 'Air' line-up. It is their smallest device category, rocking an excellent 1080p 5,5" OLED screen, great controls (with RGB around the analogue sticks), and good cooling in a small package that should fit into your pocket. The Air 1s I recently reviewed is part of the same family.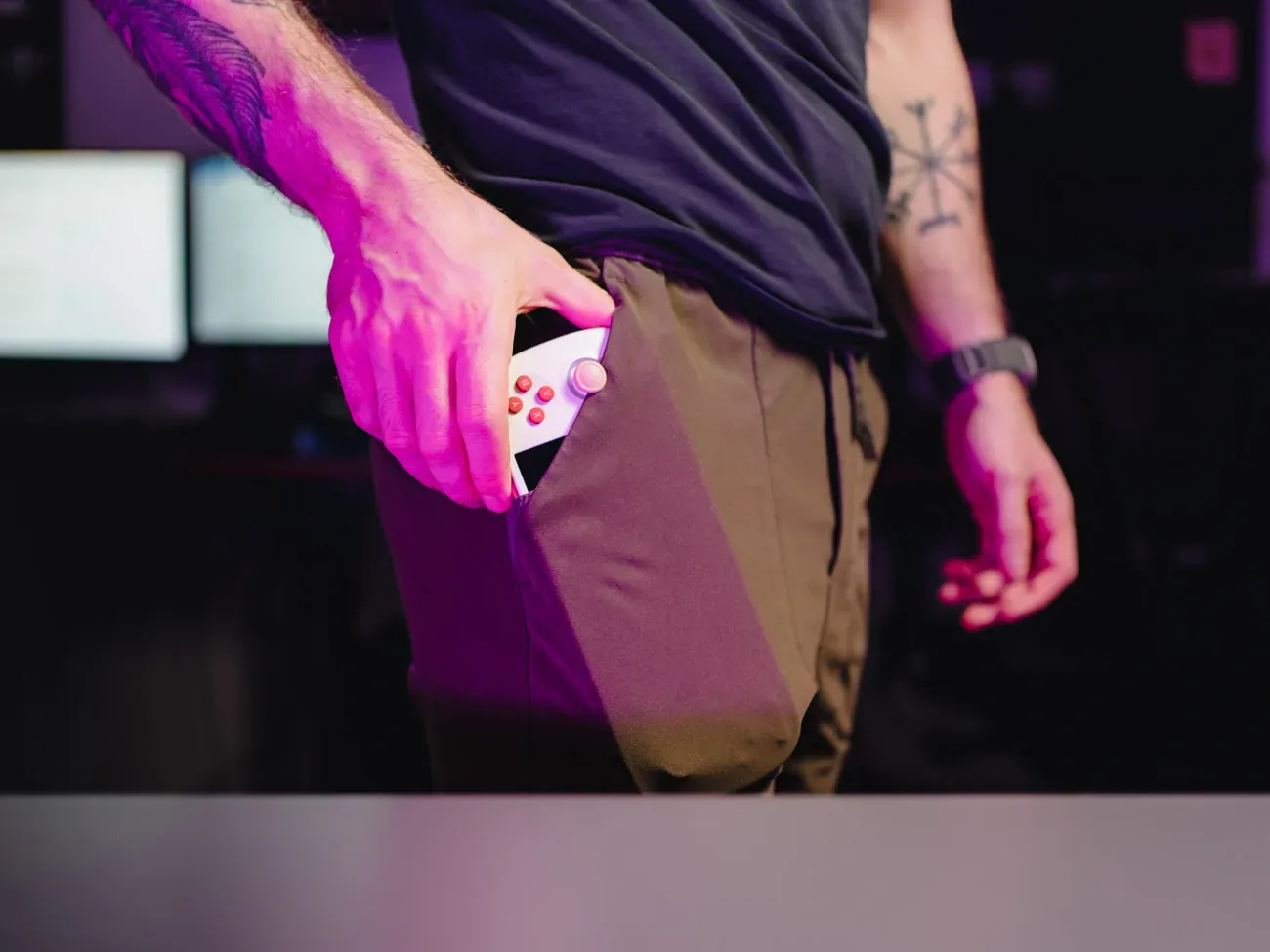 But unlike the Air 1s, the Pocket Air is an Android-first device.
Instead of the AMD 7840U you'll find in pretty much every handheld released in 2023, it comes with the MediaTek Dimensity 1200 chip – an ARM-based chip that might not be as powerful as the latest system-on-a-chip from Qualcomm, but is still powerful enough to emulate most platforms, and definitely powerful enough for any Android game you throw at it.
No matter what I threw at it – from GameCube to PS2 games – it ran flawlessly with only slight stuttering in Wii titles. It even managed to do some lightweight Switch emulation, as long as you don't try to emulate Tears of the Kingdom.
Compared to a typical x86 machine, the Pocket Air boasts decent battery life. I got around eight hours playing various ROMs.
Design and Ergonomics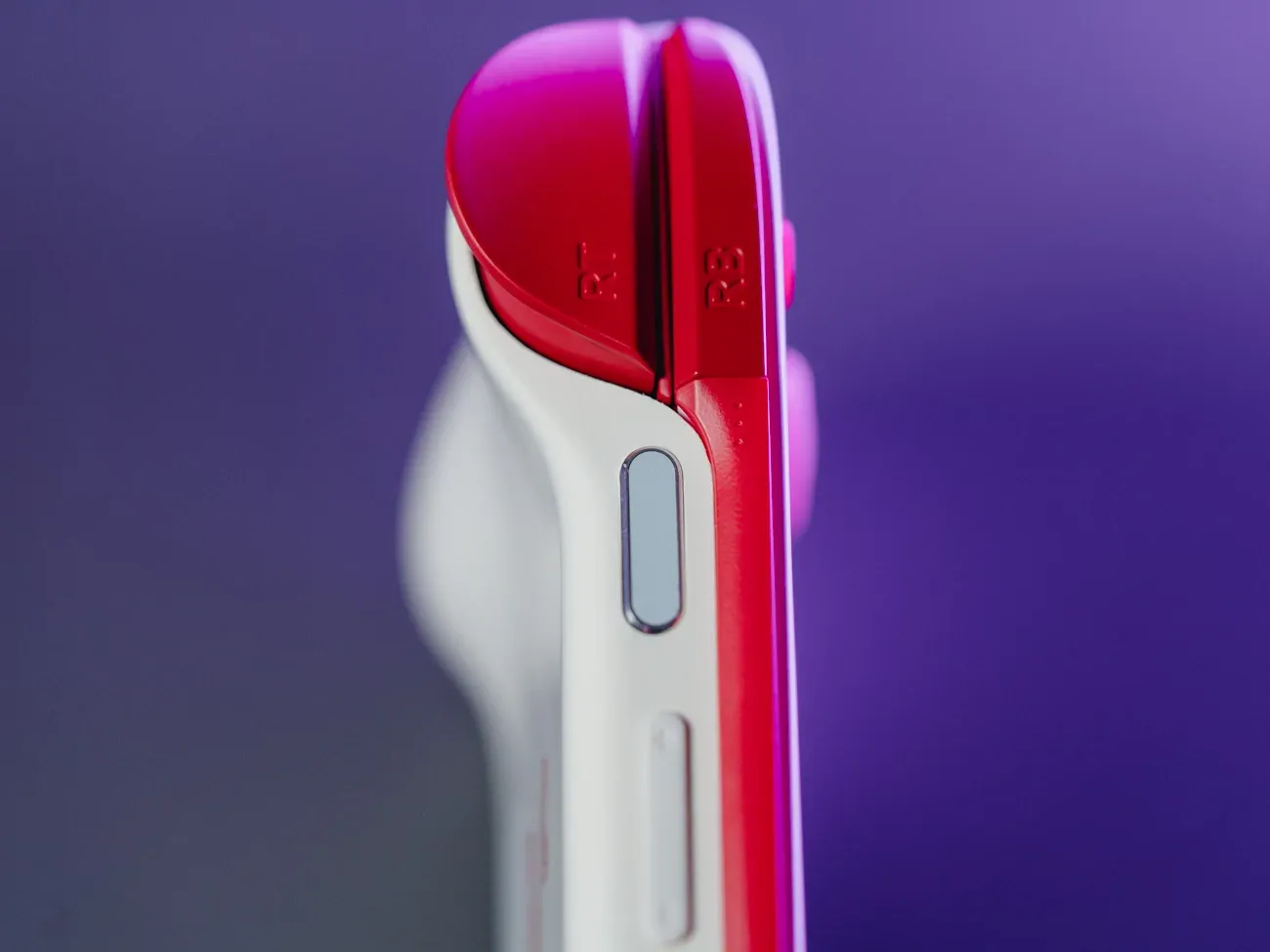 Since the Pocket Air uses the same controller design as the Air 1s, I'll quote what I said in my review here:
Like every other handheld in the Air-lineup, the Air 1s uses hall-sensing joysticks – and they are great – along with a membrane D-pad. The D-pad feels good, but I still haven't learned how to play fighting games. So I have to quote my friend Russ from Retrogamecorps: "The AYANEO Air 1s' D-Pad is hadoukenable but not shoryukenable".

As for the ABXY buttons, I find them a tad small. I haven't opened up the Air 1s yet, but looking at them from the outside, it feels like there was enough space to add bigger buttons, even if only by a millimetre. This doesn't mean they are bad. They are just a little bit on the smaller side. I have normal-sized hands with slender fingers, so they don't bother me too much, but if that's a problem for you, your mileage may vary.
Everything that applies to the Air 1s also applies to the Pocket Air. It's a great handheld to hold in hand, with unique retro stylings — and despite the small buttons, it is still a completely usable experience.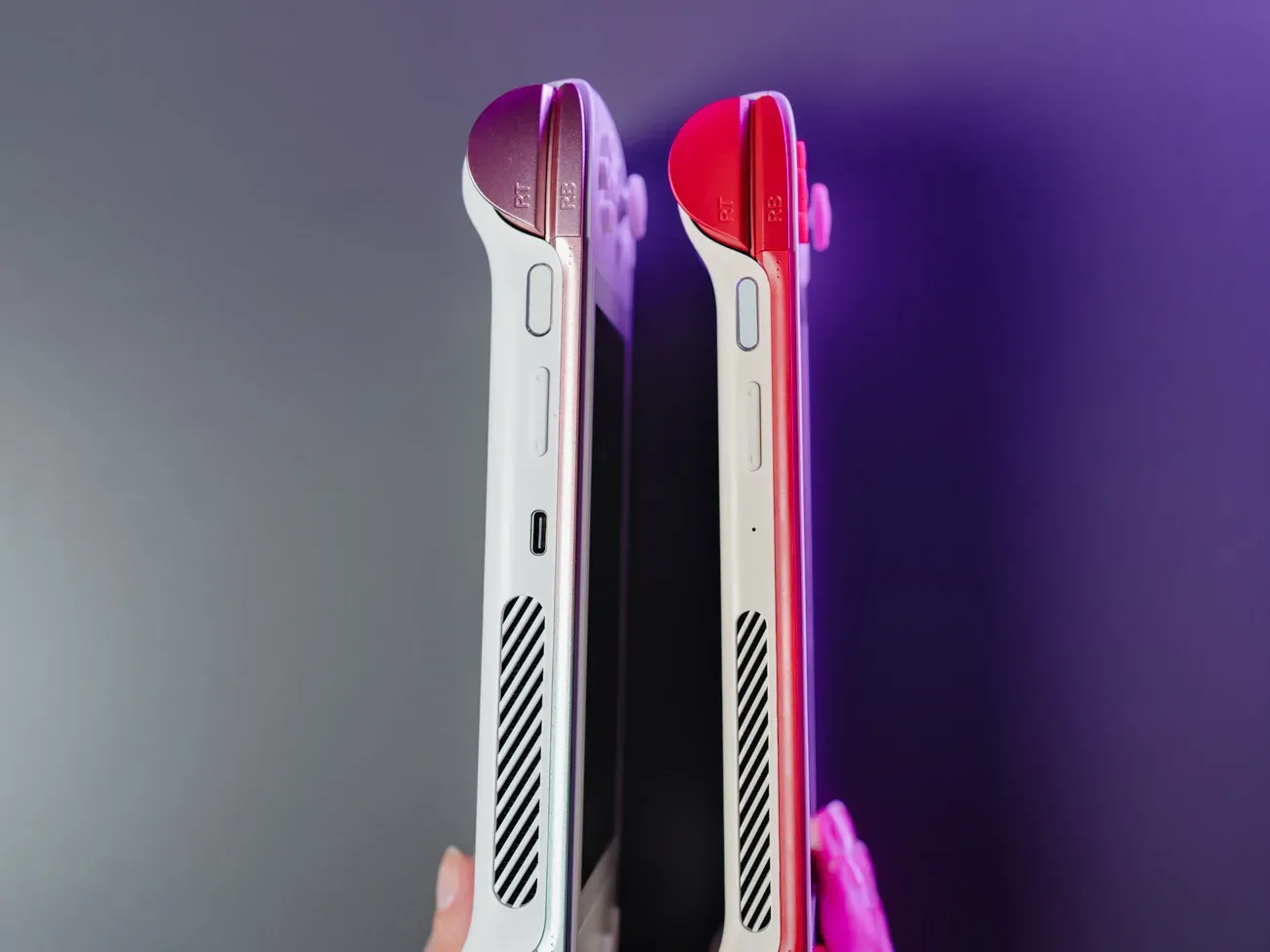 But there is a big difference compared to the Air 1s. Because the Pocket Air needs much less cooling, it is a much thinner device: the Pocket Air is 4 millimetres thinner and 75 grams lighter than the Air 1s.
It might not seem like a big difference on paper, but the contrast is stark from the moment you pick up the handheld. I wish for a future where every x86 handheld could have a similar form factor.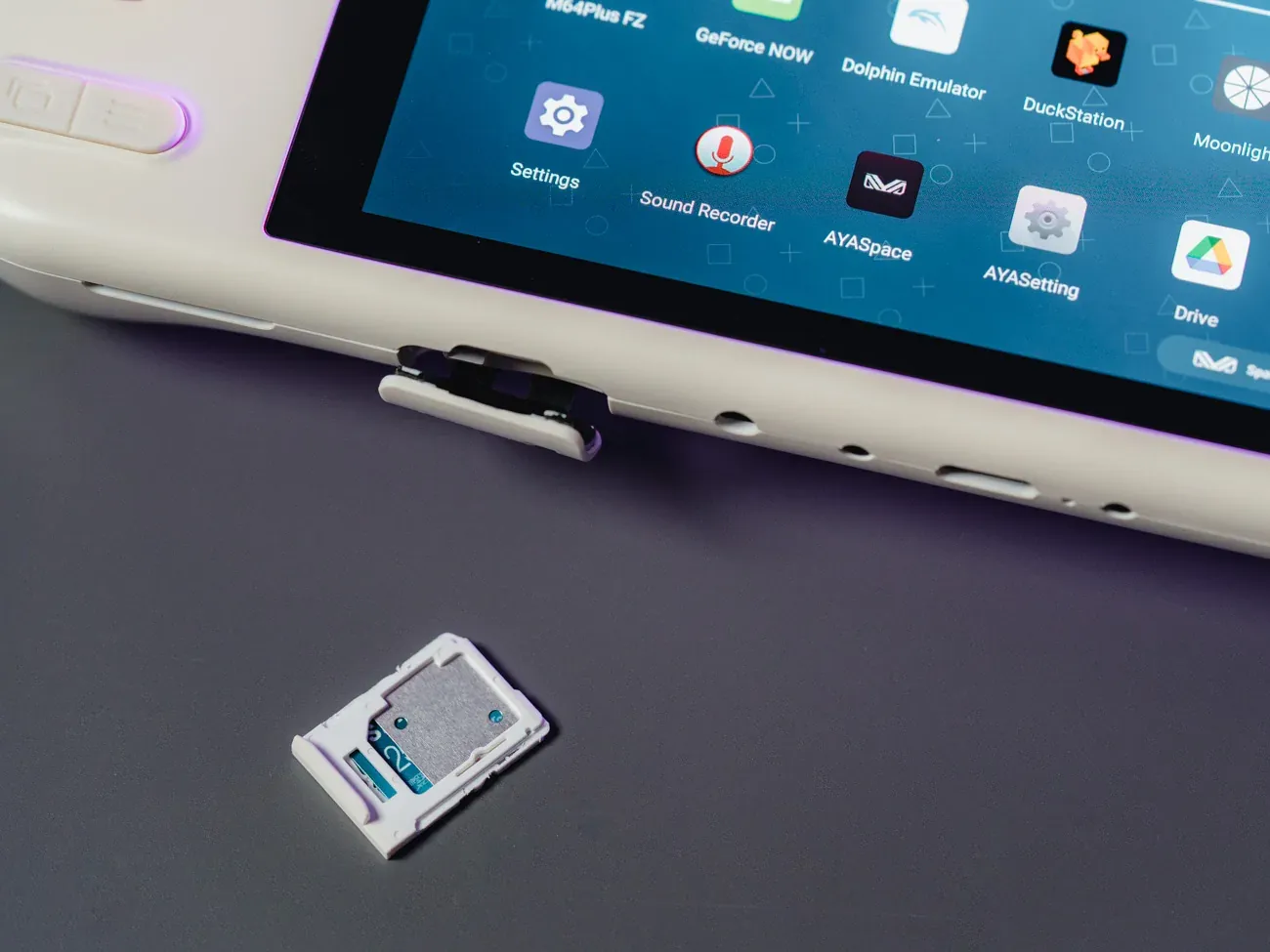 Also, the Pocket Air comes with a 4G module, though I have to admit I didn't try this in my testing as I had no fitting SIM card on hand (all my SIMs are eSim). But thanks to that module, you can use streaming services on the go, play online games or use it as a tablet to check your emails, watch YouTube, or browse overkill.
Gaming and Emulation
The Pocket Air is an Android 12 device. So you won't be playing any big Triple-A games; instead, it's a device meant primarily for emulation.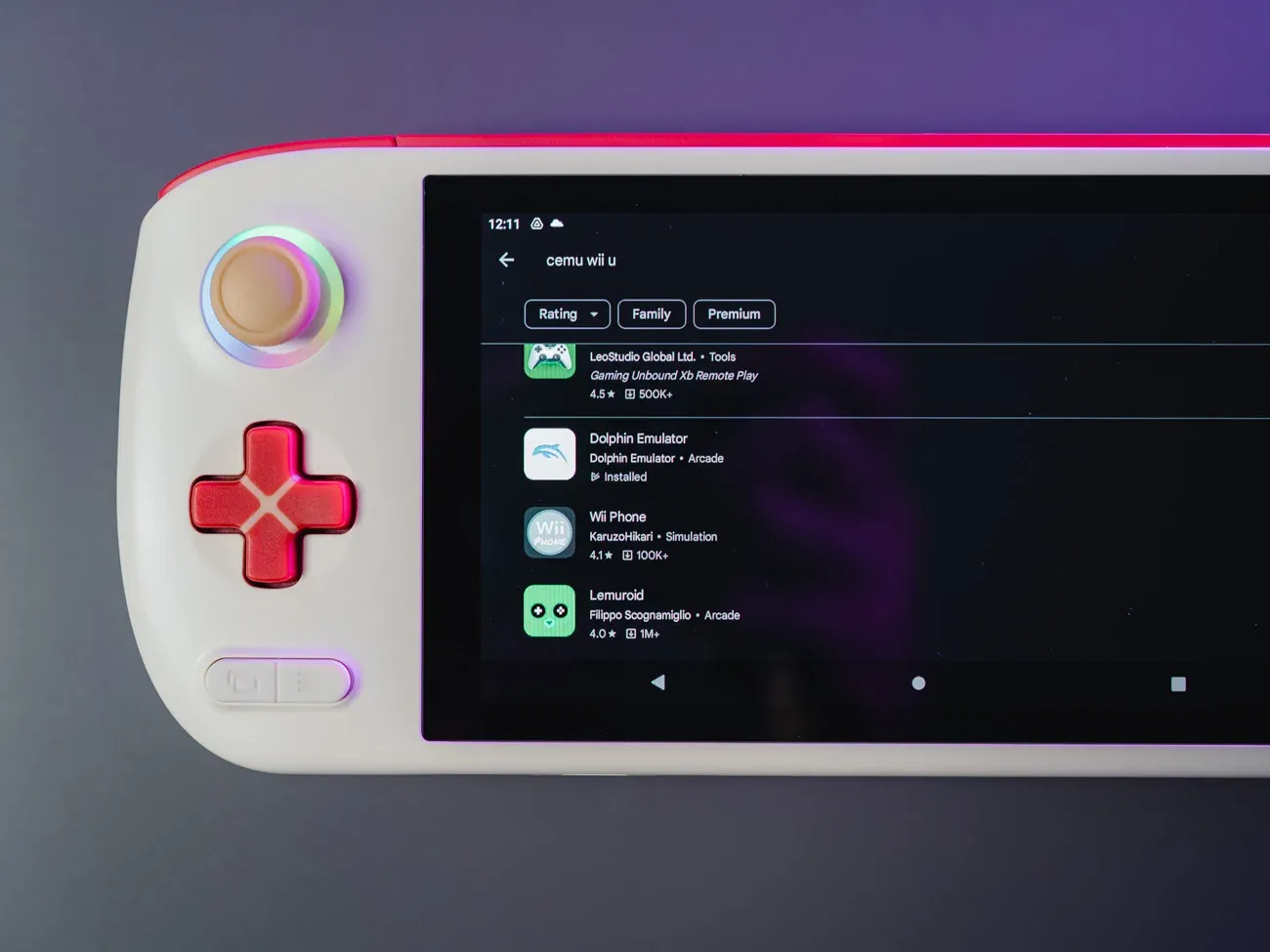 Unfortunately, the emulation ecosystem on Android isn't as well developed as that found on Windows (or SteamOS). Yuzu for Android is a very young tool, and there isn't even any Wii U emulation. Sadly, since currently, the Wii U is my favourite platform to emulate (mainly due to Zelda HD ports!).
Of course, you can also use the Pocket Air for Android gaming. There are some excellent indie ports available on the Play Store, like Dead Cells, Stardew Valley, and Don't Starve. Though, let's be honest. No one gets this to play Android ports.
A little side note: AYANEO is still working on virtual controller mapping — but no ETA on that yet. So, in the meantime, if you want to play Genshin Impact, you need to use the touchscreen, as the game has no controller support. 
Also, because I am currently into it, Nvidia GeForce Now Ultimate works flawlessly on this. But that's an article for another day.
AYANEO Pocket Air Software and Customization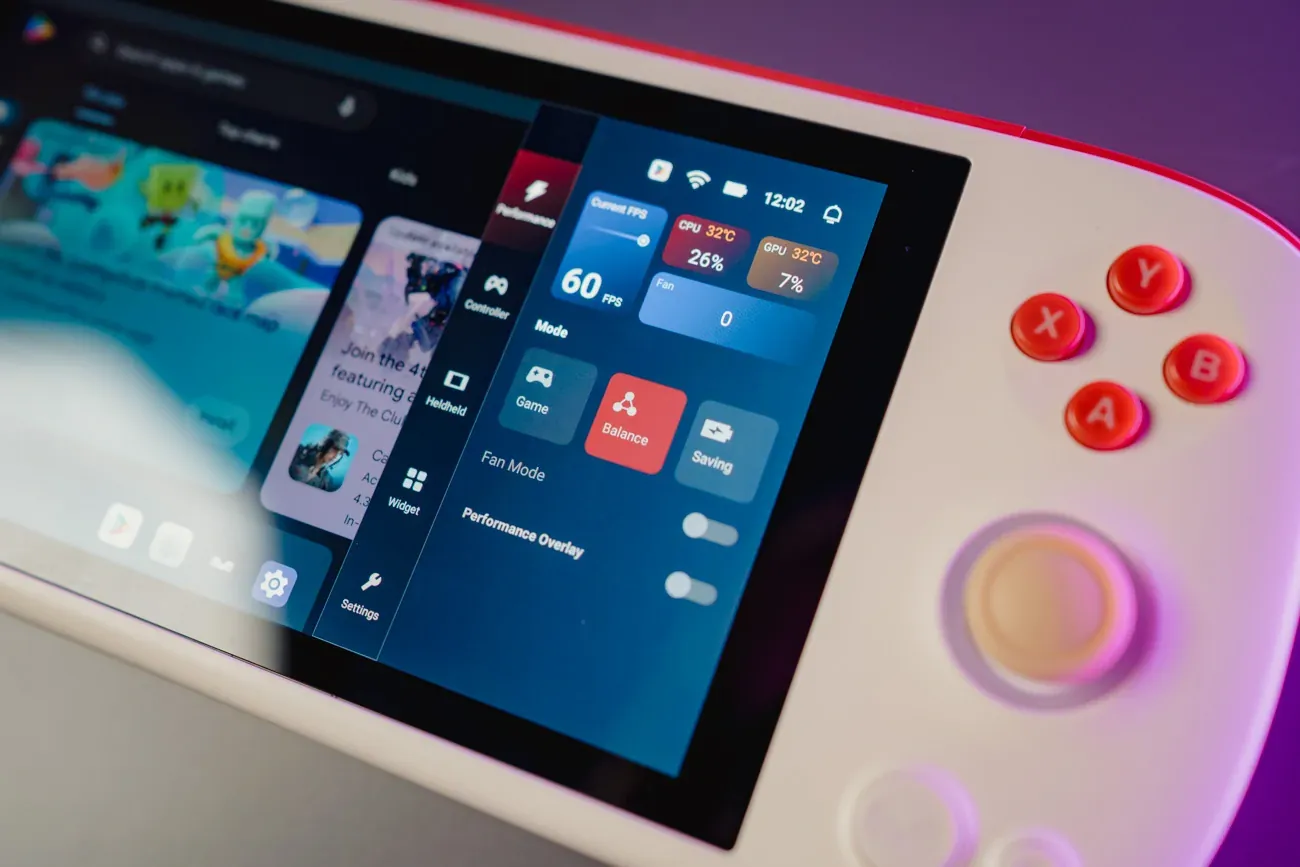 AYANEO has developed an Android version of their customisation tool, AYASpace, to control the device. It's still an early version but has excellent features like controlling the fan speed, displaying device metrics, changing TDP settings, and more. If you're familiar with AYASpace on Windows, you'll find the Android version intuitive.
In fact, you can import all your ROMs via AYASpace and use it as a custom frontend launcher.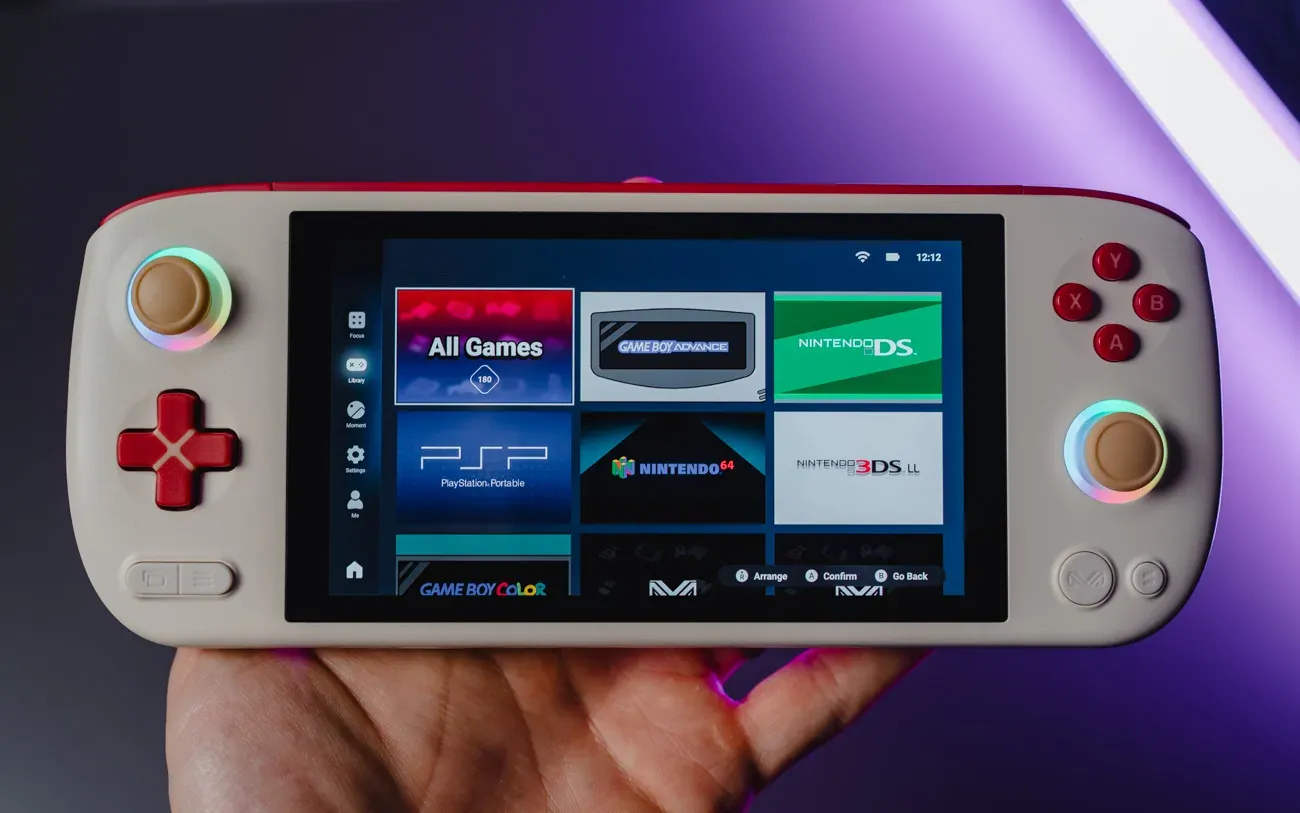 Unfortunately, when I set this up the first time, I ran into some issues, but I later learned that this was my fault: My ROM collection doesn't follow any standard format. I dumped all my ROMs over the years and put the files into folders based on their platform. AYASpace, however, wants a folder structure that either follows the defaults created by EmulationStation or by Pegasus, two frontends available for Android.
It took me a while to figure this out, but when I found the issue and recreated the structure on a PC, AYASpace recognised my collection flawlessly, and I could easily import everything. It still misses some cover art for some games, but that's due to how I named the files back in the day.
Personal Reflections and Final Verdict
But here's the thing: I don't like Android. I'm an iPhone guy, and I can't be bothered understanding all the weird shenanigans that come with Android. Sure, this is on me, but the best experience I had with the Pocket Air was when I didn't need to dig around anything related to Android.
The more time I could spend in AYASpace (you can also install any other launcher of your choice) and not need to return to Android, the better the experience. As long as you can use the Pocket Air as a portable console, you'll have a great time. Or maybe you're used to Android too; then you'll have a great experience no matter what.
And for a starting price of 319 USD (early bird prices start at $299), the Pocket Air is a decent enough deal. (You can choose between 6, 8, and 12 GB of memory and 128, 256, and 512 GB of internal storage – the middle option on both is the one I recommend).
But the Pocket Air ultimately made me realise that I want to see a product from AYANEO where they control the complete stack: from hardware to software, I want to see AYANEO design the whole experience.
We know they are working on a Linux-based operating system, so I am intrigued to see that product come to life.
But as for the AYANEO Pocket Air, I believe AYANEO nailed their first Android device. It's great hardware bundled with a decent software experience (again, I don't like Android that much, so maybe you find the experience great).
The competition is tough though, now that Qualcomm has announced their new SnapDragon G3x Gen2 chip used in the AYN Odin 2. Heck, AYANEO themselves are competing with the Pocket Air with their announced Pocket S — and that thing looks gorgeous.
---