The AYANEO AIr 1s is a great, small handheld that filled a gap in my gamer's heart left by the PS Vita.
The Air 1s is the latest handheld in the 'Air' lineup from Shenzhen-based handheld manufacturer AYANEO. It is a tiny but powerful handheld with a fantastic OLED screen. It has filled a space for me that was previously occupied by the PS Vita initially and the Nintendo Switch later. Let me explain!
The PS Vita was, for a very long time, my go-to indie handheld of choice. I played countless hours of games like Spelunky, Guacamelee, and The Binding of Isaac. The indie support for the Vita was fantastic, while official support from Sony was, at best, meh.
Over time, the Nintendo Switch took over as my go-to indie handheld. Nearly every indie game released today will come to Switch. However, it's often the case that games come to Switch a little later than they do Steam.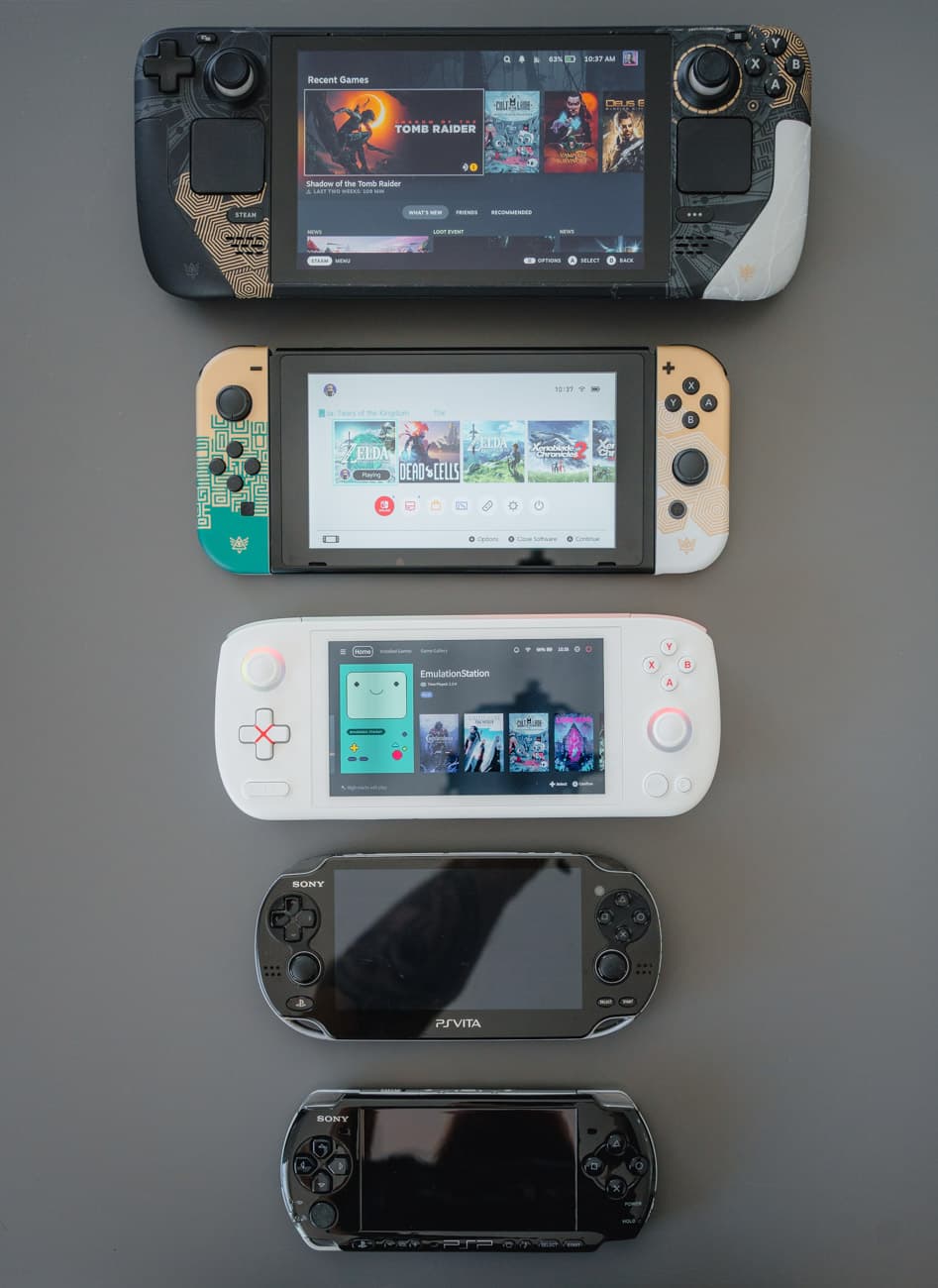 This is where the Air 1s comes in. Thanks to its small size, absolutely gorgeous OLED panel, and powerful 7840U chip, it has quickly become the handheld I have on me at most times. I primarily play indie games that I've grabbed via Steam when I'm on the move because they are often quicker to pick up, and you can play a round or two in under 30 minutes.
But that doesn't mean the Air 1s can't play AAA games — because it can. It uses, after all, the same chipset as its bigger brother, the AYANEO 2s – and if you remember from my review, this is to me (for now, at least) the king of handhelds.
However, because of its smaller size and, therefore, smaller cooling and battery life, the Air 1s can't ultimately reach the same power profile as the 2s. While the 2s can go up to 33W – even if going that high doesn't make for a stable performance – the Air 1s is limited to a max of 20w TDP when powered by the battery. I tested my go-to benchmark games, and the Air 1s, up to 20w, is a great machine.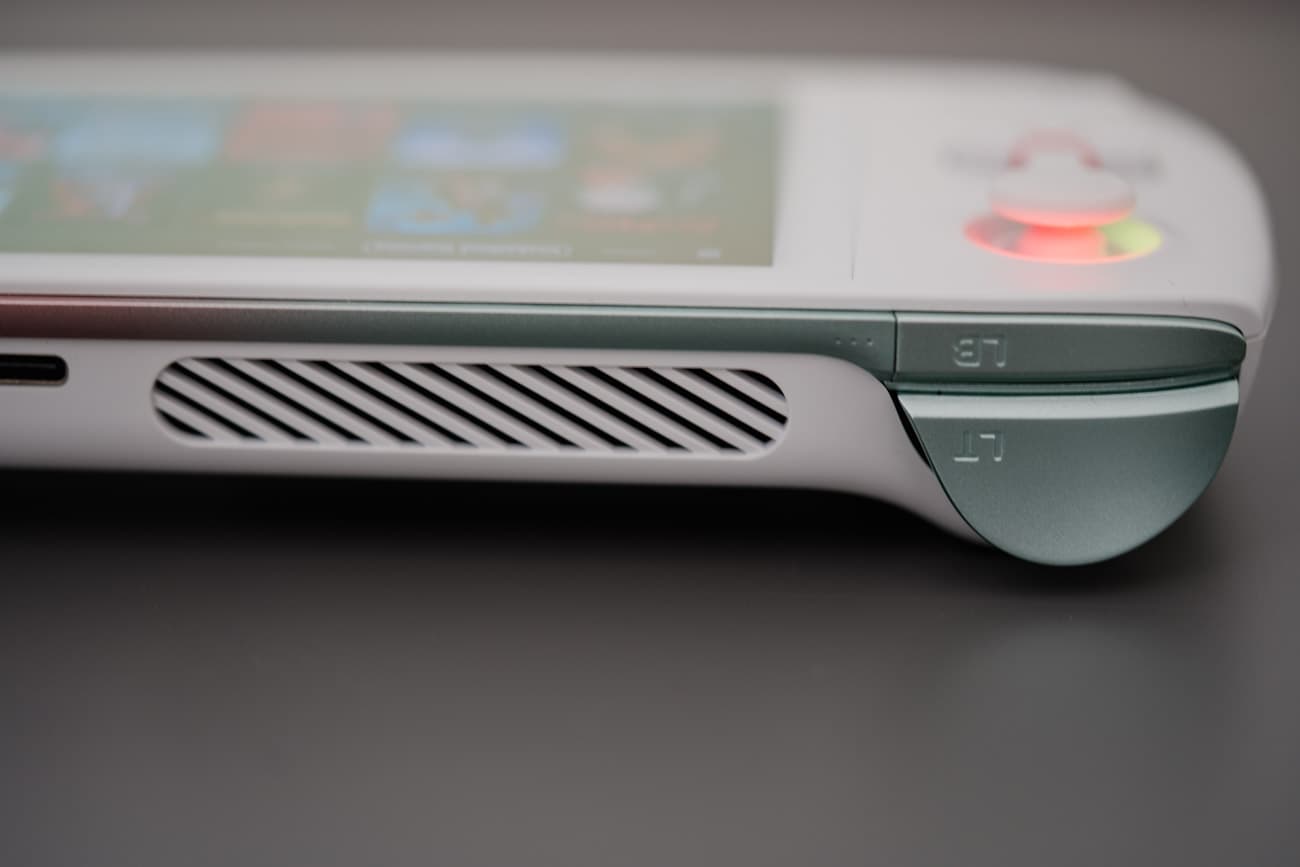 When you connect the Air 1s to a wall outlet, with the batteries at 100%, it can go up to 25W, but I must admit that the cooling gets quickly overwhelmed, and the fans spin like crazy. In general, the fans are perceptible, but it never gets annoying except for this power profile. At a normal 10-20W range, if you don't wear headphones, you can set the speakers to around 50% volume and won't hear the fans anymore. It also helps tremendously that the fans don't make a whining noise. I can't stand whining noises; unfortunately, both my Steam Deck and my ROG Ally whine slightly.
Talking of the speakers: AYANEO went for bottom-firing speakers that are... okay. They are fine, they aren't great, but not unusable either. They are just fine. They won't win a prize, and you will certainly not use the AYANEO as your ghetto blaster next time you take a train or a bus.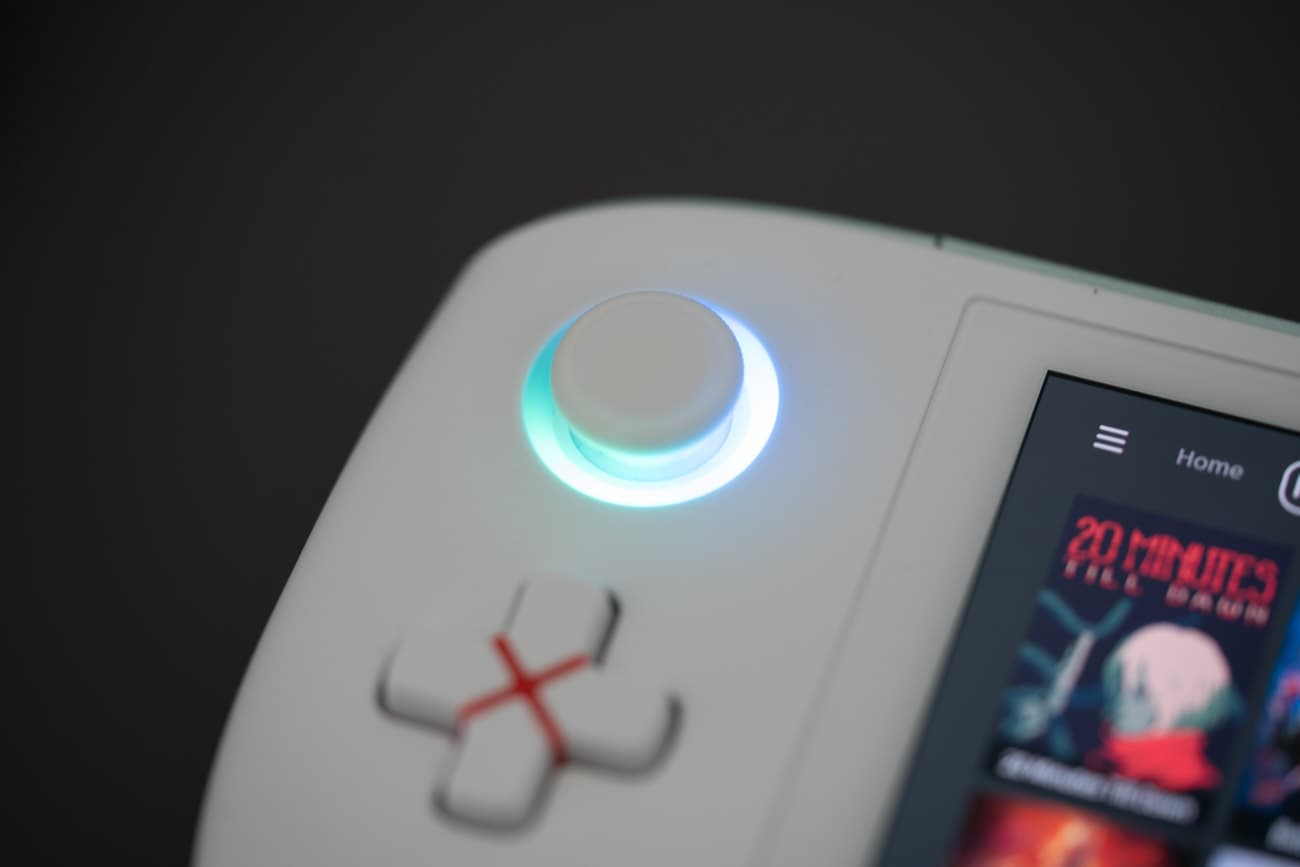 Like every other handheld in the Air-lineup, the Air 1s uses hall-sensing joysticks – and they are great – along with a membrane D-pad. The D-pad feels good, but I still haven't learned how to play fighting games. So I have to quote my friend Russ from Retrogamecorps: "The AYANEO Air 1s' D-Pad is hadoukenable but not shoryukenable".
As for the ABXY buttons, I find them a tad small. I haven't opened up the Air 1s yet, but looking at them from the outside, it feels like there was enough space to add bigger buttons, even if only by a millimetre. This doesn't mean they are bad. They are just a little bit on the smaller site. I have normal-sized hands with slender fingers, so they don't bother me too much, but if that's a problem for you, your mileage may vary.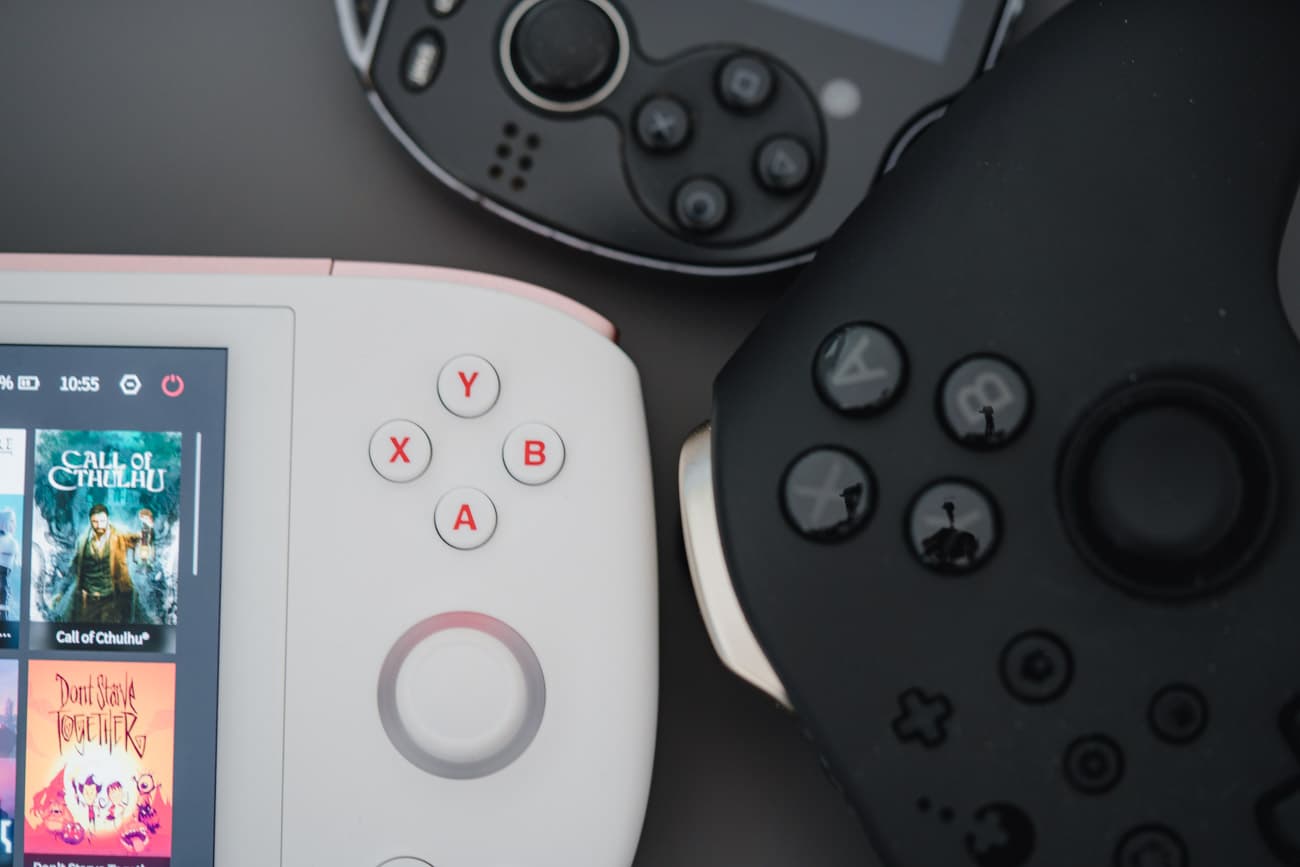 The Air 1s also has your typical left and right bumpers and triggers. They are similar, if not the same as those used in the 2s, and in that review, I said the following:
As for the triggers and buttons, they are fully functional too. As mentioned earlier, the triggers are updated compared to the ones found in the AYANEO 2. In the AYANEO 2, the plastic of the triggers hit the bottom of the case, which made for a cheap plastic noise on contact. Now there's a sort of cushion which makes this trigger much better.
The Air 1s has two USB-C ports, one on top and one on the bottom, and I still believe every handheld should adopt this. It opens up way more options and makes for a better experience. For example, you can connect an external drive preloaded with ROMs while still charging. It's one of my biggest gripes with the Steam Deck and the ROG Ally, both of which have just one port. (Though, it looks like Lenovo listened to me.)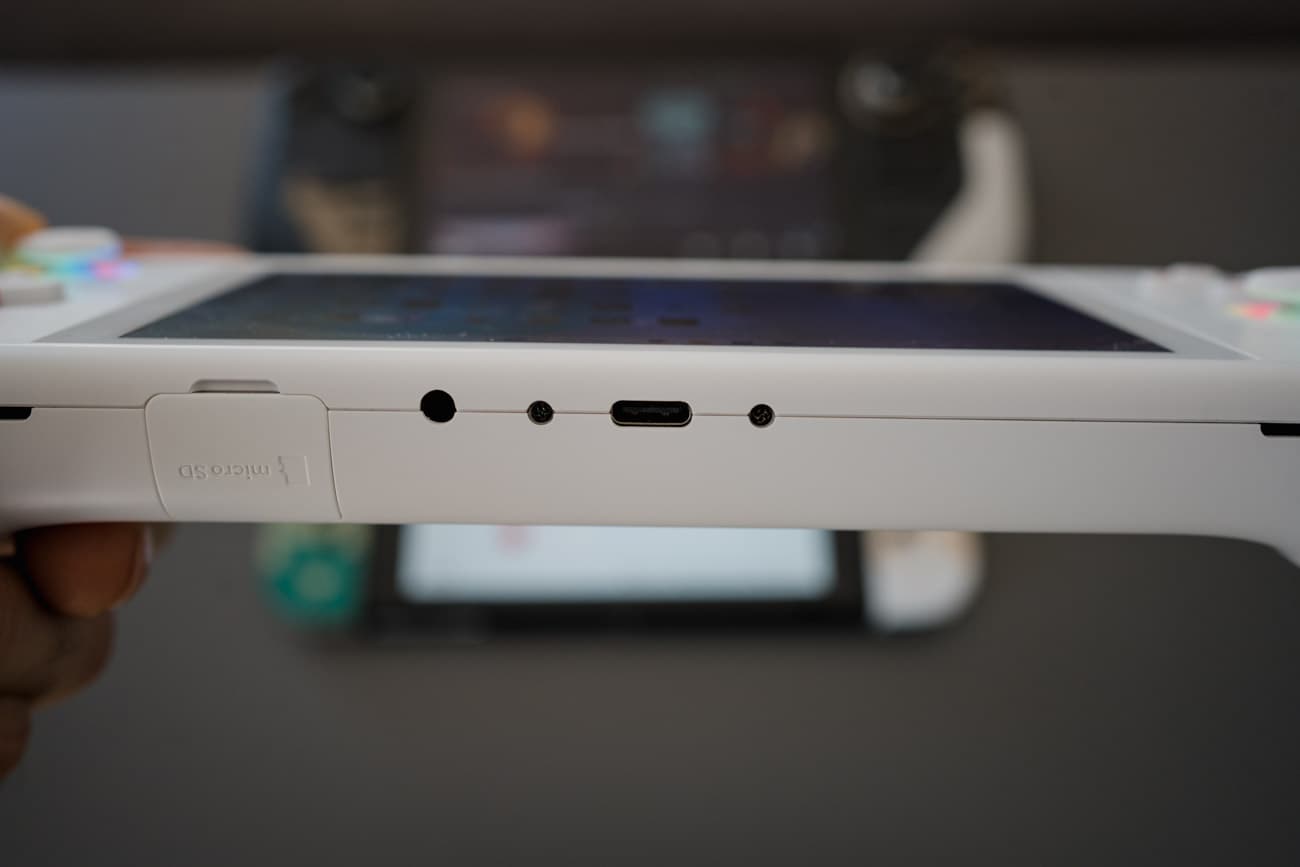 The Air 1s also has a microSD slot with a flap for dust protection, a headphone jack, dual microphones, and a fingerprint sensor/power button combo.
So basically, it's your typical handheld that has great controls and will feel good in your hands. However, depending on your grip on the device, you might not like its form factor. Its back grips aren't as pronounced as on the Steam Deck or its bigger brother, the 2s. I personally hold every handheld with my pointer and middle finger and rest it on the ring fingers. That grip works perfectly for a device like this.
Unfortunately, though this is a problem with every handheld but the Steam Deck, I have my pinky and ring finger falling asleep sometimes (probably a case of RSI) after more extended sessions. It doesn't always happen, and I can remedy it depending on how I position my elbows on a cushion. But this happens on the Air 1s, too.
---
One of the two killer features of the Air 1s is its screen. The 5.5" OLED screen is fantastic. Nothing compares to it, and if you compare it with your Steam Deck, ROG Ally or other AYANEO device, you'll quickly see the difference. The colours pop much more, the blacks are more profound, and it's just a beauty to look at.
It does use a portrait panel rotated in the firmware, so it comes with a few of the issues that can come with such a panel. For example, in the opening sequence of The Windwaker HD, you'll have vertical tearing issues. They are gone in the gameplay, but can appear in cutscenes. Though, I have to admit, I haven't bothered to try and fix these issues in the CEMU settings.
Talking of emulation, whatever you throw at this device, it'll handle it, except maybe some of the more performance-hungry Switch games. Next to indie games, emulation is the other big part that I use this device for.
One thing that the Air 1s does that makes me love it is how easy it is to pick it up and play. This is thanks to AYANEO's newest AYASpace 2 launcher.
AYASpace 2 is fantastic. It makes the admittedly mediocre Windows-on-a-handheld experience much better. I plan to write about AYASpace 2 in the future, but let me explain this:
AYASpace 2 comes with a few crucial enhancements for a device like this. For one, it finally has fantastic SmartTDP settings. So, while you can set the Air 1s to TDPs between 6 to 20 Watts, I don't bother changing the settings at all. I set it to SmartTDP and let it do its thing. And it is good at that. Wind Waker HD runs at 11-13 Watts, depending on the action, and has an entirely stable 30 FPS. As I mentioned, it's only in Switch emulation where you might have to set things manually. And again, don't expect Tears of the Kingdom to run at 60FPS on this.
In indie games, the chip lives between 6-13 Watts TDP, depending on the game and what happens on the screen.
This SmartTDP setting makes for a much, much better experience. It's just set and forget, and you can quickly jump in and change the settings to manual for the occasional moments where it might get overwhelmed.
It also comes with its own integrated launcher, and I am surprised that I used it quite often. It's not as complete as Steam's Steam Deck-inspired Big Picture mode, but for a quick play, it's good enough.
Development on AYASpace 2 has not ended yet, and there are a few slightly annoying bugs. For example, games register your input if you change anything in the Quick Overlay. So, if you want to turn on the performance dashboard, your character in a game might have moved a little. I've reported these issues, and AYANEO assured me they are working on it (there's basically a new update every other day, so they are definitely working on it).
---
So, who is this for? At an admittedly salty price of $799 for Early Birds, it's only for a few people. But if you want something to complement your handheld collection that is small but powerful enough for most games, that easily fits into your pocket and can always be with you, this is it.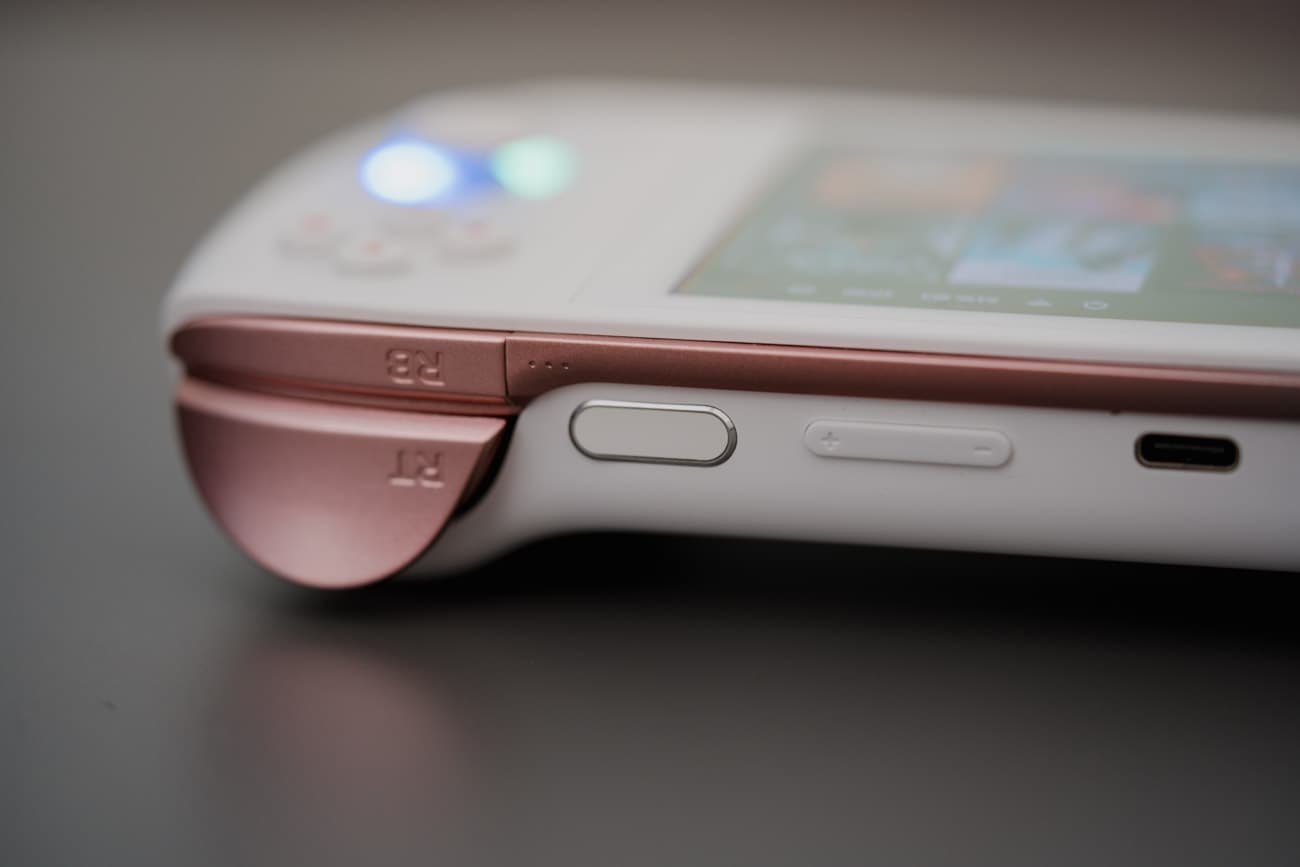 It is my go-to emulation and indie machine. Games like Binding of Isaac, The Wind Waker HD, Blasphemous 2, modded Pokémon ROMs, and more have never looked this good on a handheld. It's my most used gaming device right now, permanently lives in a Switch case in my backpack, and I have nearly 50 hours in Binding of Isaac alone on this device (I am too addicted to that game).
I brought three handhelds to gamescom (ROG Ally, Steam Deck, and AYANEO Air 1s), and I mostly played on the Air 1s.
It isn't perfect, and it's not cheap. But if you – like me – miss what the PS Vita stood for, this is it.
If the AYANEO 2s is the king of the handheld kingdom, the Air 1s is the prince.
---
You can buy the AYANEO Air 1s via its Indiegogo page for a starting price of $799.