Preorders for the high-end AYANEO KUN handheld PC are now live, with a starting price of $999. It will start shipping around October.
Update:
Preorders for AYANEO's new flagship the AYANEO Kun are now live on Indiegogo. Prices start at a $999 early bird price point, with devices expected to start shipping next month.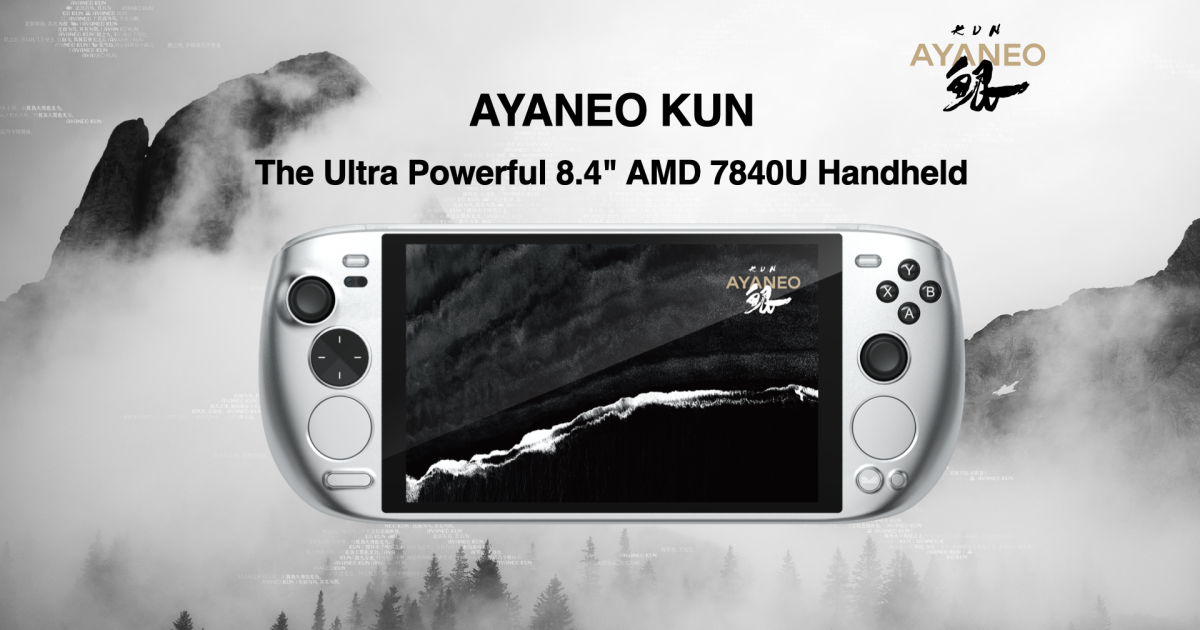 Original story:
During one of their product presentations, AYANEO CEO Arthur Zhang unveiled more information about their latest flagship handheld, the AYANEO Kun.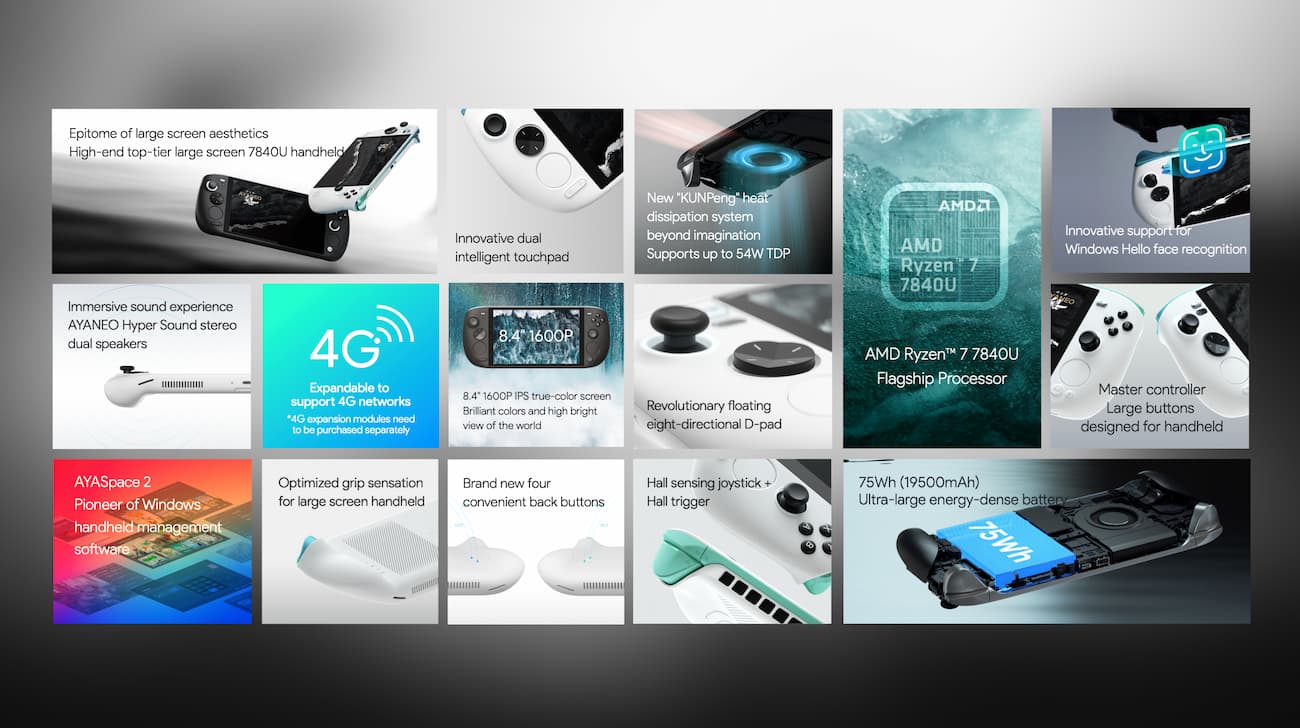 Coming later this year, the KUN will be one of the first devices after the Steam Deck to feature a trackpad on each side of the 8.4" screen. Talking of the screen, it has a resolution of 2560x1600 pixel, with an IPS panel and a peak brightness of 500 nits. It also has 90% coverage of the DCI-P3 color space (that means, the colours are great). For comparison, the Steam Deck has a peak brightness of 400 nits.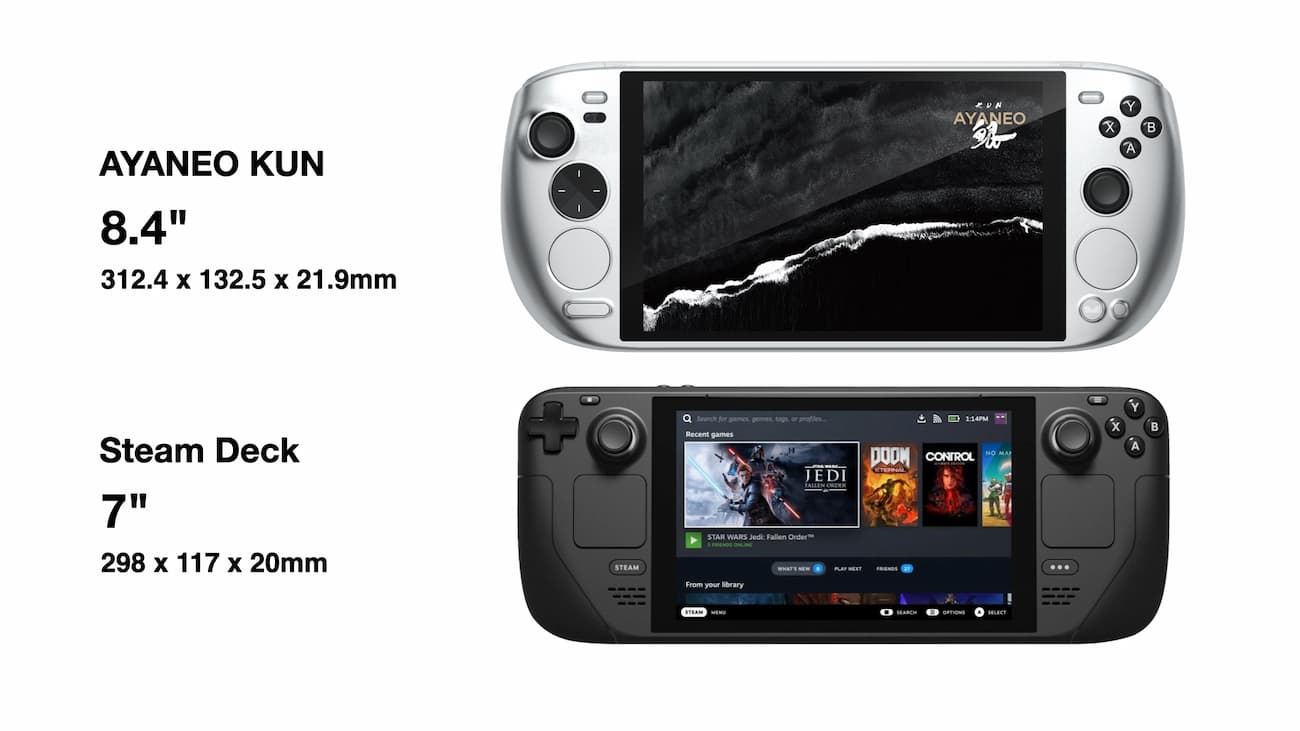 Like every other handheld on the market right now, the KUN will use the AMD 7840U chip, but thanks to its form factor, it can go up to a whopping 54-watt TDP. The AYANEO 2s (that I named the king of handhelds) stops at 33W, while the Steam Deck stops at 15 watts.
And while that power usually comes at the cost of battery life, the KUN can count on a 75Wh (19500mAh) battery. In AYANEO's internal testing, setting the KUN's TDP to 15 watts will net you over three hours of battery life, but unfortunately, we don't know how long that battery will last at 54 watts. However, we think you need to connect the KUN to an outlet to reach that TDP.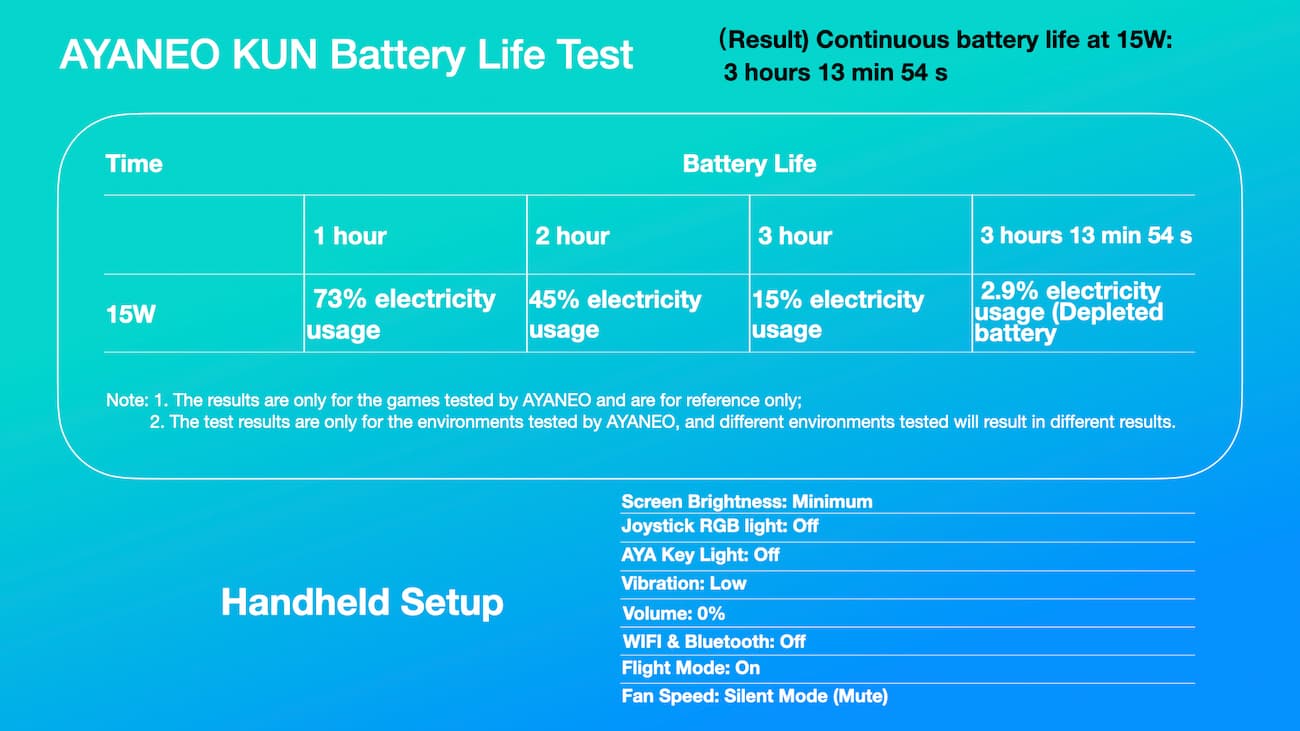 As for cooling, the KUN uses a large, three-copper solution, with a high-pressure fan. On paper, this sounds promising, but we'll need to experience this on our own. But going by the graph below, we can expect around 57 degrees in The Witcher 3 at 30 Watts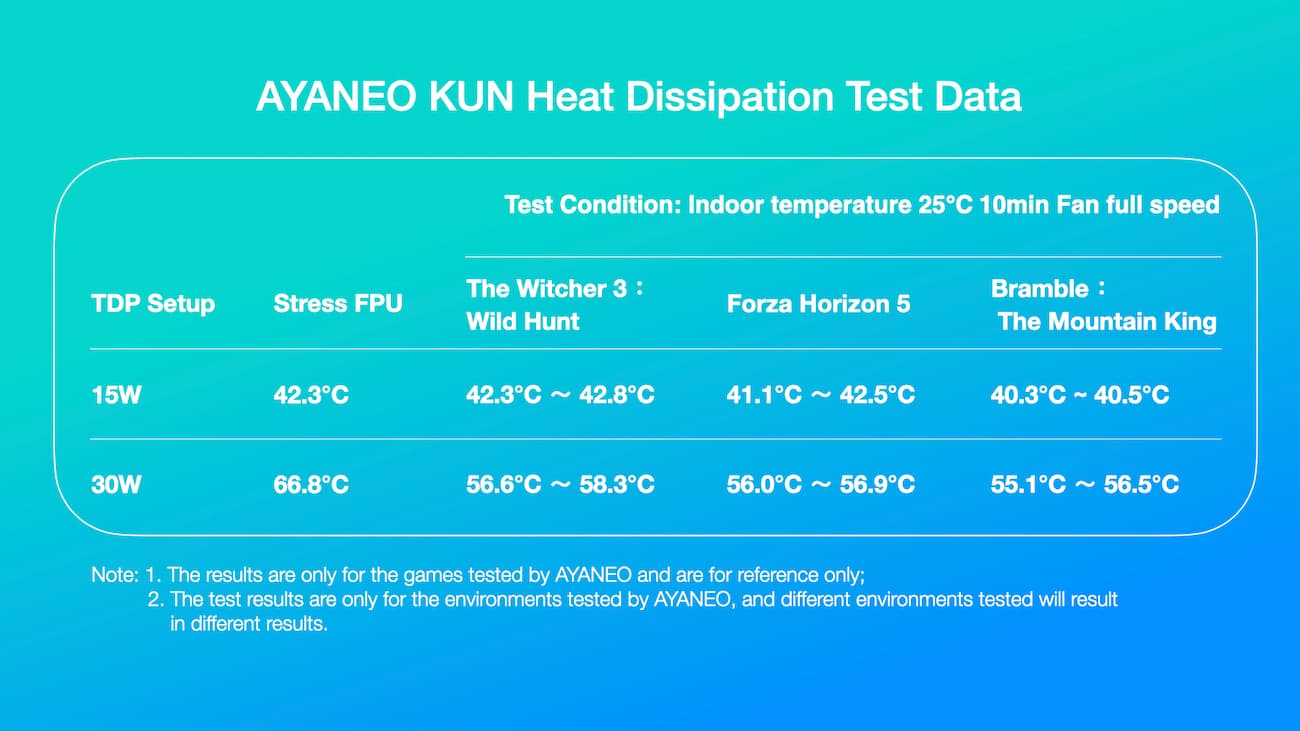 From the last presentation, we also know that KUN will come with the following feature set:
Hall-sensing joysticks and hall triggers
Eight-directional D-pad
Dual touchpads
Dedicated Xbox Home Button
Two USB-C ports (USB4)
A full-sized USB Type-A 3.2 port
Four back buttons
Support for Windows Hello face recognition and a fingerprint sensor
However, Arthur Zhang still had some surprises for us: One of the new features available on the KUN will be an optional network module capable of 4G capabilities. While this might not be enough for cloud streaming, it will allow users to use the KUN like they'd use any other 4G-capable tablet. Unfortunately, this requires an additional purchase of said module.
The KUN will also come with AYASpace 2.0, AYANEO's newest software to manage settings like TDP, brightness, and more on the fly. I'm currently reviewing the AYANEO Air 1s featuring AYASpace 2.0, and I can safely say it is the best settings tool for Windows on the market. More soon.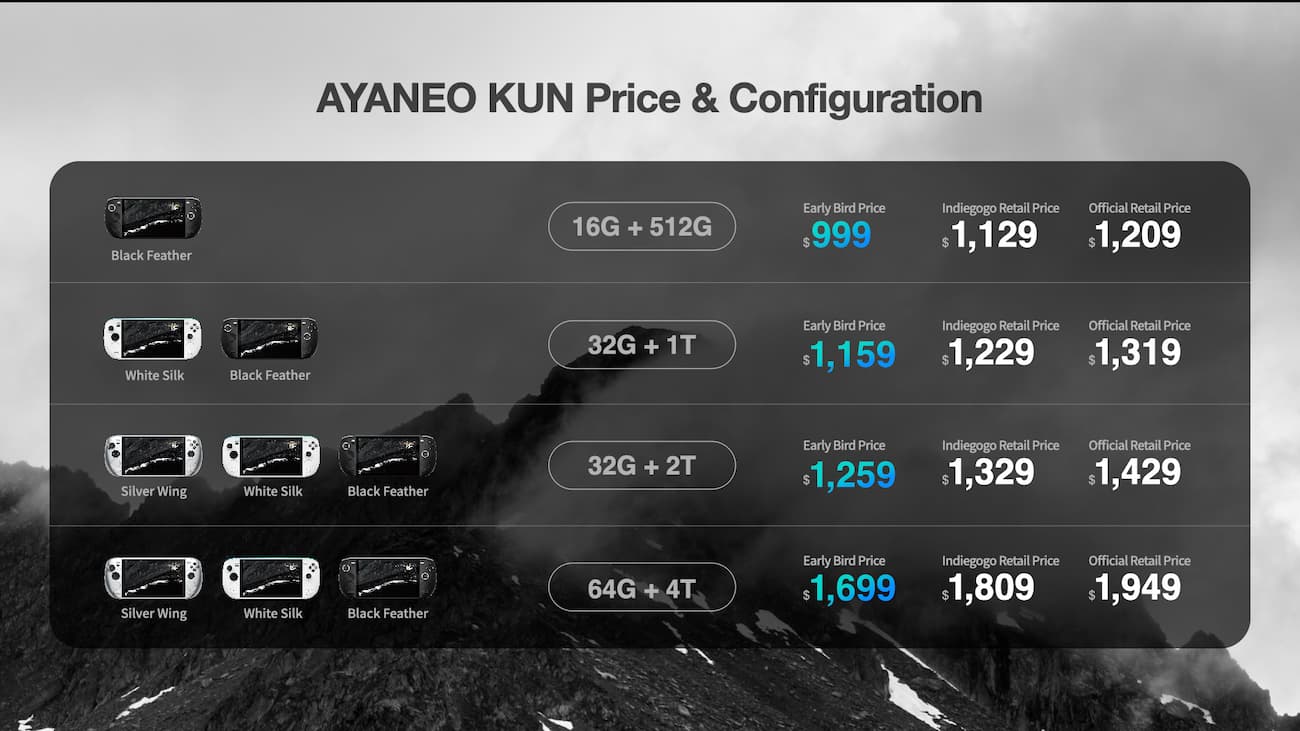 Preorders will start on September 5th on the Indiegogo page, and AYANEO KUN will begin at an early bird price of $999 for 16GB of memory and 512 GB of space. The official retail price for this configuration will be $1209.
There will be multiple configurations of the KUN, with the highest going up to 64 GB of RAM and 4TB of internal storage, for an early bird of $1699 or $1949 at retail. It will start shipping in October in silver (Silver Wing), white (White silk) and black (Black Feather).
---
Our first take on the KUN
For an Indiegogo price of $1129, which most people end up paying, I think the AYANEO KUN plays in a league of its own. But not only is the price much higher than what we are used to seeing in a handheld but also performance outshines – at least on paper – everything currently on the market.
At a peak 54-watt TDP, the KUN is closer to a laptop than any currently available handheld. Add the enormous 75W battery, the 8.4" 1600p screen, and features like the 4G module, Windows Hello, and the Dual Trackpads, and I think I can safely say that this is the most powerful handheld we'll see for a long while.
Yes, the price is high, but the KUN shouldn't be compared to the Steam Deck or the ROG Ally. It doesn't try to compete with these devices in the first place. It lives in its own category, where it currently has no competitors.
If that category should exist in the first place is a whole different question.
---
So what do you think? Are you intrigued by the AYANEO KUN? Let us know in the comments below.