AYANEO new Indiegogo campaign for the 2s and Geek 1s with AMD 7840U is now officially live.
Handheld maker AYANEO has announced their latest Indiegogo-campaigns for their upcoming AYANEO 2s and AYANEO Geek 1s devices.
The AYANEO 2s and Geek 1s at a glance
New Ryzen 7 7840 U APU
New cooling solution
Geek 1s available in one new purple colour
Future version of AYANEO 2s will have a mini-LED screen
Starting price of $699 for Geek 1s and $949 for 2s
Indiegogo campaign live now
First shipments scheduled for the end of June
A successor to the popular AYANEO 2 and Geek respectively, both these devices keep the same design, but update the internals with the latest AMD chips — the Ryzen 7 7840U – a chip that's similar to the Z1 Extreme as used in the Asus ROG Ally.
The Ryzen 7840U is an APU based on AMD's latest Zen 4 and RDNA 3 architecture. The CPU has 8 cores at 16 threads, while the GPU has 12 compute units up to a frequency of 2.7 GHz.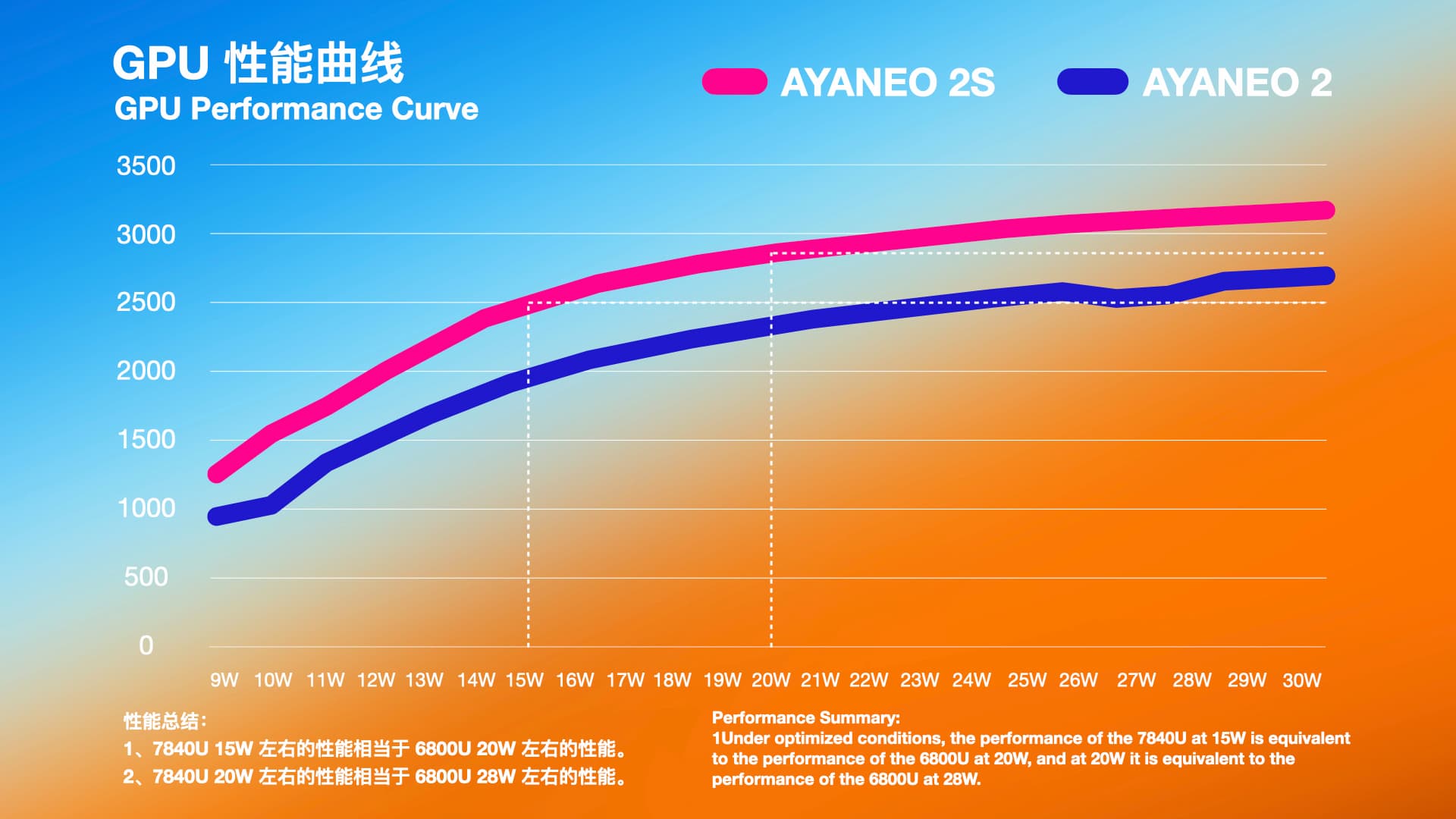 In benchmarks made by our friend Cary Golomb, the 7840U ranks similarly to the Z1 Extreme in the ROG Ally while having slightly more power due to higher wattages. So in summary, the chip used by AYANEO makes these two new devices the most powerful handhelds currently on the market.
But AYANEO not only updated the chip used in the 2s and Geek 1s. The Chinese handheld manufacturer has also announced (during a stream on Monday) that both these handhelds use a new cooling system, updated triggers, are easier to disassemble, and come with a new version of AyaSpace – AYANEO's software on top of Windows to manage the system.
Additionally, two major new changes to the Geek 1s is a new "nebula purple" colour scheme that you can see below, and that is honestly my favourite variant of all the ones available.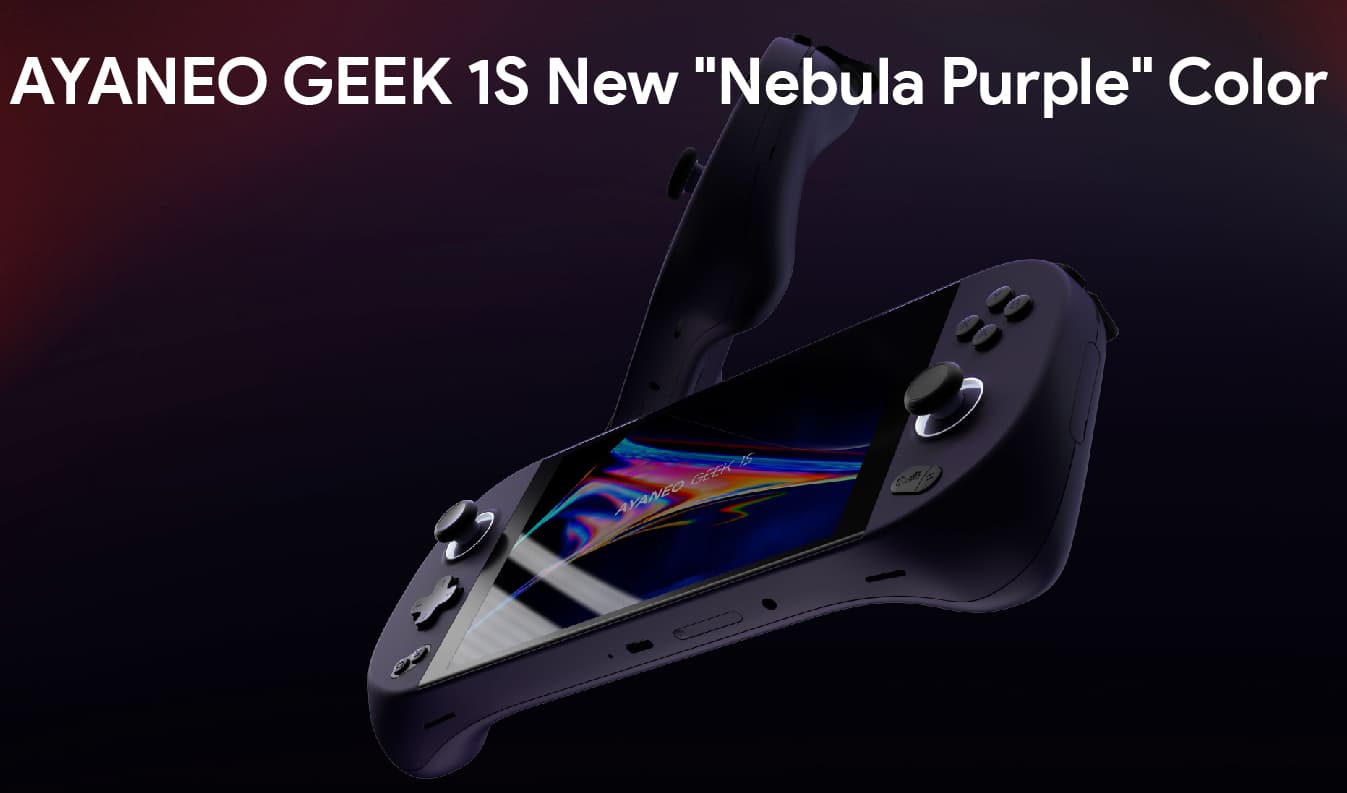 Also (although this is still slightly confusing) and we asked AYANEO for clarification, it looks like a future version of the AYANEO 2s will come with a mini-LED screen, a screen technology that sits – to simplify – between traditional LED displays and OLED, but at a more competitive price point.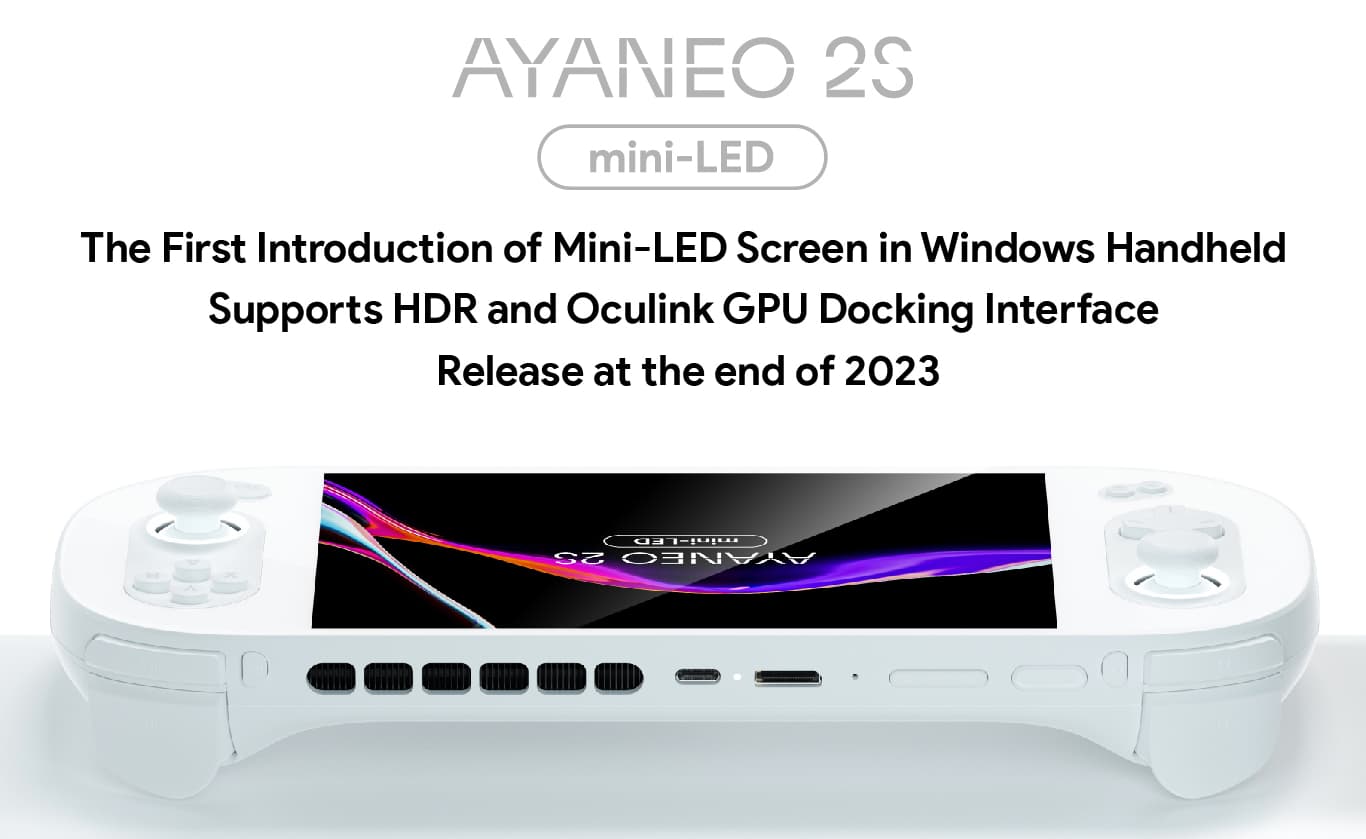 This mini-LED version also comes with HDR and OcuLink support, a type of high-speed connector that tremendously helps in eGPU-performance.
---
All these new changes naturally come at a price. The AYANEO Geek 1s, which is the cheaper one of these two devices starts at an early bird price of $699, which puts it right into Asus ROG Ally territory. For that price, you'll get the device in black, with 15 GB of memory, and a 512 GB SSD. The retail price for this device will be $999.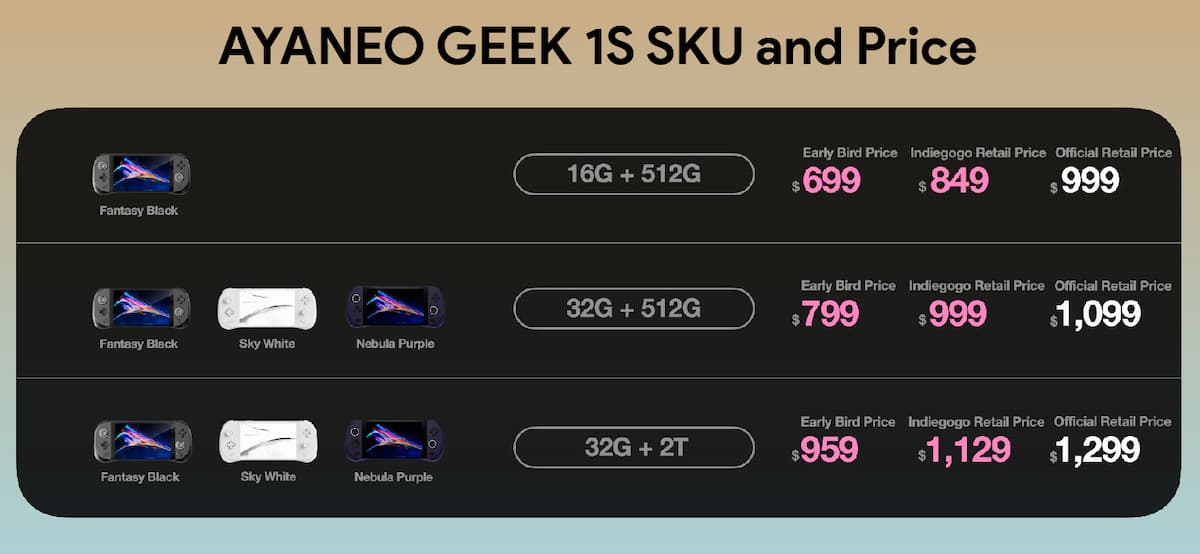 As for the 2s, early bird prices start at $949, for 16 GB of memory and 512 GB of space, and go up to $1599 for a special B.Duck edition at 64 GB of memory and a 4 TB SSD.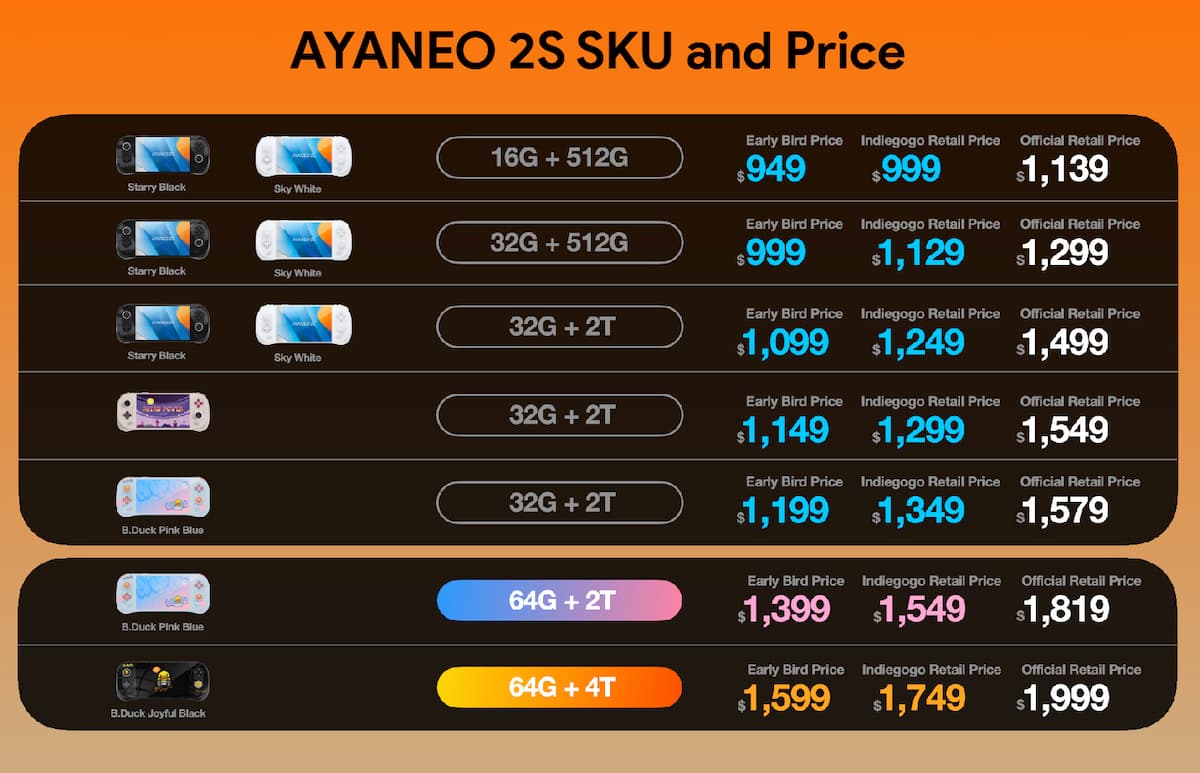 However, if you already own an AYANEO 2 or Geek 1, AYANEO announced a special upgrade kit coming later this year. It'll allow you to change the internal board used in either devices with a new one rocking the 7840U chip, and will also offer a special enclosure to use the recycled board as a Mini PC kit.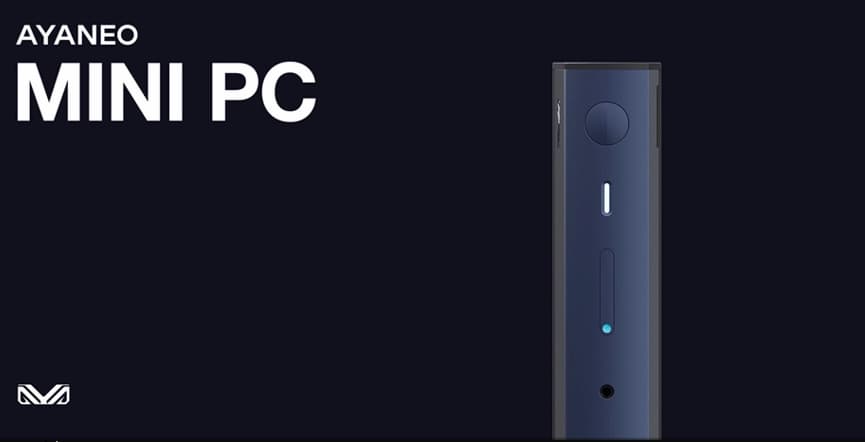 The Indiegogo campaign officially started today on May 30th, and can be found through this link. The first devices will start shipping at the end of June for the AYANEO 2s, and early July for the Geek 1s.