Sony's second take on a virtual reality headset, the PSVR2, arrives next month on February 22, 2023 — here's everything you need to know.

Sony is back in the virtual reality space, this time with the PlayStation VR2 headset. It aims to improve upon the shortcomings of its predecessor, the original PlayStation VR, which first launched in 2016.

Based on the PSVR2's specs and promises from Sony, the device seems to be a step up in nearly every way, offering more user-friendly features, with a simpler setup process, as well.
But with it being a premium device, you'll no doubt need to be aware of what the PSVR2 can do, along with its release date, specs, and how to actually get one. That way, you can make an informed buying decision.

Here's everything you'll need to know about Sony's next virtual reality headset, the PSVR2.
Launch Details

PSVR2 launched worldwide on at the end of February 2023.
Price

The standard PSVR 2 headset costs $549.99 in the United States at launch (£529.99 in the UK, and €599.99 in the EU). This includes the headset itself and all the cables to get started, along with the PlayStation VR2 Sense controller, and stereo headphones. Sony has shared a PSVR2 unboxing video giving us a look at what to expect.

There is also a Horizon Call of the Mountain bundle for $599.99 (£569.99 in the UK and €649.99 in the EU) that includes a digital copy of the game, as well as the aforementioned items included with the standard PSVR2.

This price is noticeably more expensive than the original PSVR headset, which launched for $399.99. In fact, the PSVR2 is more expensive than even the standard PS5 (which costs $499.99).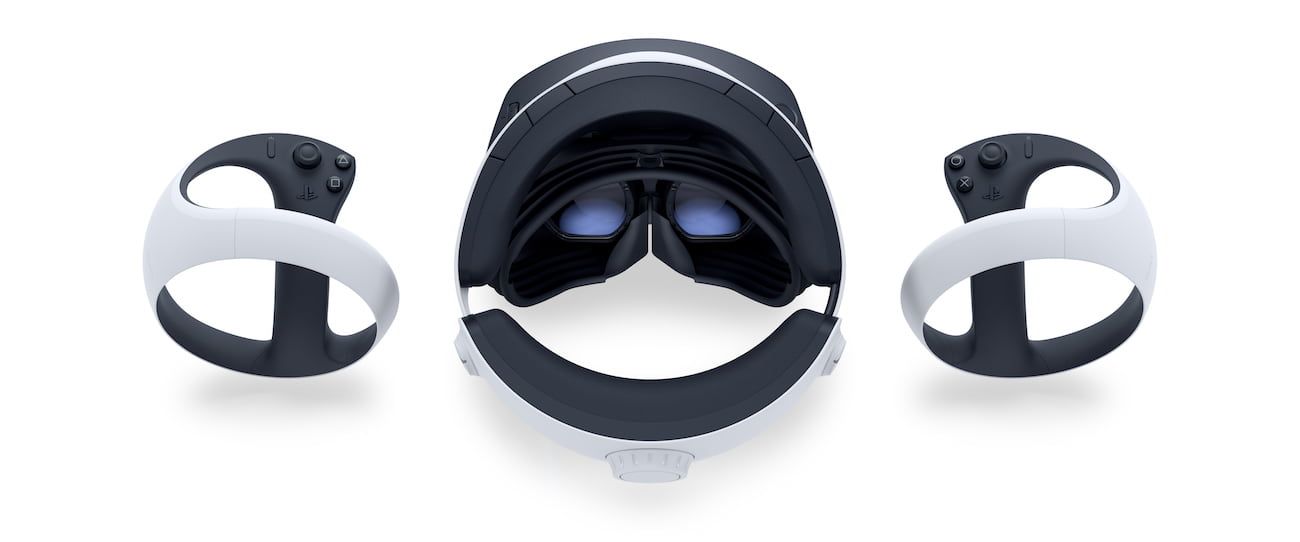 Where to buy

The PSVR2 will be available via the PlayStation Direct website, and you can pre-order it right now. Here, you'll be able to purchase the standard PSVR2 and the Horizon Call of the Mountain bundle, as well as the PlayStation VR2 Sense Controller charging station for $49.99.
Keep in mind, Sony is restricting pre-orders to one headset per household since demand for the PSVR2 is currently so high.

It doesn't appear like PSVR2 is available to pre-order from other retailers, but the device might be sold outside of PlayStation Direct at a later time.
Specifications

The PSVR 2 boasts more powerful specs than its predecessor, with a 2,000 x 2,040 (per eye) OLED HDR display. This means players will get a much clearer picture when playing PSVR2, hopefully making the experience much more immersive.

These are the specs for PSVR2:
Display method: OLED
Panel resolution​: 2000 x 2040 per eye
Panel refresh rate: 90Hz, 120Hz
Lens separation: Adjustable
Field of View​: Approx. 110 degrees
Sensors​: Motion sensor: Six-axis motion sensing system (three-axis gyroscope, three-axis accelerometer)​ Attachment sensor: IR proximity sensor
Cameras​: 4 embedded cameras for headset and controller tracking​. IR camera for eye tracking per eye
Feedback​: Vibration on headset
Communication​ with PS5: USB Type-C
Audio​: Input: Built-in microphone. Output: Stereo headphone jack
PSVR2 features a brand new controller called the PSVR2 Sense. This controller is built specifically with PSVR2 in mind, unlike the PS Move controllers that were used alongside the original headset (which were first designed for the PS3).

PSVR2 Sense Controller specs:
Buttons​: [Right]​ PS button, Options button, Action buttons (Circle / Cross), R1 button, R2 button, Right Stick / R3 button. [Left]​ PS button, Create button, Action buttons (Triangle / Square), L1 button, L2 button, Left Stick / L3 button
Sensing/Tracking: Motion Sensor: Six-axis motion sensing system (three-axis gyroscope + three-axis accelerometer). Capacitive Sensor: Finger Touch DetectionIR LED: Position Tracking
Feedback: Trigger Effect (on R2/L2 button), Haptic Feedback (by single actuator per unit)
Port: USB Type-C Port
Communication​: Bluetooth Ver5.1​
Battery​: Built-in Lithium-ion Rechargeable Battery​
One thing that's worth noting is that PSVR2 is not backward compatible with the original PSVR. This unfortunately means all of your original PSVR games for the PS4 won't work with the PSVR2 headset (this is despite the PS5 being backward compatible with PS4 games).
The PSVR 2 is completely differently than its predecessor, so it makes sense they aren't compatible with one another. Still, it's a bummer all those original PSVR games will be left in the dust.

Thankfully, some older PSVR games such as No Man's Sky, After the Fall, and Hello Neighbor: Search and Rescue are offering free upgrades to a PSVR2 version.
Is PSVR2 wireless?

No, the PlayStation VR2 headset is not wireless — it uses a single USB-C cable to connect directly to the PS5.
PSVR2 vs Meta Quest 2

One of the most popular VR headsets availble right now is the Meta Quest 2 (previously known as the Oculus Quest 2), which removes many of the barriers introduced by other devices. The setup process alone can be offputting across many VR units, which makes the Meta Quest 2 much more appealing. The icing on the cake is that it's completely standalone, meaning you can utilize the Meta Quest 2 without being tethered to a PC or console.
With Meta Quest 2 being one of the leading VR units on the market, it's important to know how it stacks up against the PSVR2, as both have benefits and downsides you should be aware of.
For starters, it's important to take a look at the Meta Quest 2's specs to see how it compares:
Meta Quest 2 Specs:
Screen: LCD
Resolution: 1832 x 1920 per Eye
Refresh rate: Up to 120 Hz
Field of view: Approx. 90 degrees
Processor: Qualcomm Snapdragon XR2
RAM: 6 GB
Internal storage: 128GB, 256GB
Audio input: None
Audio output: 1/8" / 3.5 mm Jack
Bluetooth: Yes
Maximum battery life: 3 Hours
Controller battery type: AA
Tracking type: 6-DoF 6 inside-out
In looking at the specs, the PSVR2 actually has an edge over the Meta Quest 2 in a few categories – mainly the resolution and screen type. An argument can also be made that, while the Quest 2 being wireless is certainly an asset, its short 3-hour battery life does hinder those longer play sessions.
The other thing to note is that the PSVR2 is much more expensive than the Meta Quest 2. You can grab a Meta Quest 2 for $399.99, while the least expensive PSVR2 unit will set you back $549.99, along with the cost of the PS5 system itself (the least expensive of which is $399.99 for the Digital Edition).
If you're someone wanting a more approachable VR experience that isn't solely focused on video games, the Meta Quest 2 might be for you. The PSVR2 is aimed towards gamers first, featuring fully fledged games built from the ground up with this device in mind.
Will the PSVR2 work with PC and Steam VR?

While Sony hasn't officially specified yet if the PSVR 2 will work in any capacity on the PC and with Steam VR, there is some hope for PC-compatibility.
In the past, the community released a tool for the first PSVR called Trinus Virtual Reality, which allowed PCs to recognise Sony's first generation VR headset. So there is a non-zero chance that the homebrew community will find a way to make the new PSVR2 headset work with PCs.
Considering the PSVR2 uses a USB-C cable for connectivity, this should, in theory, make things a touch easier for the homebrew community.
Sony themselves may at some point even allow PSVR2 to work on PC — thanks to their increased efforts of late to bring Sony games to Steam thanks to its PlayStation PC label.
HOWEVER, we can't recommend you buy PSVR2, hoping it will work on PC.
PSVR2 Games

There's no shortage of PSVR2 games in the works, and the launch lineup is stacked, to say the least. There are well over 70 announced games in the works for PSVR2 – with 23 available at launch. Here is the launch line-up!
Notable launch games include Horizon Call of the Mountain, Moss II, and The Dark Pictures: Switchback VR.

Many existing PS5 titles such as Resident Evil Village, Gran Turismo 7, and No Man's Sky are also set to offer free PSVR2 upgrades, meaning you don't need to purchase anything else if you already own those games.
---
The PSVR 2 is set to usher in a new era of console based VR when it arrives this month — will you be getting one?
---
More like this...