The second generation of Sony's virtual reality headset will launch in February 2023, with preorders now online.
Update: You can now officially preorder the PlayStation VR2 online, in several countries, with the VR headset set to begin shipping in February 2023.

Here's the list of all the countries where you can currently preorder the PSVR2:
You'll find the original post below:
---
The second version of Sony's virtual reality headset, the PlayStation VR2, will launch early next year on February 22, 2023. Pre-orders will open later this month, on November 15th, with pricing starting at $549.99 USD.
This new VR headset will require a PlayStation 5 console to connect.
How much will the PlayStation VR2 cost?
Sony has announced PSV2 pricing for the following regions:

🇺🇸 USA — $549.99 USD (excluding tax)
🇪🇺 Europe — €599.99 EUR (including tax)
🇬🇧 UK — £529.99 (including tax)
🇯🇵 Japan — ¥74,980 (including tax)
The base headset bundle, which yes, costs more than the console you'll be connecting it to, will include the new PSVR2 headset, along with a pair of PSVR2 Sense controllers, and stereo headphones.
The headset is expected to launch alongside 20 virtual reality titles, including Resident Evil Village, Star Wars: Tales from the Galaxy's Edge, and a new Horizon game. Beyond these ~20 launch games, a post on the PlayStation blog also outlined an additional 11 VR games on the way.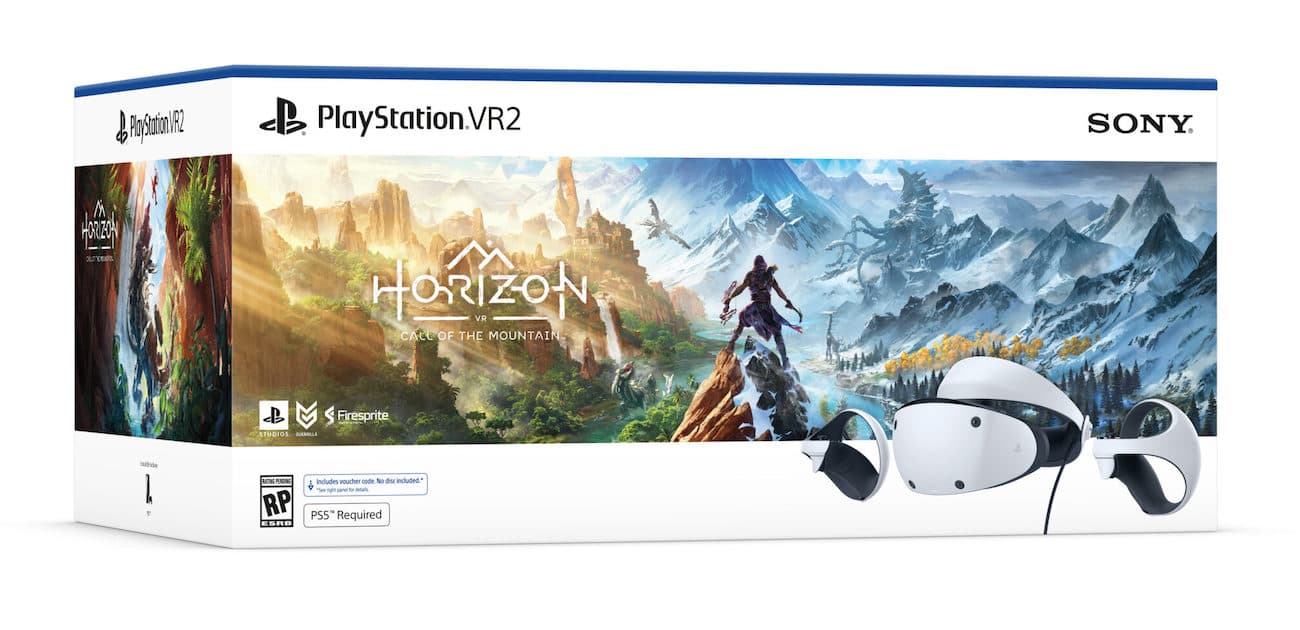 Sony also revealed a PSVR2 bundle for $599.99 (pictured above) which will include a download code for the new 'Horizon Call of the Mountain' experience.
In addition to the base hardware, Sony will also release a PSVR2 Sense controller charging station for $49.99. This device allows users to charge the two Sense controllers without the need to connect them to the main PS5 console.
In a blog post announcing the release Sony shared:
"PlayStation VR2 Sense Technology includes key features that enable unique gameplay experiences, such as headset feedback, eye tracking, 3D audio, and the adaptive triggers and haptic feedback from the PS VR2 Sense controllers. Together with compatible games they will captivate players' senses and offer an incredibly deep feeling of immersion."
---
PlayStation VR2 Headset Specifications
Connectivity: USB-C to PS5
Display: 200x2040 OLED panel per eye, 90Hz, 120Hz refresh rates
Field of view: 110 degrees
Sensors: Six-axis motion sensing system (three-axis gyroscope, three-axis accelerometer)​, plus IR Proximity sensor
Cameras: 4 cameras for headset and controller tracking. An IR camera per eye for eye tracking
Audio: Stereo headphone jack for output. Built-in microphone for input.
Feedback: Headset vibration