Accessory maker JSAUX have revealed a new Steam Deck dock — and it looks to be a pretty versatile option.
Dubbed the 'M.2 Docking Station', this rugged looking device sports a wide range of I/O, including:
HDMI 2.0 (with support for 4K 60Hz output)
Gigabit Ethernet
USB-C charging port
Two USB A 3.1 ports
...and, as the name suggests, an M.2 SSD card slot too — letting you quickly and easily add a couple of extra available terabytes of storage to your Deck.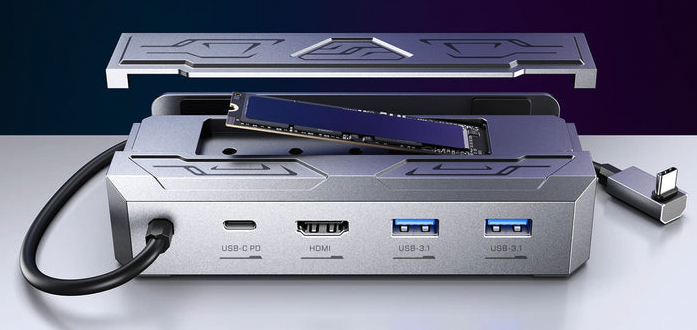 Now, this isn't the first Steam Deck dock from JSAUX — it's actually the third dock product they have bought to market. The company seems to be quickly iterating their product line of Steam Deck accessories, and improving the offering each time. This new model (officially the M.2 Docking Station for Steam Deck HB0604) sports a fresh design, and is the first to add in an SSD slot.
The device will seemingly be available in three different configurations. The base model, expected to initially cost $99 USD, gets you just the dock. However, if you opt to spend a little extra, JSAUX will also bundle in an SSD with your order.
Here's how the pricing breaks down (all in USD):
Dock — $129.99 ($99.99 early bird price)
Dock with 1TB SSD included — $199.99 ($169.99 early bird)
Dock with 2TB SSD included — $269.99 ($239.99 early bird)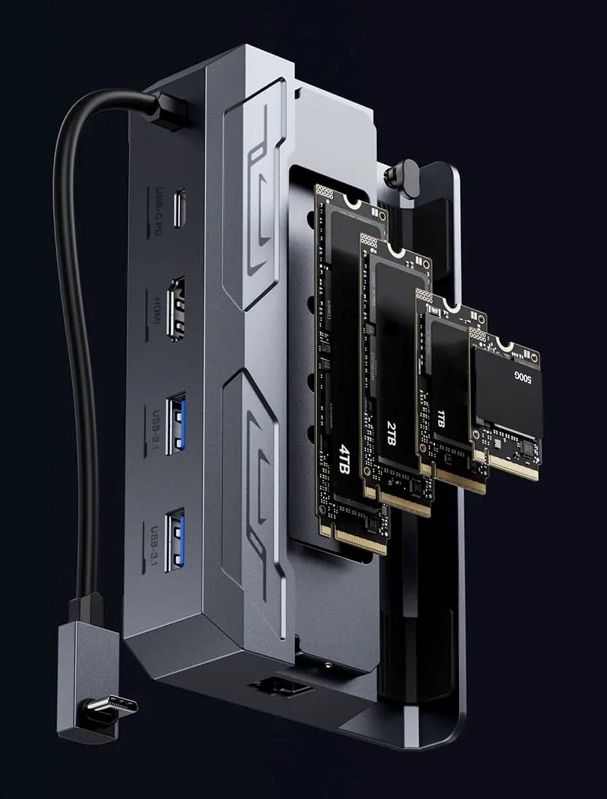 Of course, if you go for the cheapest option here, you'll need to add in your own storage — thankfully the dock is said to be compatible with a wide range of NVMe and SATA SSD options, as detailed on the product page here.
The M.2 Docking Station is expected to launch later this week on September 7.