A leaked 'Roadmap to 2030' Microsoft document reveals potential plans for an Xbox handheld.
In one of the most sizeable leaks in recent memory, we now have a massive 20-page PDF stating a lot of Microsoft's future plans for Xbox. Along with the usual things you'd expect, like mid-gen console refreshes, and some updates to controllers and whatnot, the 'Roadmap to 2030' PDF also states that there's a potential Xbox handheld in the works.
The handheld device doesn't even have a name at this point, or at least not one that's seen in these documents, but it's there amongst the consoles, controllers, a cloud device, and all of the other things you'd expect like PCs. If you zoom in close to the document, you can see that the device is basically what you'd imagine if you tried to put an Xbox Controller onto a Nintendo Switch. Here's an image from the PDF showing the device in question: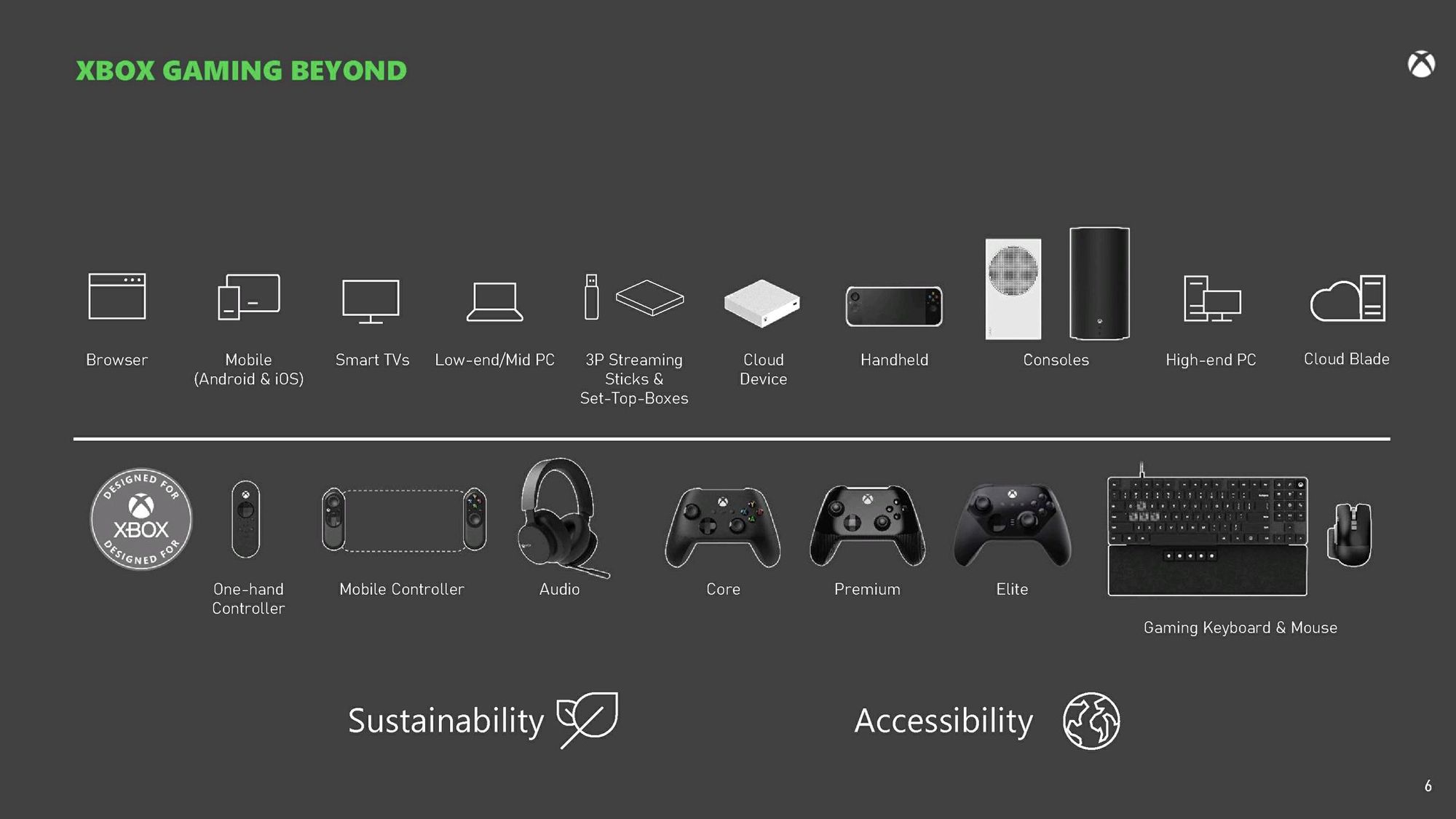 One thing that's worth noting is that this potential Xbox handheld is listed next to a Cloud Device. What this means is that it's unlikely to specifically use the cloud, at least in our opinion, which means it'll be a competitor to the likes of the Steam Deck. We'd expect it to have stats closer to that of the Series S than Series X, and it'll most likely play the same games as the consoles.
It's also interesting to note how both the Xbox cloud device and Xbox handheld shown in this document use images of what appear to be real hardware designs rather than the iconography seen used for other devices — a possible hint as to how far along these projects are.
While there's a small possibility that Microsoft will follow in Sony's shoes here and make it a companion to the consoles, it seems unlikely given Microsoft's general aim of making consoles an option, rather than a necessity. You only have to look at your phone and remember you can play Xbox games on it to realize that Microsoft is interested in being a service that everyone can access, not one that's exclusive to their home consoles.
It'll be interesting to see how Microsoft handles all of this information just being casually leaked via the case with the FTC they have going on. Of course, we'd like for them to just own up to it all and give us some firm details on everything, but we'll have to wait to find out.
You can see the full PDF document here, via The Verge.