Logitech's foray into the handheld gaming space, with the Logitech G Cloud, is now finally here (for those of you in the U.S. at least) — as are the first wave of reviews. But what do folks think?

We've taken a look at what the early consensus is for this cloud-based portable.
---
Logitech's new device was first teased earlier in the summer, and then made official just last month. We commented at the time of its unveiling that this plucky entrance into the handheld gaming space was a rather bold move from the company, complete with a somewhat ambitious pricing strategy.
Now, the 7-inch $349 handheld is on store shelves, offering those who pick one up an Android-powered take on cloud gaming.
ℹ️
Logitech G Cloud specs

■ Processor: Qualcomm Snapdragon 720G
■ RAM: LPDDR4x 4GB
■ Display: 7-inch 60Hz 1920 x 1080 IPS LCD touchscreen
■ Storage: 64GB internal (up to 1TB expandable via microSD)
■ Connectivity: Bluetooth 5.1, Wi-Fi 5
■ Ports: USB-C 3.1, headphone jack
■ Battery: 23.1Wh, 6,000mAh
■ Weight: 463 grams
Here's what the early reviews have to say:
Logitech G Cloud Reviews
What the critics think of this new cloud gaming device
Cameron Faulkner writing for The Verge, called the new device something of "a heartbreaker", noting that it's a joy to game on "when the conditions are right", but more often than not, it presents as "a mediocre Android tablet with a controller grafted on".
"Logitech isn't just competing with Nintendo, Valve, or the myriad other niche handheld makers; it's competing with the phone or tablet you already own."
They conclude by stating that the $350 price point "is just too much for a gadget" with the restrictions this cloud-first device brings.
Andrew Romero over at 9to5Google praises how the Logitech G Cloud feels in hand, sharing how comfortable this handheld is — even for long play sessions. They also seemed impressed by the device's performance and grunt.
Ultimately, however, the appeal of this new portable seems to run up against the clear growing pains of cloud gaming overall — as Andrew goes on to note that if such issues were resolved, "the G Cloud would be an easier sell for sure", but as it stands this is a "great device" with plenty of "long-term potential" that's somewhat tempered by the imperfect nature of cloud-gaming in 2022.

Jorge Jimenez writing for PC Gamer, shares how the latency when playing online on the Logitech G Cloud is an issue, particularly in shooters. They also lament the lack of any LTE connectivity, adding that it "feels like it is made for a gamer that doesn't exist".
"its inconsistent streaming performance, high price, and very specific use cases keep the G Cloud from seriously competing in the rising handheld gaming space"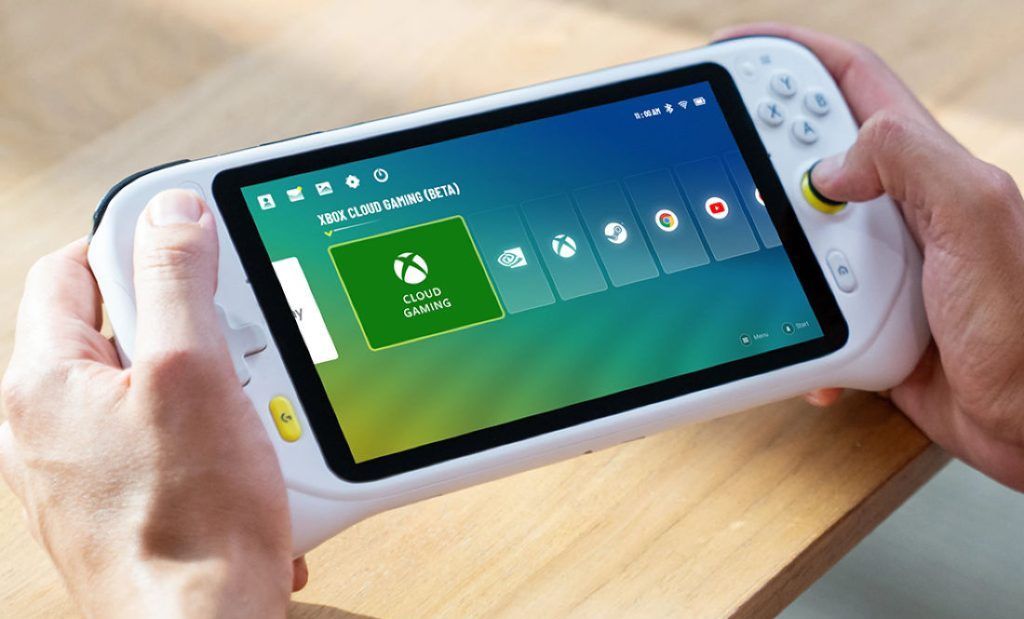 Brandon Saltalamacchia for Retro Dodo notes how the build quality of the Logitech G Cloud is superb, the battery life impressive, and the performance when playing things like Xbox games via the cloud is fairly seamless. This review also touches upon the emulation capabilities of the device for those interested in its wider utility.
On the whole, Saltalamacchia shared some concerns as to the device's overall positioning and price point, noting that alternatives such as the Steam Deck or AYN Odin make this a tough sell for Logitech.
"This needs to be $200 to really succeed in a fast paced market that is becoming very over-saturated with choice."
Cary Golomb, also known as ThePhawx on YouTube, didn't hold back with his assessment of the Logitech G Cloud — with a punchy video titled "The G Stands For Garbage".
Like many others, the battery life and general build quality is praised, but beyond that, Golomb found the OS to be half-baked, the lack of a cellular connection to be a disappointing omission, and the review highlights some odd disparities in how the touchscreen responds to inputs. The takeaway from Golomb is to avoid this one.
"It's in a no man's land of not being recommendable in any degree whatsoever."
If of interest, this video review, like the above from Retro Dodo, dives into the emulation capabilities of the G Cloud.
Tomas Franzese writing at Digital Trends, also praised the battery life and comfort in hand, but warned that the Logitech G Cloud is "an incredible niche product".
Due to its cloud-only nature, Franzese stressed that this is a device that's "most useful at your home — somewhere where you probably already have a console, phone, or TV that can do the same things and play the same games".
"Cloud play has become a very supplementary form of gaming, and as a result, this is also a very supplementary device for cloud gamers."

Will Greenwald for PC Mag liked the design of the device, noting that it sits somewhere "between the Steam Deck's wide, full-gripped profile and the Nintendo Switch Lite's flat, simple body", and also praised its emulation chops — but concludes that this is a rather expensive, misguided device.
"a nicely constructed, emulation-friendly handheld with an emphasis on cloud gaming, but it's overpriced for what it delivers"
---
The consensus?

Most reviews seemed to like the look of the hardware design and praised its battery life and performance when playing cloud titles. I saw some concerns about things like control sticks, and native performance for Android games. However, the biggest problem seems to be the price point and the limited appeal of cloud gaming as it stands today.
It may be a bit too early for a device of this nature...