A blowout of new information about AYANEO's new Air Plus handheld gaming device.
Update: The Indiegogo campaign for the AYANEO Air Plus has officially started. You can now buy the handheld with shipments expected in May.
Device maker AYANEO have revealed the launch details for their latest handheld, dubbed the 'Air Plus'.  
This Windows-powered device will now join the company's growing range of portables, with AYANEO keen to stress the benefits of this new 'Air Plus' model — chiefly its bigger screen, improved battery life, performance gains, and enhanced audio.
The Air Plus sports a six-inch IPS touch screen (1920x1080), has both hall-sensing joysticks and triggers, a 28W cooling solution, a sizeable 46.2Wh battery, WiFi 6 support, and even features a fingerprint sensor for device unlocking.
As expected, the storage can be expanded via a microSD card, and the device will charge over USB-C.
AYANEO will offer the new device in both Intel and AMD variants, including a flagship model rocking an AMD Ryzen 7 6800U chip.

The Air Plus will be available in three colour variants (seen above) — a Glacier Blue, a Starlight Black, and a Game Boy-esque 'Classic Gray'. Notably, this gray finish is only available on the high-end 6800 U model.
Prices for the Air Plus vary greatly depending on which configuration you opt for, with the device starting at $649 but going all the way up to a top configuration costing nearly $1,400. Either way, and by way of comparison, no matter which model you go for, the device costs more than the base-level Steam Deck.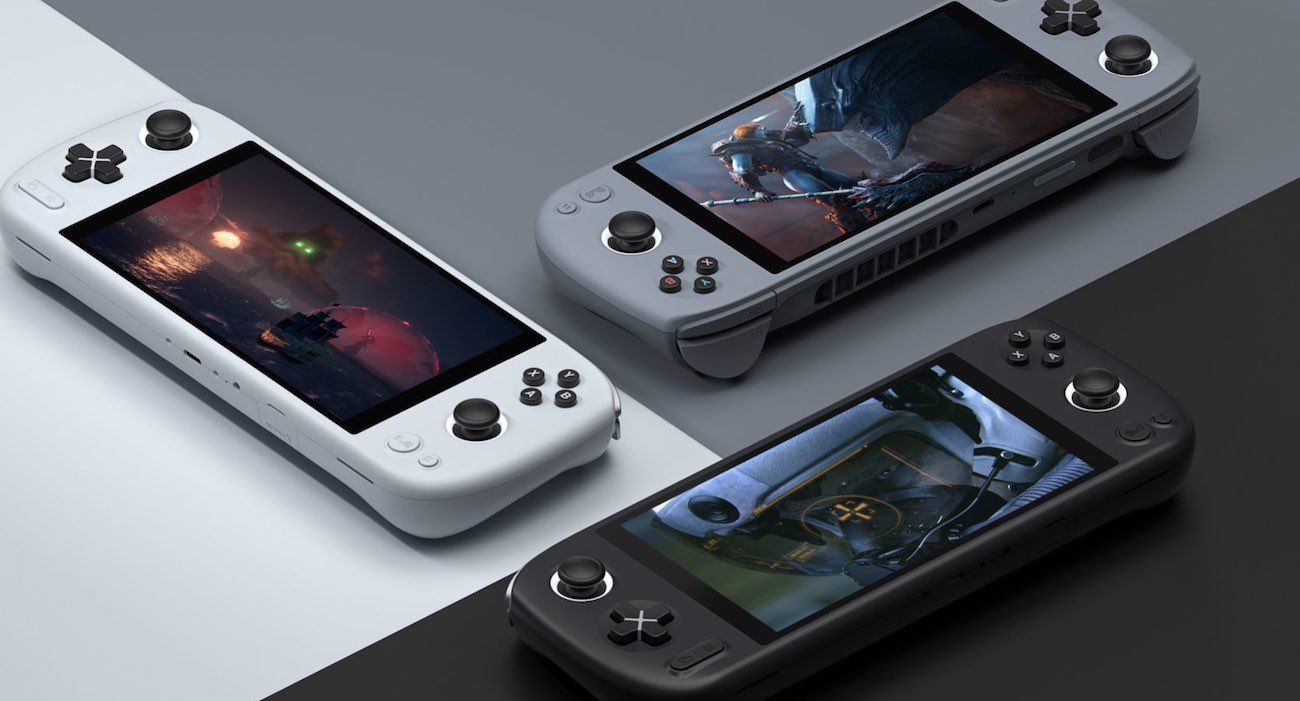 The device will be up for pre-order on Indiegogo, with global shipments expected in May this year, and those in China will see shipments start in late April.
AYANEO Air Plus Specifications
The specs below show the range of options, depending on model choice.
Processor: Intel Alder Lake i3 1215U / AMD Ryzen 3 7320U / AMD Ryzen 5 7520U / AMD Ryzen 7 6800U
RAM 8GB / 16GB / 32GB
SSD 128GB / 512GB / 1TB / 2TB
Size 237mm X 91.4mm
Thickness 23.1mm
Weight 510g-525g
Resolution 1920X1080
IPS 6-inch touch screen, brightness 400nits, 368 pixels per inch
Master Controller: Hall Sensing Mini Joystick / Hall Trigger
Adjustable RGB Light
Fingerprint Unlock
Micro SD card slot
Battery 46.2Wh — PD3.0 65W Fast Charge
WiFi 6
Bluetooth 5.2
USB 4 Type C
All the information about this new portable was shared via a recent AYANEO live stream — which you can watch back here.