Hello, and welcome to a new edition of the overkill digest newsletter. If you are reading this on the website and are wondering why you can't access the whole article, all you have to do is sign up below to our weekly email. It's free!
Now, let's get to this week's news!
⭐ Big this week
On Wednesday, Sony held their first PlayStation Showcase in a long while. The event went for over one hour, showcased many games by different studios – including their own –and had a little surprise in the form of a new 'handheld'.
I sat down on Wednesday evening after the event to create a supercut of the show that trims it down to under 18 minutes. You can watch it here:
The showcase was a decent gaming event — but it was not a particularly strong 'PlayStation' event. Of all the games shown at the event, only four were from Sony's own studios and out of these four, three were CGI trailers with no gameplay whatsoever. There were some highlights at the event, like the Metal Gear Solid Delta announcement (although it seems Hideo Kojima is not involved, so meh!), trailers for Ghostrunner II and The Talos Principle II, or the reveal of Bungie's Marathon or Dragon's Dogma 2. But all these announcements are not exclusive to Sony's platform. This was made very obvious because the Xbox YouTube channel uploaded most of these trailers after the Sony event.
But one of the more surprising announcements was the official reveal of the PlayStation 'Project Q' – a new handheld by Sony that functions as a Remote Play device for the PlayStation 5. Here is the announcement video, and this is what it looks like: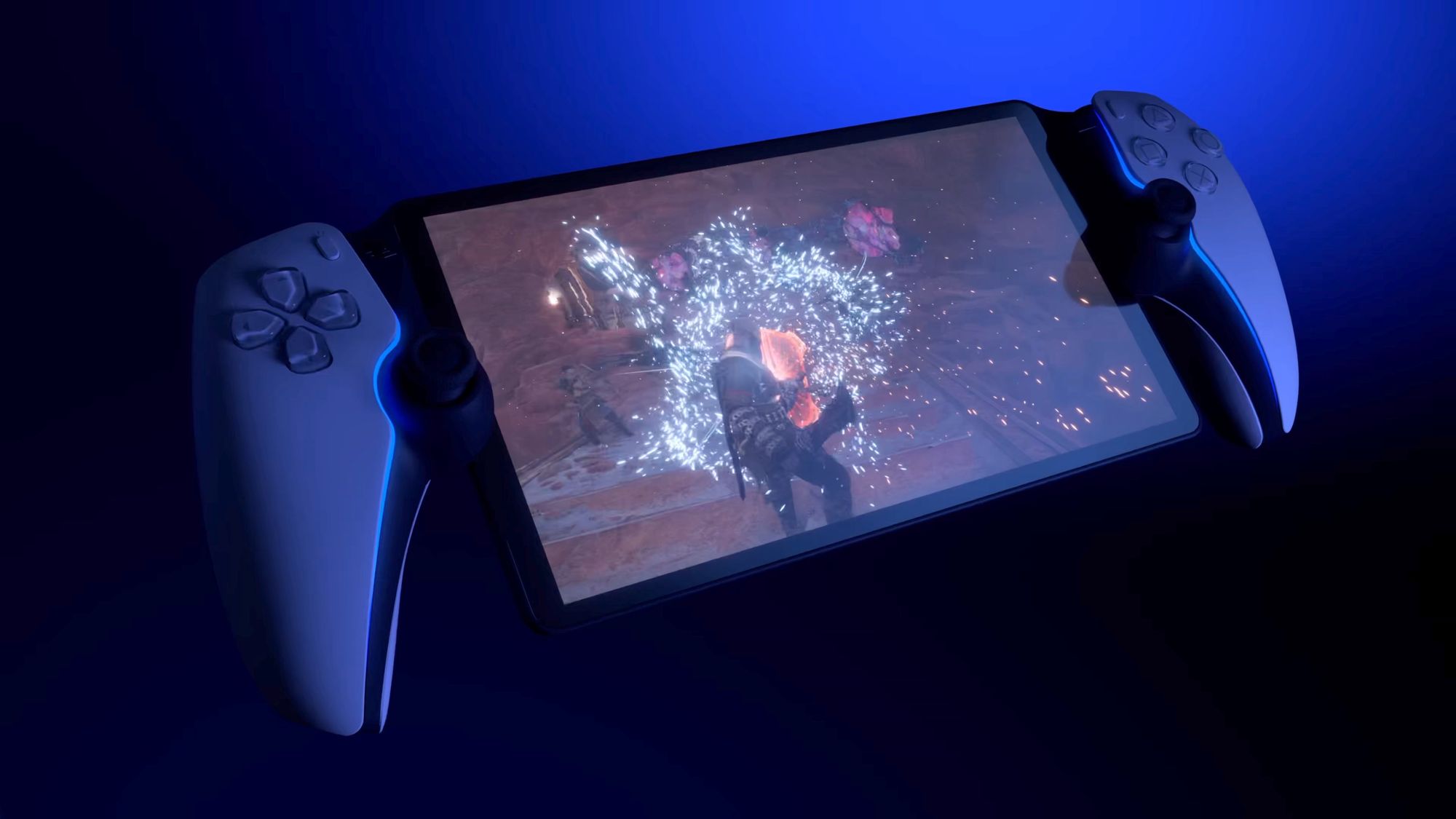 I've uploaded a little rant on YouTube sharing my thoughts, but they boil down to "ok, but why?".
I don't know who Project Q is for. From all we know, this device is a DualSense controller split into two, with an 8-inch 1080p screen attached to the middle. It only works on Wi-Fi and only streams games from your PS5 to the Q. So basically, it's the PS Remote Play App as hardware. Or the Wii U gamepad. But unlike Project Q, if I install the Remote Play app on my iPhone, I can at least use my phone's 5G capabilities to play wherever I am. This doesn't even do that.
We don't know much about this device (Tom Henderson from Insider Gaming has heard, however, that this device will come around November and barely have three hours of battery life). I hope it'll be sub-200 dollars – I have my doubts, though –and runs some form of Android so that it can at least be jailbroken to run PSP and PS Vita emulators. But I doubt that too, since I can't imagine Sony wanting people to use Microsoft's Game Pass Cloud gaming on this.
So, right now, I don't get what Sony's plan here is. I own the BackBone One Controller for PlayStation, and it does the same thing for just $100. Only that it uses my iPhone, so if I am sick of playing games, I can use TikTok or write stupid takes on Twitter. When I am sick playing games on the Q, I can use it as a mirror.
---
⚡ Quick Links
---
That's it for this week. As a little teaser for what we're currently working on: My Asus ROG Ally review unit has shipped, so stay tuned for more ROG Ally coverage, including comparisons to the Steam Deck.
See you next week!

Kevin