RetroDECK, an all-in-one retro gaming emulation tool for Valve's Steam Deck, is releasing a significant new beta-period release within the upcoming two weeks.
Codenamed Amazing Aozora, this version 0.7b brings notable new features to the app, including Wii U emulation via CEMU, a new Steam Deck controller layout, and updates to the underlying framework.
Another significant new feature in this upcoming update is an experimental multi-user support feature for managing both save states and custom configurations. RetroDECK notes that with this new multi-user feature Steam Deck owners that share their handheld with others will be able to now benefit from having their own custom RetroDECK profile: "You, your sister, brother, child, husband, wife, dog, cat could all have their separate saves, states and custom emulator settings just for themselves when they select their own profile."
This feature also supports the Steam Deck's native multiple users in Game Mode. However, the RetroDECK team still considers this functionality a work in progress, warning users that this is for testing purposes only. They hope to have it fully functional by the next major 0.8b update. But if you still want to give this feature a try, here's RetroDECK's tutorial on how to enable it.
The complete changelog of RetroDECK 0.7b is still being finalized, but here are just some of the key highlights:
Wii U emulation support via CEMU
Configurator has a new home inside the ES-DE main menu and is fully integrated
New Steam Deck controller layout for hotkeys
New navigation options via radial menu
New folders for game lists, mods, and texture packs
Configurator has a new home inside the ES-DE main menu
Experimental features: You can enable the RetroDECK multi-user system from the CLI
RetroAchivements now logs in to all supported emulators at once
Added RetroDECK auto updates on launch – this can be disabled from the Configurator (works in Game Mode for the Steam Deck)
Updated ES-DE to the latest version
The BIOS checker has been updated to look for over 120+ BIOS
Updated RetroArch + cores to their latest version
Updated all emulators to their latest versions
The Move Folder tool has been greatly expanded – you can now almost move any part of RetroDECK anywhere
Bugfixes, UI changes, and other performance improvements
How to install RetroDeck on Steam Deck
On your Steam Deck, switch to desktop mode. Click the Steam button, navigate down to Power, and then select Switch to Desktop.
In desktop mode, open up Discover. You find it by clicking on the menu button.
In Discover search for RetroDECK, and install the app. (If the keyboard doesn't pop up, press the Steam Button + the X-button.)
The file is a sizeable 1.5 GB download, so it might take a while. Once downloaded however the app requires 3GB of space.
After installation, select Start and start up RetroDECK.
The tool will then ask you where you want to install RetroDECK. Choose your location. It will then warn you that this might take a while. Hit Ok to continue the installation.
After installation, RetroDECK will start up automatically but warn you about issues on the Steam Deck's Desktop mode. Click on No to close RetroDECK.
Depending on where you decided to install RetroDECK, you'll find a folder called retrodeck where you can add all your ROMs and BIOS files.
Next, we want to add RetroDeck to Steam. Open up the Steam app from the Desktop mode, then navigate to your library and at the bottom left corner, select first on the little plus icon, Add Game, then on Add a Non-Steam Game to My Library.
RetroDECK's approach to emulation
RetroDECK is one of two leading emulation tools currently available for Steam Deck. But unlike alternative EmuDeck, the developers behind RetroDECK decided to go for a somewhat different approach — by packing every emulator into one complete application.
This means that when you want to install RetroDECK, you can do so directly from the Discover Store on the Steam Deck, and it'll come with everything needed to get your ROMs up and running.
This consolidated approach has specific benefits and advantages compared to how EmuDeck currently does things.
On the one hand, since everything is packed into one single Flatpak — Valve's preferred way to distribute software on SteamOS — there is a low chance that anything will break if Valve updates their OS in some weird or unexpected way. RetroDECK highlights that this singular approach allows the included emulators to be optimized specifically for the Steam Deck.
Also, this all-in-one approach allows the RetroDECK team to add their very own framework to the package. They call this system the 'RetroDECK framework', and it will enable the team to "ship deeper choices, customizations, apply settings globally and expose hidden settings to the front" — which, in practice, means that the framework allows for a more straightforward application of custom patches, fixes and more to the included emulators and bundled software.
Here are just a few examples of what the RetroDECK framework enables (that are now part of version 0.7b):
Semi-automated PS3 firmware installation for RPCS3,
RetroDECK Configurator as part of the EmulationStation-DE menu
Borders, shaders and widescreen modes
Very easy method to add mods and texture packs thanks to a simplified folder structure
The aforementioned multi-user support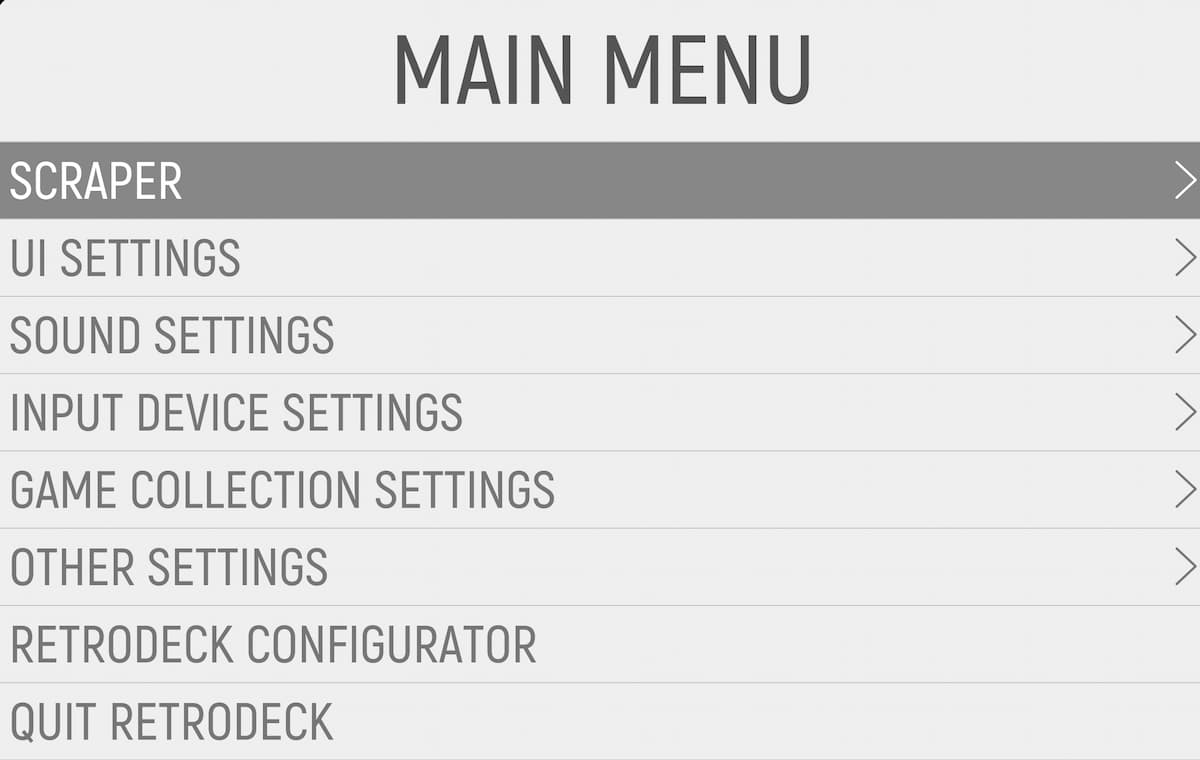 This unified approach also means that when you want to uninstall the tool, you can do so by simply deleting the single flatpak without a need to go hunting for little remnants all over your Steam Deck's filesystem. This will, however, not delete any of your files like ROMs, saves or BIOS files, your important data will be safe.
However, this approach also comes with its downsides. Chiefly, the fact that you can only use the emulators and settings that RetroDECK decided to include. For example, before this release, there was no way for RetroDECK to emulate Wii U games — this particular platform now works on the tool, but such a curated approach may not work for some.
Unlike EmuDeck, since everything is packaged into one tool, it also means that RetroDeck users have to wait for the team to update the integrated emulators. So while they do promise "semi-frequent emulator-update point releases" and assure that they "historically […] have been fast if [they] feel the need to get something out quickly", it still means you have to wait for them to make the change rather than having the flexibility to do it yourself. Again, this comes back to how much of a DIY versus managed approach you prefer.
There are benefits to each option, be it RetroDECK or EmuDeck, so it comes down to personal choice as to which tool better fits your setup.
---
RetroDECK version 0.7b will be available within the next two weeks. You can learn more about RetroDECK on the official site or via the GitHub Repo.