These are best bargain buys you can snag in the new SHMUP-themed Steam sale. All under ten bucks, and all Steam Deck friendly.
For the next seven days the Steam store is discounting a wide range of SHMUP and shooter titles for the 2023 Steam SHMUP Fest sale.
The week long event is live now, and will run until Monday, October 2 — which means you've still got some time to snag some deals.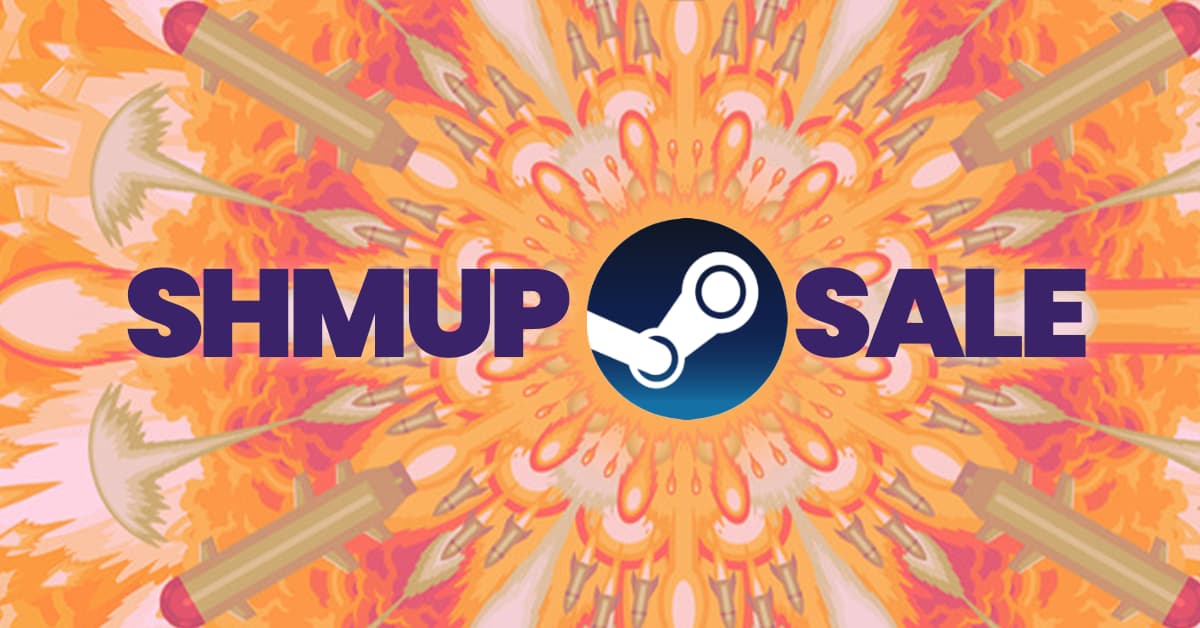 Loads of titles are on offer, including the likes of Swordship, OXTO, and Deadlink. But what bargains can be had?
Well, as usual we've gone through what games are on sale and brought together our top discount picks. We like to find games that play friendly with the Steam Deck too, so remember that all of the games listed here are either marked as Steam Deck Verified or Steam Deck playable.
Despite the name, this sale doesn't just feature what you may consider a traditional shoot 'em up, it also features a range of twin-stick shooters, side-scrollers, bullet hell experiences, and roguelikes aplenty.
So, let's get to it — these are the very best sub-ten dollar bargains you can snag in the Steam SHMUP Fest sale.
🔫 Steam SHMUP Fest Sale Bargains:

Ikaruga - $4.99
🎮 Steam Deck compatibility: Verified
When people ask me to think of a shoot 'em up, IKARUGA immediately springs to mind.
The vertical shooter originally hit arcades back in 2001, and I grabbed it a few years later when it arrived on the GameCube — it kicked my ass, but I loved the challenge, the neat energy polarity mechanic, the overall look, and the sound of it all.
A true genre classic. It's Steam Deck verified and is discounted 50% right now, making it less than five bucks — a no brainer if you're yet to experience it I'd say.
---

LUFTRAUSERS - $1.99
🎮 Steam Deck compatibility: Playable
This arcade aerial shooter from 2014 offers up intense 2D dogfights all with a bold, unique 'crimson and cream' colour scheme. You've got over 125 different weapons, planes, and engines to strap together here to take to the sky in, in which you face off against rival birds, shoot down battleships, or sink the odd sub.
One review called it one of the most satisfying and enthralling of arcade shooters — and right now there's a meaty 80% discount.
---

Godstrike - $4.94
🎮 Steam Deck compatibility: Verified
This is a brutal 3D boss rush twin-stick shooter from 2021 which puts the 'hell' into bullet hell. It has a neat mechanic where your time remaining is both your health and your currency. It's Steam Deck verified, and has a nice 67% discount at the moment, making it a sub five dollar pick up.
---

Ex-Zodiac - $6.99
🎮 Steam Deck compatibility: Playable
Starfox fans take note — this fast-paced on-rails shooter has all the low-poly charm of that SNES classic, and even features a cast with some animal characters. This early access title really does look the part, with around a dozen stylised levels to blast through, a 16-bit era soundtrack, and of course, barrel rolls.
---

Enter the Gungeon - $4.49
🎮 Steam Deck compatibility: Verified
A hugely popular dungeon crawler from 2016 in which you shoot, loot, and roll your way to victory. This much celebrated bullet hell hit saw a follow-up sequel in 2020, dubbed Exit the Gungeon — and you can snag both games in a Steam Deck friendly bundle for just under $8 too.
---

Sky Force Reloaded - $4.99
🎮 Steam Deck compatibility: Verified
A modern, visually-rich classic arcade style shoot 'em up with plenty of big bosses, flashy explosions, and challenging missions. There's 15 levels of bullet hell to master here, along with nine different aircraft to helm.
‣ Sky Force Reloaded for Steam Deck
---

20 Minutes Till Dawn - $3.99
🎮 Steam Deck compatibility: Playable
A 2D survival rogue lite, ala Vampire Survivors, in which you have to take on wave after wave of lovecraftian nightmares in a series of 20 minute rounds. This one, from a solo developer, came out in June this year and is Verified on Steam Deck.
‣ 20 Minutes Till Dawn on Steam
---

RUINER - $3.99
🎮 Steam Deck compatibility: Verified
This is a 'brutal' top-down indie action shooter game set in a futuristic metropolis. It's a cyberpunk-themed 'M for mature' affair that is stylish, fast-paced, and requires "a delicate balance of overwhelming, brute force, and elegant strikes to overcome all manner of savage opponents". 80% off right now, and Verified on Deck.
---
Brotato - $3.99
🎮 Steam Deck compatibility: Verified
You're a potato taking on hoards of aliens. It's a well-liked auto-firing action rogue lite in which you have to survive 30 minute rounds.
---
Here are some more Steam Deck friendly 'SMHUP' titles under ten bucks:
Those are the highlights we think are worth taking a look over, wish listing, and maybe snagging in this Steam SHMUP Fest sale.
If you grab anything or have any killer recommendations that you think we should share be sure to leave us a comment below.