These are our best settings for Armored Core VI: Fires of Rubicon on Steam Deck, FromSoftware's latest title.
Japanese developer FromSoftware are one of the most influential studios in gaming.
Thanks to the famous Souls series kicking off an entire subgenre and their latest RPG, Elden Ring, still sitting on top of the Steam top-seller list, it's no surprise that their newest game has been met with similar levels of anticipation. Armored Core VI is FromSoftware's long-awaited return to their roots (the Souls series has kept them busy for over ten years).
The highly-anticipated third-person mech action game landed on the 25th of August to much praise. In stark contrast to the dark fantasy setting most FromSoft fans are now used to, this 'Fires of Rubicon' Armored Core instalment takes place on the eponymous planet of Rubicon. As mercenary 621, you fight for the planetary resource Coral, which is of diplomatic importance on Rubicon and the surrounding systems.
Starting all Engines
Right out of the gate, the game starts with the following graphic settings on Steam Deck: a mix between high and medium at native 800p, without dynamic resolution or any frame rate limit. Without changing these default settings, your Armored Core mech will hover between 34 and 50 FPS. The latter marks rare spikes, so don't get your hopes up for a good-looking 40FPS lock or anything above.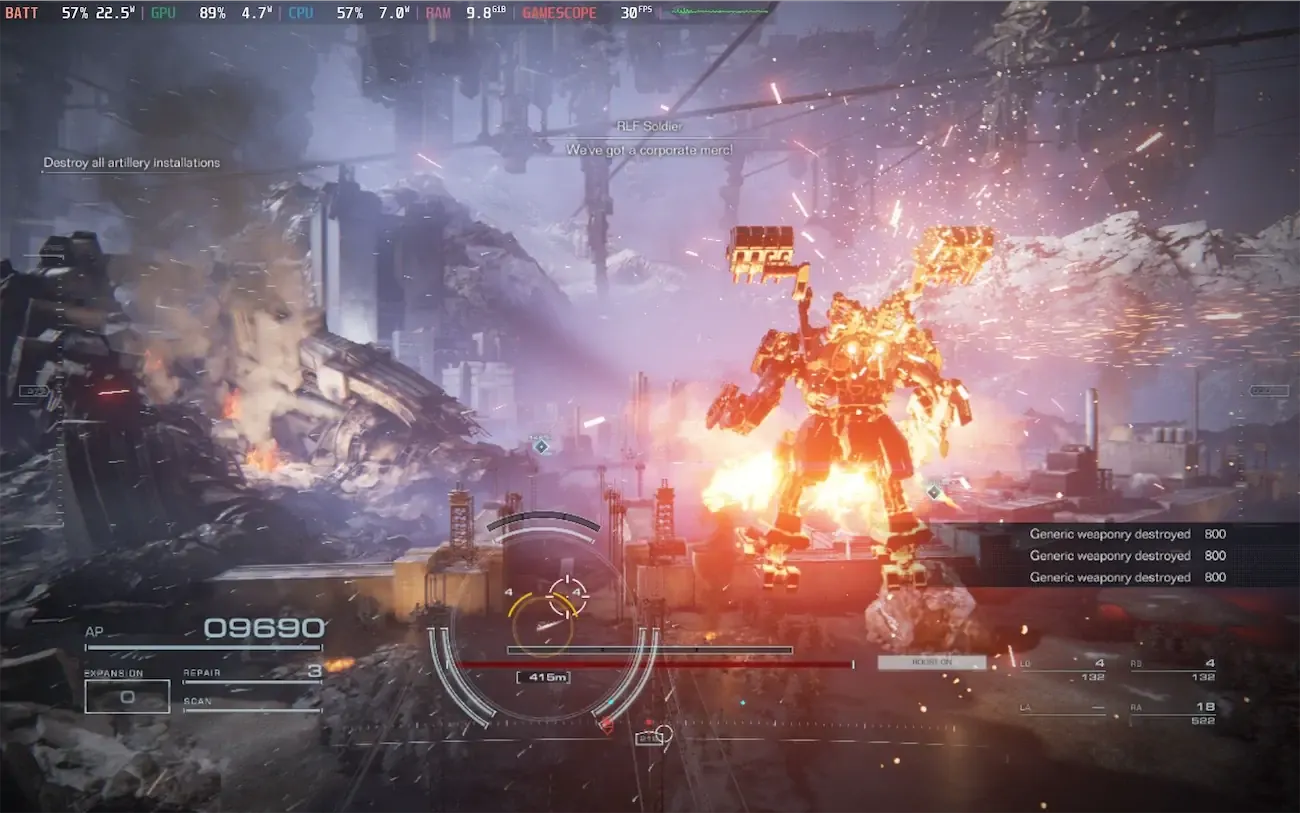 While FromSoftware advertises the game as a 'fast-paced omnidirectional combat experience', one thing became clear after many hours in the seat of 621's Raven-AC on both PC and Steam Deck. While quick reactions genuinely help on the battlefields of Rubicon, visual clarity is vital to survival. Therefore, I quickly bid farewell to the idea of a Golden 40 Steam Deck preset for Armored Core VI: Fires of Rubicon.
Portable Mech Combat never looked better
While the game's performance might look great during its first few missions, some battles against massive late-game bosses tank the performance in a similar fashion to the incoming attacks on our AC's structural integrity. If we go for a locked 40 FPS, all the while accepting regular dips into the 30s later on, we'd have to roll with the lowest preset.
As I consider frame pacing as the most fundamental pillar for a good experience on Steam Deck, we quickly opted for a near-flawless 30FPS target. This gives us more rendering headroom for improved visuals and a generally helpful buffer for those later missions I've mentioned earlier.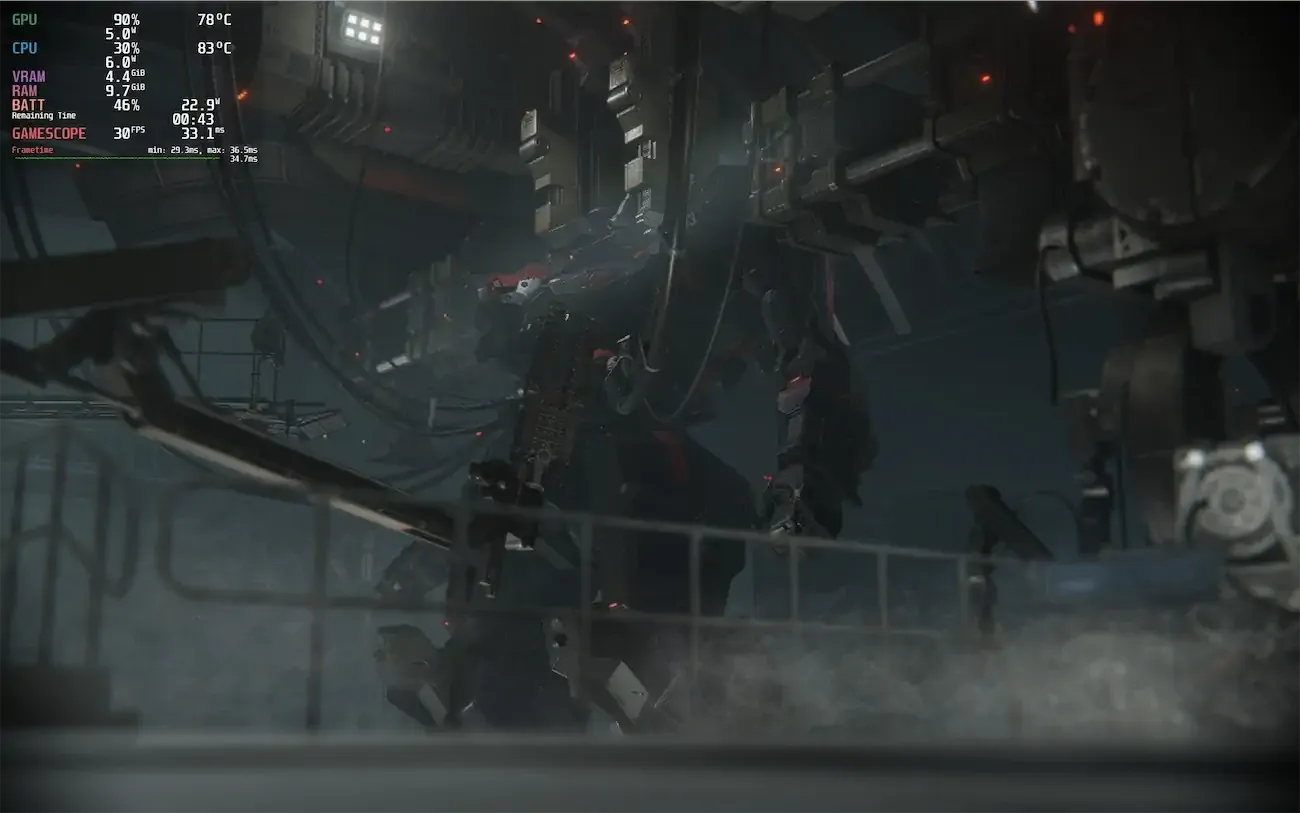 One important thing to mention: Currently, the Steam Deck's own frame rate limiter — even with 'Allow Tearing' enabled — introduces noticeable input latency in this game. Instead, we'll opt for the in-engines FPS lock, which at least gives AC6 some wiggle room regarding loading times. These run at 60FPS, while the game locks to 30 once Raven-621 is ready for the battle. However, the game's V-Sync option combined with 'Allow Tearing' results in pin-point input feedback.
Without further ado, here are my recommendations for Armored Core VI: Fires of Rubicon on the Steam Deck.
Best Settings for Armored Core 6 on Steam Deck
| In-Game Settings | |
| --- | --- |
| Screen Mode | Fullscreen |
| Resolution | 1280x800 (16:10) |
| Limit Frame Rate | 30 |
| V-Sync | ON |
| Auto-Detect Best Rendering Settings | OFF/ON (See below) |
| Quality Settings | High |
| Quick Action Menu Settings | |
| Use per-game profile | Enabled |
| Framerate Limit | OFF |
| Refresh Rate | 60 |
| Allow Tearing | Enabled |
A Buffer on Rubicon's Battlefields
These settings will give you a battery life of more than 1.5 hours. However, you may have noticed that our recommendation for the game's setting for dynamic resolution scaling is both OFF/ON. As mentioned earlier, the game boasts battles against bosses of massive scale. No matter how well-optimized your settings are, we're still playing a FromSoftware game after all, which means you'll notice some short dips into 28FPS once shit hits the fan.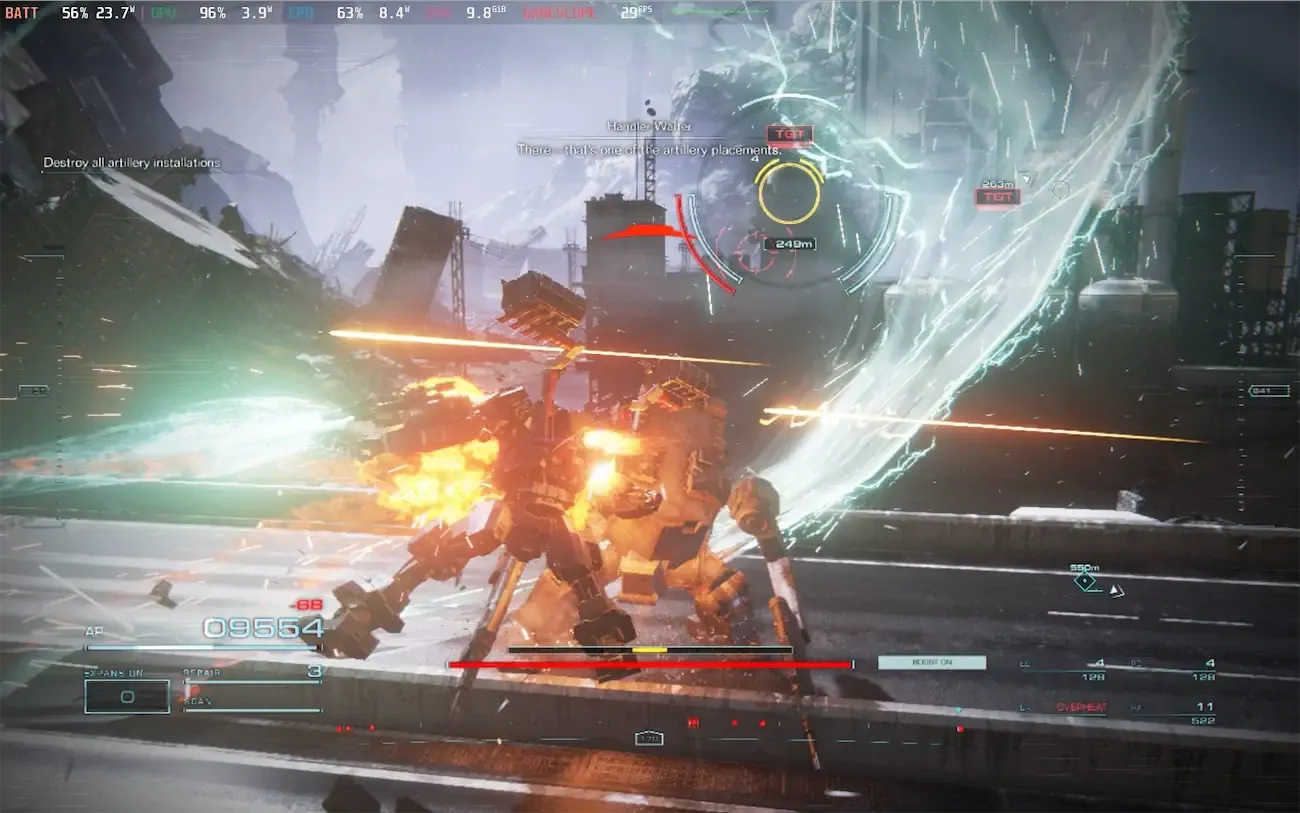 To prevent these, enable 'Auto-Detect Best Rendering Settings' and let the dynamic resolution scaling come in clutch in such situations. This also comes in handy when you want to get more battery life out of your Deck: Limit the TDP to 10 or 11 Watts and let the resolution scaler catch the load. That way, you can play Armored Core VI: Fires of Rubicon for nearly 2 hours.
Fun fact: Without a TDP limit but with dynamic resolution enabled, you can even play AC6 on DeckHD's 1200p screen at the same 30FPS performance.
Finally, I'd highly recommend setting 'Launch Setting' under 'Network Settings' to 'Offline'. The game has online features, such as sharing and downloading mech blueprints. However, losing the WiFi connection on the Steam Deck results in some weird frame rate dips. And since you might want to play the game on, say, a commute, it wouldn't hurt to set it to offline after all.