Looking for games like Advance Wars? Here our list of alternatives you can find on Steam and play on Steam Deck.
Nintendo's long-awaited double-bill remake of the first two GBA Advance Wars games is finally coming to the Nintendo Switch later this week — launching on April 21st as 'Advance Wars 1+2 Re-Boot Camp'.
But what if you fancy a slice of the series classic turn-based war gaming and you don't have a Switch? Well, today we're going to look at the best Advance Wars alternatives for the Steam Deck.
Now, before we start it's worth noting that there are plenty of war strategy titles on Steam, but it's the ones that evoke a similar feeling to Advance Wars that we're looking at today — so all of the options here share at least a few of the following characteristics: turn-based, maybe isometric or played on a grid, has a certain visual style, Fog of War modes, etc. It's the sorta thing that you know when you see it.
Let's take a look at our list of games like Advance Wars for PC!
Games similar to Advance Wars on Steam

Tiny Metal
🎮 Playable on Steam Deck
This 2017 indie from Japanese studio Area 35 is a turn-based tactics wargame influenced by the likes of Advance Wars and Warhammer. It ticks a lot of the same boxes that Advance Wars does, offering a similar set-up, a not-too-dissimilar look, and a comparable core gameplay experience.
There's also the 2019 follow-up titled Tiny Metal: Full Metal Rumble (that's also playable on Steam Deck), which delivers something that is said to be better than the original, and even possibly rivals Nintendo's war sim efforts.
---

Möbius Front '83
🎮 Playable on Steam Deck
As you may have guessed from the title, this Steam Deck compatible military tactics game is set in 1983.
It takes place in an alternative-universe America, offering a clearly Cold War-inspired slice of wargame strategy. In addition to the single-player experience, it also has online PvP.
---

Into the Breach
🎮 Verified for Steam Deck
This Steam Deck verified effort from Subset Games gets so much right.
It's a really smart, compact, award-winning strategy hit from 2018 in which you control big mechs on randomly generated maps to take down various gnarly alien threats. It also saw a free major content update last summer, adding a ton of extras to the game. A real gem.
---

Kaiju Wars
🎮 No official Steam Deck support
Movie monsters, mechs, and more are what to expect in this rad sci-fi take on all things strategy. Kaiju Wars really does bring something unique to the table, chiefly due to its super stylish visual look and distinct setting — really setting it apart from the others seen in this list.
This 2022 asymmetrical tactics game plays out like a Kaiju monster movie, with each scene being a 2D turn-based battle between massive monsters and the outclassed military.
"Toss 'Into The Breach' and 'Advance Wars' into a nuclear reactor with the contents of an abandoned VHS store and you'll get Kaiju Wars - a brilliant turn-based strategy game..." — Edwin Evans-Thirlwell for Eurogamer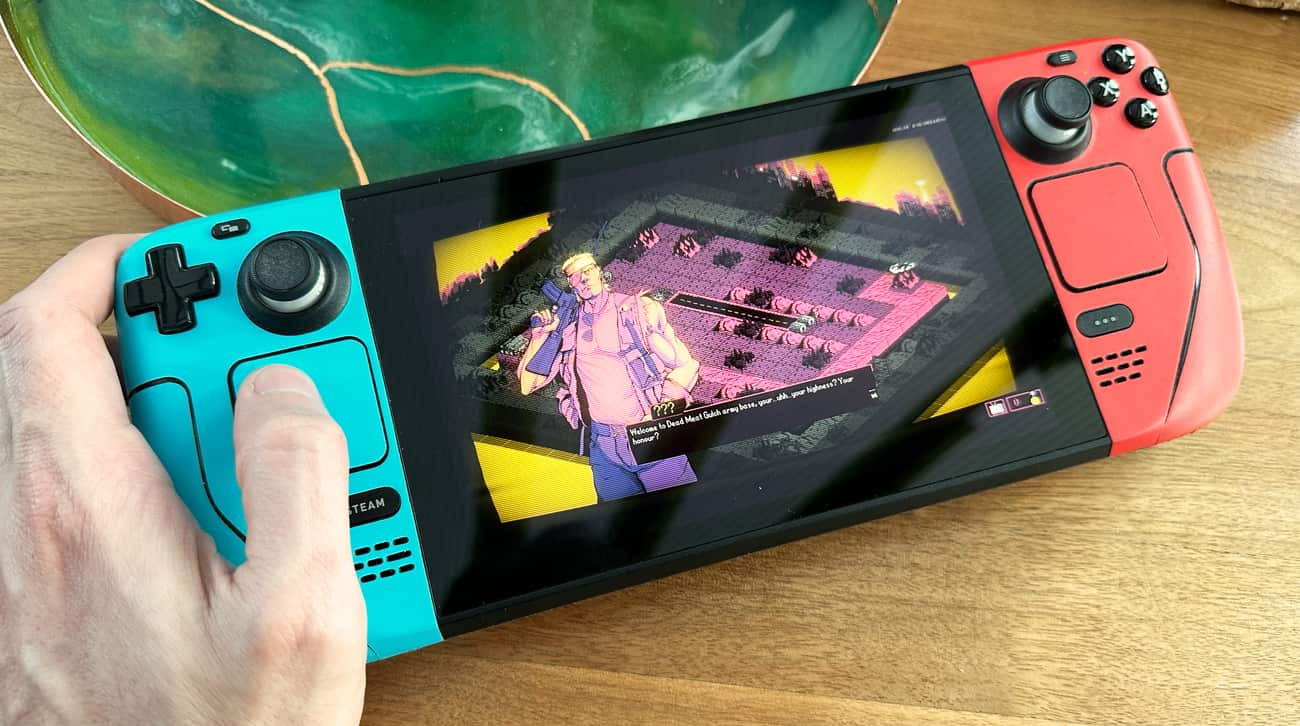 At time of writing, Kaiju Wars does not list support for the Steam Deck, however, in our testing, the game does run on the Deck (see image above) — you'll just need to play around with the controller settings to find what works best for you. To make testing on the Steam Deck easier, there is a free demo available.
---

Unity of Command II
🎮 Playable on Steam Deck
The first Unity of Command game, a one-man effort from 2011, quickly garnered plenty of praise upon release, being hailed as one of the top strategy games on Steam, and up there as one of the best war games available.
Thankfully, this 2019 sequel is no different — delivering a highly-rated solid Second World War campaign experience that will no doubt please hardcore strategy fans, but also stands as an excellent wargame intro to newcomers.
➞ Unity of Command II on Steam
---

Lost Frontier
🎮 No official Steam Deck support
Howdy. Here's a budget-friendly 2018 strategy game (around five bucks) from Mika Mobile that sees the brawling go down in a wild-west fantasy setting. The game has around 24 missions to get through and sees you use a variety of weird, improbable technology and supernatural nonsense to get the job done.
---

Wargroove
🎮 Playable on Steam Deck
Chucklefish's 2019 take on the turn-based tactics game has plenty of personality, thanks to its charming retro pixel graphics, a lively soundtrack, and a wide cast of fun characters. There's plenty to do, too, as the game boasts around 50 hours of story content to get through.
As a bonus, the game also has a deep online co-op component for up to four players — in which you can share maps and campaigns made with in-game editors.
A review over at the Metro calls it "the best Advance Wars game never made".
Sequel Wargroove 2 is also on the way, with pirates and battles at sea.
---
Other Advance Wars Alternatives on Steam
---
So there you have it — those are our picks for turn-based strategy games on PC that evoke that Advance Wars feeling. If you have any other suggestions we'd love to hear them!