In an effort to push forward the Activision Blizzard acquisition, Microsoft have announced new decade-long deals with both Nintendo and Steam for the release of the flagship shooter Call of Duty — in turn, putting pressure on rival Sony to accept a similar agreement for PlayStation.
Initially shared via tweets sent by Microsoft Gaming CEO Phil Spencer, the news outlined how if Microsoft manage to close the Activision merger, the company would offer the immensely popular first-person shooter across multiple platforms.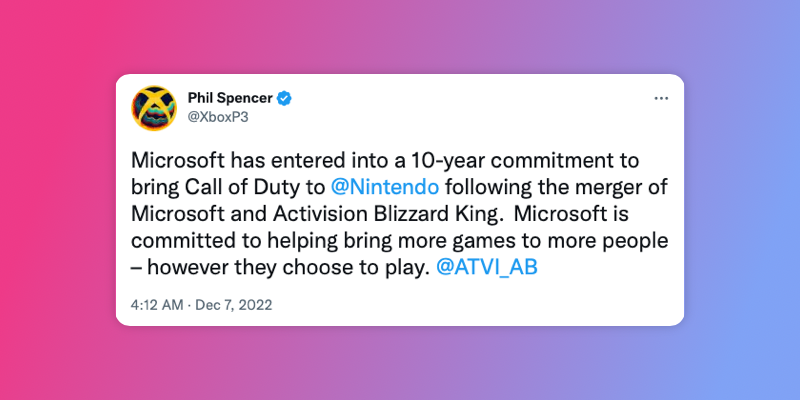 The tweets explained that Microsoft have entered a provisional agreement with Nintendo to bring the Call of Duty series to their platforms via a 10-year agreement.
In a follow-up tweet Spencer also outlined how Microsoft will continue to offer Call of Duty on Steam — something Activision resumed this year, with great success, with the release of Modern Warfare II.
---
Sony has expressed continued concern regarding the planned Microsoft purchase of publisher Activision, with a particular focus on the Call of Duty franchise — a series which generates a notable slice of its revenue via PlayStation platforms.
Earlier this month Microsoft explained that they've offered Sony a similar 10-year contract, sharing how they plan to make each new Call of Duty game available day one on PlayStation alongside Xbox.

On the news, Microsoft President Brad Smith has said:
Any day Sony wants to sit down and talk, we'll be happy to hammer out a 10-year deal for PlayStation as well.
In recent months, Phil Spencer has spoken on multiple occasions about how Microsoft will keep the popular franchise multi-platform, and not make it an outright Xbox exclusive. The Gaming CEO said that the company plans to take a similar approach with Call of Duty to that taken with Minecraft — chiefly, making it available on as many a platform as makes sense.
This tweet confirmation today, further cements this plan.