The Anker 737 is the best power bank for Steam Deck currently on the market, but all this performance comes at a price!
After over a year with the Steam Deck one thing is clear: it is a fantastic device.
It can play a big chunk of your Steam Library right out of the box, whether graphic-intense AAA games like God of War or entertaining indie games like Hades.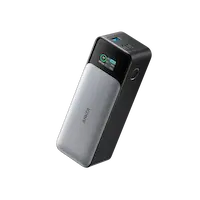 Anker 737
The Anker 737 is the best battery pack for Steam Deck you can buy but comes at a high price. What this gets you is the fastest power bank currently on the market that will charge Valve's handheld blazing fast!
Buy from Amazon
However, battery life is one area where the Steam Deck is unfortunately not that good. Depending on the game, especially if you go for graphic-intense ones, the Steam Deck burns through its battery in no time.
Playing God of War at decent settings gives you around 90 minutes of battery life which is just not enough. We hope Valve can improve this in a potential Steam Deck 2. But in the meanwhile, we need to find ways to navigate around this.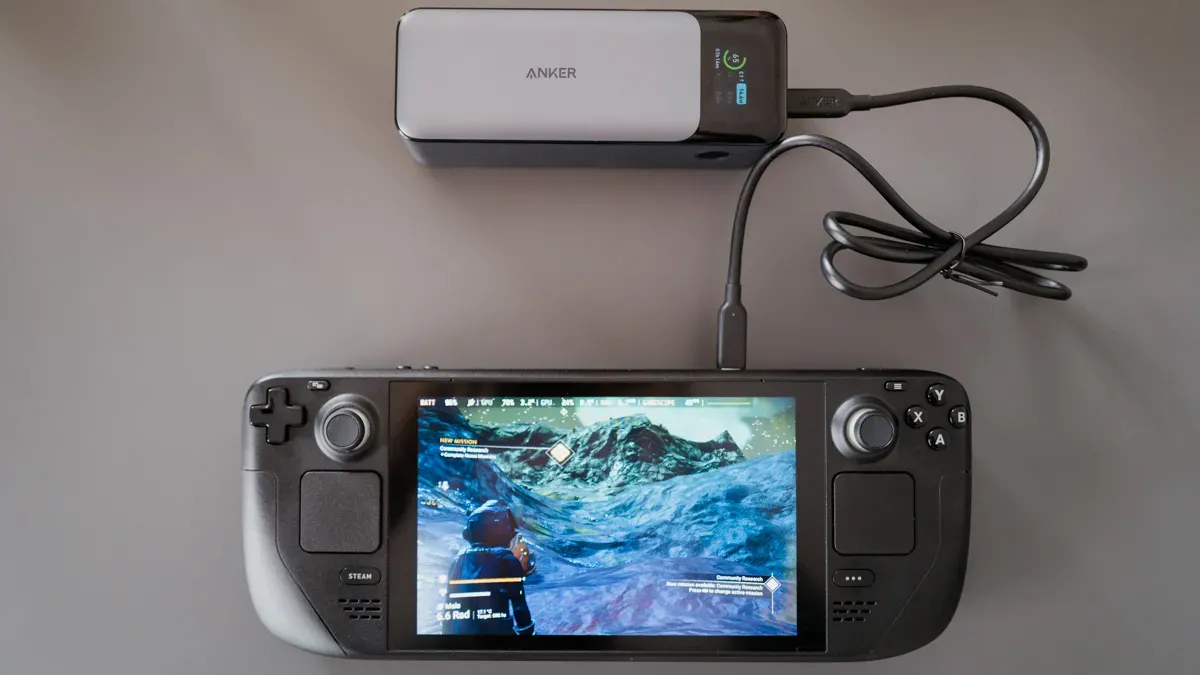 This is where the Anker 737 comes in — a 24.000 mAh battery pack that can fully charge your Steam Deck around 1.5x times (from 0 to 100%, and then some).
While its capacity is not the biggest on the market it's still nothing to be ashamed of (and falls within various legal limits, meaning you shouldn't face any issues carrying this on a flight).
The speed at which it can charge the Steam Deck is the real story here, and it's something which has me impressed every time I use it.
The Anker 737 can deliver up to 140W between its two USB-C ports (and 18W through the USB-A port). That is enough power to charge most laptops whilst they are in active use.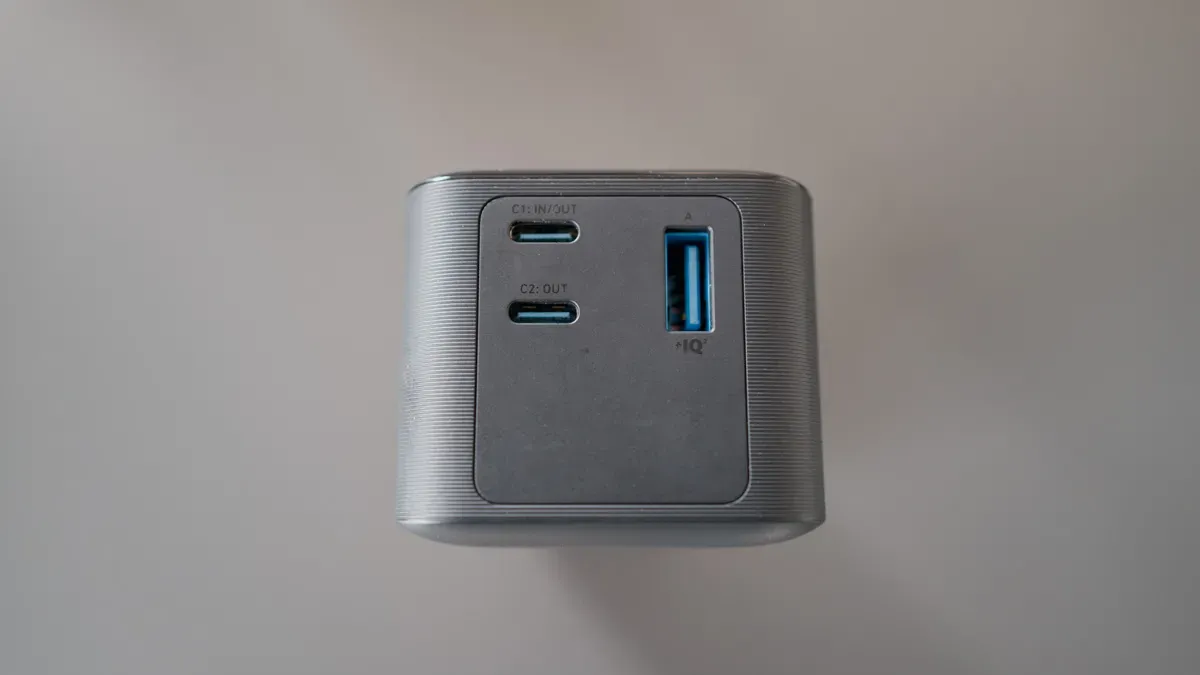 The Steam Deck, which draws a maximum of 45W, does not need this speed in the slightest, but as most people use several devices at the same time, there is more than enough power here to charge your Steam Deck, your phone and even a third device like, say, your headphones all at their maximum speed.
No matter what is plugged in, it takes the Anker 737 around 100 minutes to charge your Steam Deck from 0 to 80%.
One feature I love is the Anker 737's little display. This small screen gives you all the necessary information you care about in an external charger.
It'll tell you how much battery is left, both in percentage and hours, and how much speed it delivers to whatever is connected to the power bank. On a second stats page (you can rotate through these screens by pressing a button), it'll even tell you some additional details, like the overall battery health of the Anker 737, how hot the device gets, and how much charge has been sent out.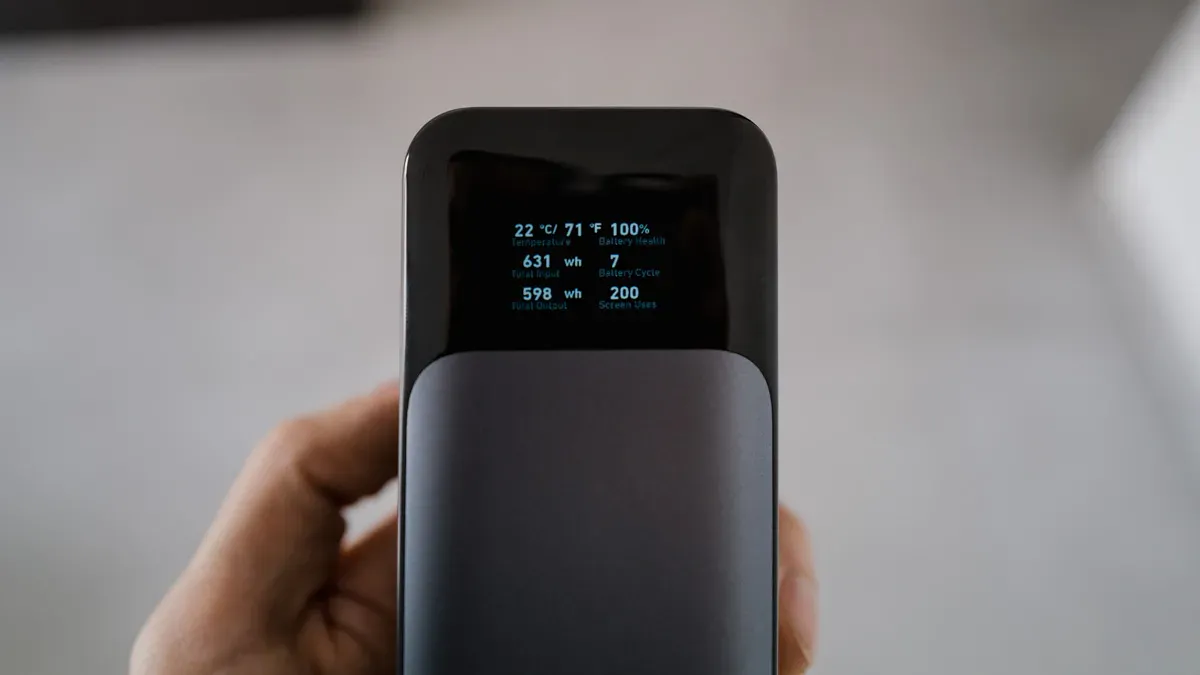 While the screen might primarily be a gimmick for some, it at least offers peace of mind, as you can check if it's indeed charging your stuff at its maximum-rated capabilities. Too often, I have been caught out by a charger or battery pack because I used the wrong USB-C cable, which didn't charge my phone fast enough. Incredibly annoying if you only have a little time to charge up.
As for charging the Anker 737 itself: with a decently fast wall charger, it takes around one hour to charge from empty to full. This is scarily fast, but an impressive stat. Sometimes I prefer charging this battery bank instead of my phone because I can use this to power it on the go.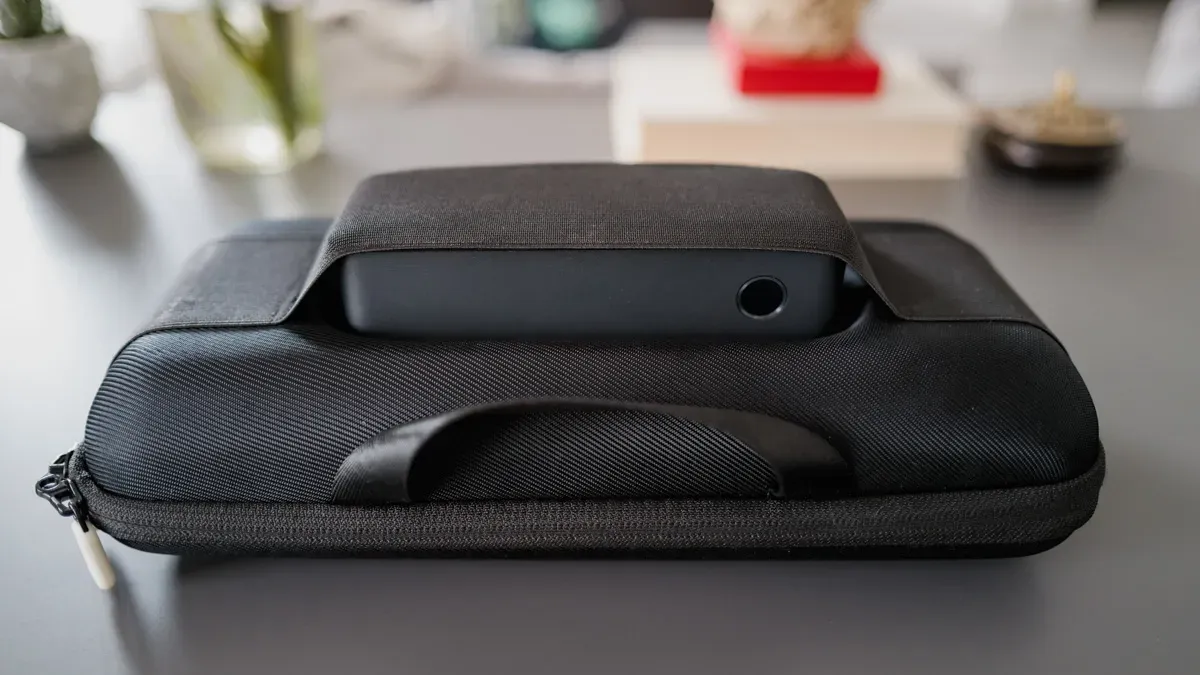 As for the build quality, this thing is built like a brick. It's big, it's heavy (it's nearly as heavy as the Steam Deck itself — 630 grams vs 669 grams for the Steam Deck), and it's dense! But it still fits into the back compartment of the case that comes with every Steam Deck (see image above).
However, the Anker 737 is expensive — it currently sits at $149.99, nearly half of what the Steam Deck costs. But this will get you the best power bank presently on the market that still fits into most bags (and it comes with one 140W USB-C to USB-C charging cable).
So, do I think it's worth it? Yes, but it's overkill (pun intended!).