The iconic PS2-era GTA games come to Steam Deck.
You can now play three classic GTA games on your Steam Deck thanks to the release of Grand Theft Auto: The Trilogy — The Definitive Edition on Steam.
Developed by Grove Street Games, and initially released in 2021 for the Nintendo Switch, PS4, PS5, PC, Xbox One, and Xbox Series X/S — these spruced up versions of Rockstar's iconic PS2-era trilogy (including Grand Theft Auto 3, Grand Theft Auto: Vice City, and Grand Theft Auto: San Andreas) are now also available via Valve's digital storefront.

Grand Theft Auto: The Trilogy now playable on Steam Deck

The availability of this much celebrated GTA bundle on Steam also comes with a Steam Deck 'Playable' rating — meaning this trio of sandbox classics can be played on the go.
The trio of games are currently only available as one single bundle — meaning you cannot yet buy one of the three games as a standalone title.
To celebrate the games arrival on Steam (launched January 19, 2023), Rockstar are currently offering the bundle with a 50% discount — making it just $29.99 (until February 2). This discount is part of a wider sale across a range of Rockstar titles, including Red Dead Redemption II, Bully, Max Payne 3, and others.

When this Definitive Edition first arrived on consoles back in 2021 it was plagued with performance issues. Early testing would suggest that this Steam version is also far from perfect, as our friends at Steam Deck HQ discovered: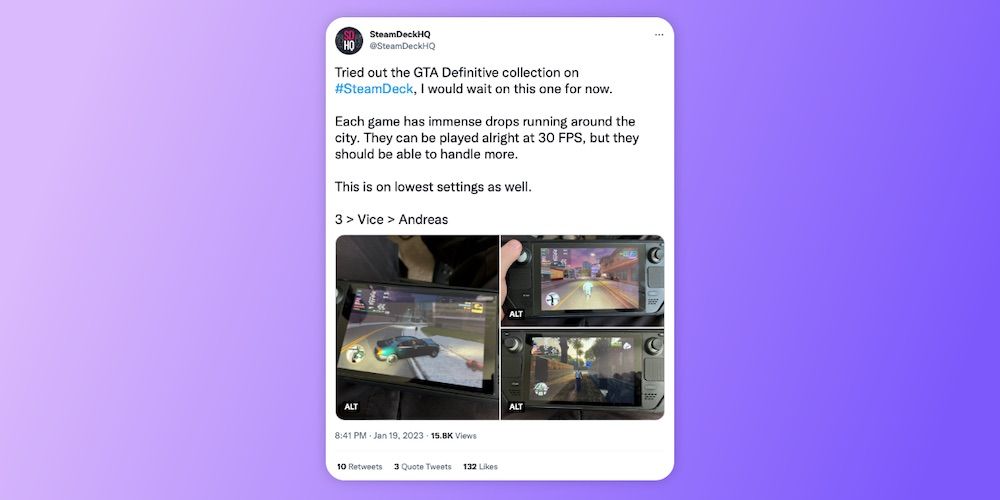 The game is also expected to arrive on the Epic Games Store before the end of the month. Additionally, a mobile port of the trilogy is expected to arrive on Android and iOS before the end of March.