A new handheld gaming PC from Lenovo is on the horizon, ready to take on the Steam Deck — and it looks to have Joy-Con like detachable controllers.
The Lenovo Legion Go looks to be the next entry into the growing pantheon of handheld gaming PCs, with it likely aiming to compete with consoles like the Steam Deck and ROG Ally. However, it's currently a fair ways off, and the only information currently out there on this unannounced device comes from WindowsReport.com — who claim to have obtained exclusive images of the portable.
We reached out to Lenovo to comment on the Legion Go. A Lenovo spokesperson said "we don't comment on rumor or speculation surrounding unannounced products".
The report states that the new handheld will actually have removable controllers, much like the mighty Nintendo Switch, which could allow the new console to stand out from the crowd, and also potentially make for a more portable device on the whole. These controllers will have all the standard buttons you'd expect, but also include a trackpad and some additional triggers on the back of them, and apparently a wheel on the right-hand one as well.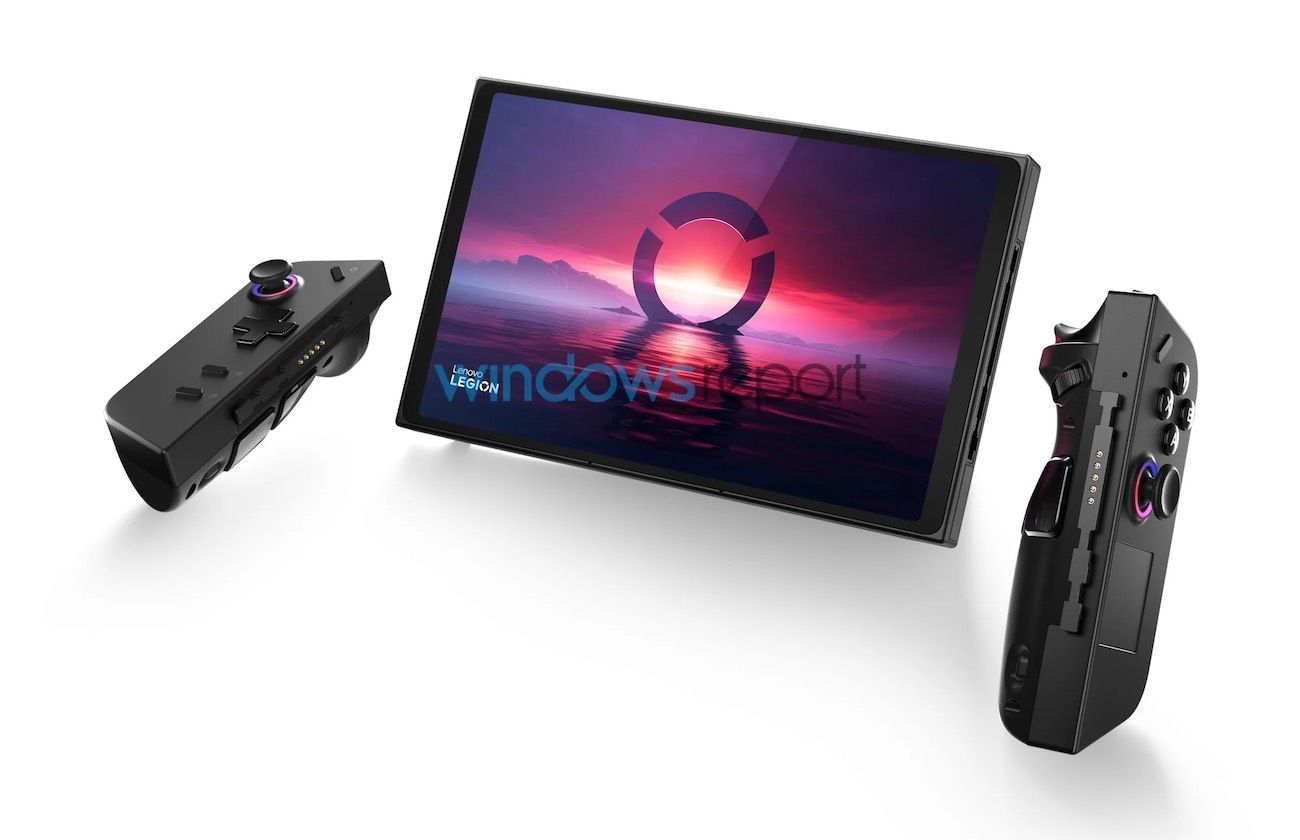 All of this could allow for more expansive controller mapping options for players, and the wheel could make this a more viable device for those looking to scroll through the internet in a more natural way.
The report also states that there will be a kickstand on the back of it, once again a la Nintendo Switch, which would make multiplayer games a little more viable too, which is something the handheld space desperately needs outside of Nintendo's monolithic hands.
The device will also allegedly use Windows 11, making it an easy way to access more game launchers than normal too.
All of this sounds pretty incredible, but it does have us slightly worried about the potential cost of the device. After all, just the price of removable controllers is likely to put production costs up.
It'll also be interesting to see if there will be extra controllers on sale specifically for this device, or if Lenovo will just assume everyone's rocking their own favourite PC controller as standard anyway.
'Legion' is the sub brand for Lenovo's range of gaming focused laptops, desktops and accessories — and it looks like a handheld may soon be joining the range.
We'll have to wait and see for any official information on this, but it definitely sounds intriguing.
Source: Windows Report