JSAUX launched the OmniCase 2, aimed at gamers. It is available now via Kickstarter and a great dock for the Asus Rog Ally and Steam Deck.
Accessory maker JSAUX, known for their range of Steam Deck products, are today launching a new USB-C hub dubbed the OmniCase 2 — aimed at "gamers and digital nomads".
This new travel-friendly accessory will come in two models: a standard OmniCase 2, and an OmniCase 2 Pro with additional ports.
Here's a quick run-down of what ports you can find on the base OmniCase 2 hub:
Three USB-A ports (two of which are 3.0 high-speed ports)
Two USB-C ports (one for input, one for power delivery)
HDMI 2.0 input
Ethernet adaptor
3.5mm audio input/headphone jack
SD card slot and microSD card slot
The other OmniCase 2 Pro model gains an additional HDMI port, an extra USB-C port, and the addition of a DisplayPort input.
Both models of the OmniCase 2 open up to reveal additional, handy tech accessories within — including USB adapters/dongles, SD card holders, an iPhone charging adaptor, and even a SIM card eject pin. All of this is neatly stowed away in what looks like quite a tidy package overall. JSAUX note that this top storage section connects to the main hub via a magnetic closure, meaning everything in this all-in-one should be sturdy and secure when travelling.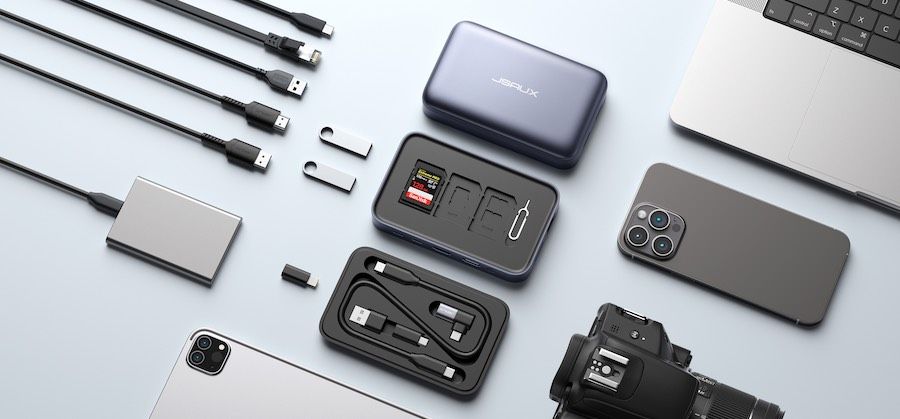 The device, which is launching via a Kickstarter, seems to pack in a range of useful ports and neat thoughtful features — all of which seem well suited to various portable gaming setups (such as with a Steam Deck or ROG Ally) or for simplifying travelling with a laptop.
This new take on the JSAUX all-in-one hub follows up the original device which launched a few years ago.
This new version is expected to start shipping in August at $59.99 for an early bird tier, and $79.99 during the remainder of the campaign. You can back it on Kickstarter.