Crowbar at the ready. Valve's pioneering FPS Half-Life turns 25, and to celebrate the game has been updated and Steam Deck Verified.
It's been 25 years since the sci-fi classic Half-Life first graced PCs — and to celebrate Valve are making the game free to download, play, and keep.
The seminal late 90's FPS, first arrived in November of 1998, and was quickly showered with praise, winning several notable gaming awards. Now, twenty five years later Valve's very first game has been updated with various updates, bug fixes, and even new content — including four all new multiplayer maps.
This significant update also brings Steam Deck Verified status to the game. Valve jokingly shared that they put Half-Life through their own 'Verified' tests and failed "super hard". As a result, the game has now received the required fixes needed to sport that all important green checkmark, with the game also now running in the native Linux runtime by default.
Yes, the game was playable on the Steam Deck before, but now the experience is optimised for the portable PC we all love.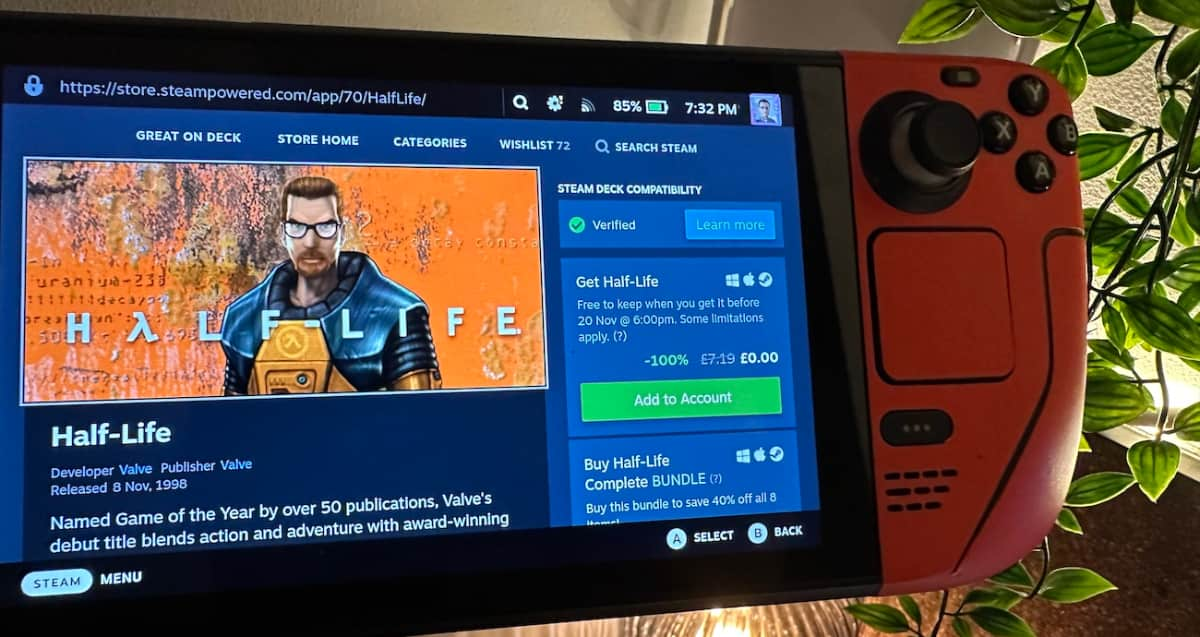 So, if you don't already have the game in your library, here's how to get it at a sweet 100% discount:
To download Half-Life for free you just need to head to the Steam store, navigate to the Half-Life page, and hit 'Add to Account' — you'll need to be quick though, as the game is only free until November 20th.
Other notable changes and additions included in this update are:
The original standalone Half-Life demo (Half-Life: Uplink) has been added to the game, and is accessible through the "New Game" menu.
Three old Half-Life Deathmatch maps, formerly only available only on the "Half-Life: Further Data" CD, have been added.
Added in support for Steam Networking — allowing for easy multiplayer via Steam's built-in 'Join Game' and 'Invite' features.
Brought back the original Valve Intro video. It can be skipped with the "-novid" launch command if you'd prefer though.
If you're a die-hard Half-Life fan, then there's an extensive, full list of all changes made in this 25th anniversary release over on the game's official website.
Valve also shared that they now consider this updated release of Half-Life to be the definitive version, and the one that the company will continue to support going forward. As such, Valve will be reducing the visibility of Half Life: Source on the Steam Store.
If all that wasn't enough, Valve have also shared an all-new, hour long documentary about the game's development — well worth adding to your weekend Watch Later list on YouTube I'd say, but if you can't wait, here it is:
Crowbars at the ready!