You can turn your ASUS ROG Ally into a Steam Deck with the latest version of ChimeraOS.
The latest version of ChimeraOS, a Linux-based operating system based on Steam's Big Picture mode, has added in support for the recently released ASUS ROG Ally handheld PC.
ChimeraOS first started life as 'gamerOS' back in 2019, and switched to its current name in the summer of 2021. Its aim is to provide "an out of the box couch gaming experience" that's similar to Steam's very own SteamOS.
Once installed, ChimeraOS will boot you directly into a Steam Big Picture mode and you can then start using the device, and playing your Steam library, as you would on a desktop PC or Steam Deck.
ChimeraOS already works on a range of portable hardware, including the AOKZOE A1 and numerous AYANEO devices — the ASUS ROG Ally is just the latest device to gain support.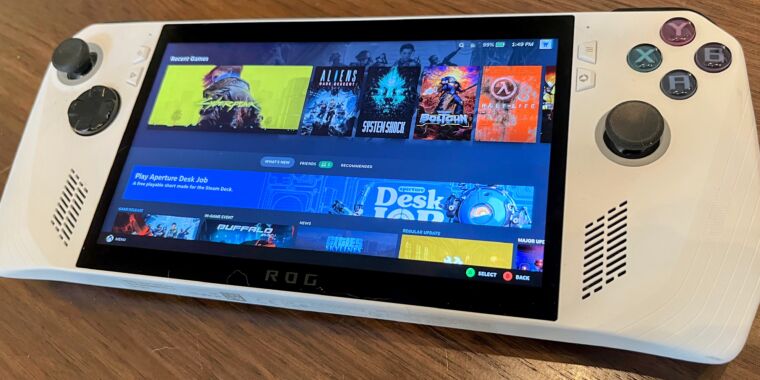 This initial ROG Ally support found in version 43 of ChimeraOS includes the following features:
Audio support (with DSDT Override enabled)
Functional WiFi
Functional face buttons
Functional Bluetooth
Experimental partial TDP control in OpenGamepadUI
The release notes details that suspend functionality is still a work in progress however, with the developers recommending to disable auto-suspend on the ROG Ally and shutting the unit down after each gaming session.
It's worth noting of course that installing this will do away with the native Windows experience found on the Ally, and will replace it with the SteamOS UI.
Developer Alesh Slovak noted that this new release, ChimeraOS 43, has seen "an especially long development cycle" due to many long-term ambitions coming together in this notable release. The release notes also thank Luke Jones for his efforts in helping make the ASUS ROG Ally support a reality.
You can see the full changelog on GitHub, and find the latest version of ChimeraOS on the official project website.
Via: GamingOnLinux