A legal agreement between Nintendo and Microsoft has been reached, bringing Xbox and Call of Duty games to Nintendo platforms for the next ten years.
Following recent regulatory set backs to their intended Activision Blizzard acquisition, Microsoft have reaffirmed plans to bring games to Nintendo platforms over the next decade.
The fresh deal, announced by Microsoft's Brad Smith on Twitter, outlines a firm commitment to bring the Call of Duty franchise (once acquired), to Nintendo over the coming ten years.
Microsoft and Nintendo sign on the dotted line

Microsoft's intention to make Call of Duty as widely available on other platforms post-acquisition was first made public in December of 2022 — but what was once a mere pledge is now a defined, binding legal agreement.
If Microsoft successfully complete the Activision Blizzard purchase, something that's proving increasingly tricky for the Redmond giant, then Call of Duty will be on Nintendo hardware until at least 2033.
The tweet and accompanying image (seen below) highlights how any future Call of Duty experience offered to Nintendo gamers will be full featured and have content parity — suggesting Nintendo versions won't be watered down or limited (such as what EA do with the FIFA franchise).
It's worth noting that the 10 year agreement does not mention the Nintendo Switch by name, instead only referencing Nintendo 'players'.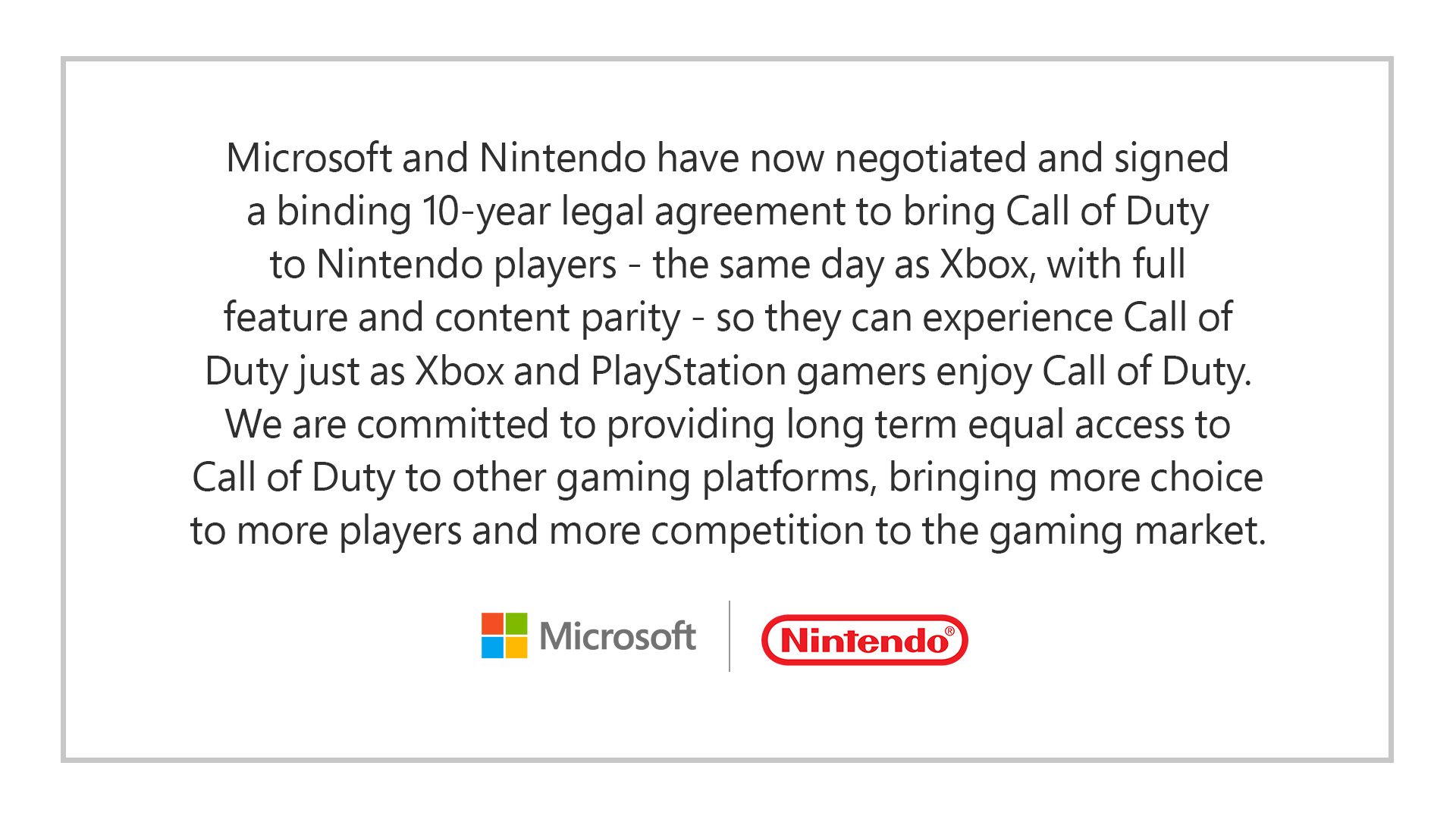 Microsoft is said to have made a similar offer to Sony, but has not reached an agreement — PlayStation CEO Jim Ryan called such an offer "inadequate on many levels".
Tom Warren of The Verge notes that the timing of this legal agreement aligns with Microsoft's meeting with EU regulators — a meeting that is said to include Xbox's Phil Spencer, PlayStation's Jim Ryan, current Activision CEO Bobby Kotick, along with representatives from Nvidia, Google, EA, and others.
---